Dr. Haywood Hall is on call. It's a mild summer afternoon, and he's sitting in the garden of his house in Guanajuato, Mexico. His laptop is open on the table in front of him, and his cellphone sits beside it. He checks the phone periodically for messages, tapping out quick replies as needed.
He's dressed in a T-shirt and shorts, and he'll likely still be wearing these if he greets any patients this afternoon. That's because Haywood works in the growing field of telemedicine, and his "meetings" with patients will be long-distance—a verbal consultation over his cellphone.
Telemedicine is a relatively new field, made possible by today's high-speed communications and super-connected world. In the world of telemedicine, doctors like Haywood, therapists, and other medical professionals connect with patients (and in some cases with each other) via telephone or video conferencing to provide medical consultations and care.
"You can do this from anywhere if you have a good [internet] connection," says Haywood.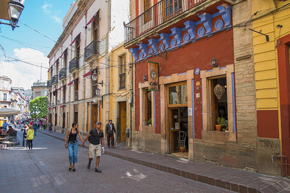 Haywood kept a house in San Miguel de Allende, in Mexico's Colonial Highlands region, for 20 years. But eight years ago he moved to Guanajuato, about 90 minutes by car from San Miguel, and now lives there full-time.
So how much can you make as a doctor with a telemedicine practice? The average telemedicine call is about 10 minutes, says Haywood, for which you make about $25. "The money can be about as good as clinical work if you have a lot of licenses," he says.
Even when you make less, living abroad means your money can stretch further. "You can live in places with a lower cost of living and take advantage of U.S. tax breaks," he points out. (Under the Foreign Earned Income Exclusion, U.S. citizens who live abroad full-time are allowed to exempt from federal taxes a certain amount of earned income. For 2015, the amount is $100,800.)
For Haywood, a telemedicine practice is also less stressful, "with a more comfortable setting and hours," than a classic emergency room. And payment is easy. "I see patients, and they deposit [payment] into a U.S. account."
It's a great career, he feels, for doctors nearing retirement age who'd like a slower pace but aren't ready to retire completely. It's especially attractive if they're interested in practicing medicine after moving abroad. Some foreign countries restrict professions like law and medicine to locals; others impose licensing exams and the like before you can practice there. And, of course, local salaries are often much lower than doctors are used to making in the U.S.
Get Your Free Fund Your Life Overseas Report Here:
Sign up for IL's Fund Your Life Overseas e-letter today and we'll also send you a FREE report about ways to earn money abroad. Simply enter your email in the box below and we'll send you this free report: Fund Your New Life Overseas With These 6 Portable Careers.
Get Your Free Report Here