Every small town needs at least one person keeping its citizens' heads looking their best. When stylish, professional haircuts are available, civic pride swells, the dating scene picks up, and the town just seems more like a place where smart people would want to live, doggone it. When Kelly Brower left California to set up Medusa, her hair cutting shop in Dominical, Costa Rica, she had no idea of the impact she was about to have on this little surfing village.
Kelly explains, "When I was a little girl we would come to the Southern Zone for vacation time. Dominical was the closest beach to us, so I always loved this beach. I love this area and there's a great expat community, so I was like 'Oh, I fit in great here and have the best of both worlds.'"
With a fresh fruit and vegetable stand across the street from her shop and a small grocery store specializing in organic products just down the street, for Kelly, eating healthy is only natural. On her off days, Kelly says, "I go to the beach all the time and I try to discover new beaches that I've never been to. I take Jimmy, my chihuahua, to the beach where I surf, read, do yoga, and explore waterfalls. There's just so much to do here."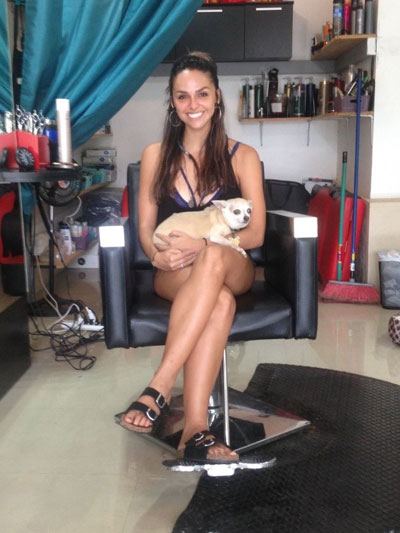 Kelly was pleasantly surprised by the operating costs in Dominical compared to her home in Modesto, California. "I pay $370 a month for my salon plus about another $100 for electricity. Compare that to what I used to pay: in California it was $450 a month for just a chair and a mirror at a salon." Her home, an unfurnished two-bedroom, one-bathroom apartment for her and Jimmy, costs Kelly $140-a-month with utilities. It's a little way up the road from Dominical in the lush green mountains, where the swirling ocean breezes keep the temperatures in the lower 80s during the day, falling to the comfortable mid-70s at night. Kelly loves falling asleep to the sounds of the surrounding jungle, then awakening to the squawks of the parrots and toucans beginning their day.
As the charm, accessibility, stability, and overall beauty of Costa Rica became more well-known, expat interest in it as a landing place has grown. Especially in the Southern Zone, where the paving of the Costenara Highway along the Pacific coastline really opened up the area a few years ago. Dominical is only an hour from Manuel Antonio, and only 30 minutes below the second largest city in Costa Rica, San Isidro del General. Just a funky surfer town for years, Dominical is becoming a haven for expats looking for an authentic experience in Costa Rica but who also enjoy the luxury of the new restaurants and services opening every year. Land and existing homes are available everywhere, at prices considerably lower than the Central Valley surrounding San Jose.
Kelly says, "From what I've seen since I was little, Dominical has done nothing but grow and gotten better, and lovelier, and safer. I think it's growing in a great way. The combination of the Tico culture and expat culture is beautiful. A lot of people don't want overly populated, super-touristy places. This is more…the real Costa Rica. You can live ten minutes out of town and be surrounded by the jungle."
Get Your Free Costa Rica Report Here:
Learn more about Costa Rica and other countries in our daily postcard e-letter. Simply enter your email address below and we'll send you a FREE REPORT – Why Are Americans Still Flocking to Costa Rica.
This special guide covers real estate, retirement and more in Costa Rica and is yours free when you sign up for our IL postcards below.
Get Your Free Report Here
Related Articles
The Fun and Funky Costa Rican Beach Town of Dominical
Travel Writing: How to Become a Travel Writer