When people think about fine international cuisine, places like Paris, Rome, and Tokyo are usually what come to mind. If you're looking for something with a spicy kick, head to Mexico. Want something healthy and delicious? Check out the Mediterranean. Rarely though do people equate the small South American country of Ecuador with great food, and in failing to do so they're missing out on a whole range of tasty treats.
It's true that Ecuador does not have the gourmet culture that many other countries enjoy, but that doesn't mean it should be completely dismissed. Take a look at a few of the regional palate pleasers that can be found throughout the country.
The Coast
Seafood, of course, is what permeates the coastal cooking styles. You'll find a lot of seasoned rice dishes peppered with shrimp, octopus, squid, or clams, and special dishes will arrive with all of the aforementioned sea creatures. Grilled fish straight from the sea served with rice and French fries are plentiful as well. These are popular and will stretch your belly without emptying your wallet, but they're not the most interesting dishes you'll find on this section of the Pacific. For something completely original try one of the following:
Encebollado de pescado is a popular soup made with chunks of fresh tuna, yuca, red onions, tomato, and cilantro. This hearty soup is usually served with salty plantain chips and popcorn on the side and can be found in most restaurants in seaside towns. It makes for a satisfying lunch and will have you coming back for more.
For a tasty snack try pan de yucca, which is popular on Ecuador's coast. These nectarine-sized bread rolls are made from yuca (also known as cassava) flour and have a slightly chewy texture. They're often served with drinkable yogurt on the side, though they can be eaten on their own. Any bakery on the coast should have these available, but the best I've ever eaten were sold by vendors with a roadside stand on a major bus route. For 25 cent apiece these little morsels are well worth a try.
The Highlands
Most North Americans would never consider eating the fuzzy little creatures that are often sold as childhood pets. But in the Andes the native guinea pig, known locally as cuy, has been a dietary staple since pre-Incan times. Packed with protein, these rodents are easy to breed and were easily portable for soldiers or travelers.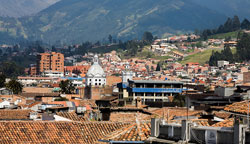 These days cuy is considered a delicacy and can be found in high-end restaurants or prepared for special occasions such as birthdays or confirmation parties. The cuy is often fried and salted and many people compare the flavor to that of chicken. If you'd like to sample some yourself and don't mind doling out a few extra dollars for your meal, consider Tres Estrellas restaurant in Cuenca, where a serving of cuy will run around $20. Also bring extra patience as the cuy is cooked to order and can take up to an hour to prepare.
If you're looking for something a little less exotic, consider visiting the northern highland town of Cayambe, where bizcochos are plentiful. Never heard of a bizcocho? Most people haven't, but if you like scones or other dry pastries you'll love bizcochos. Shaped like a breadstick and eaten with hot chocolate, these buttery little treats will satiate your hunger. Try them with some of Cayambe's signature queso de oja, a cheese similar in taste to mozzarella, for a different sensation.
The Oriente
Much of the food in eastern Ecuador, near and in the Amazon Basin, is borrowed from other parts of the country. But, they do have their own take on many favorites. One of the most popular dishes in this area is tilapia wrapped in skateboard-sized bijao leaves and grilled over a fire. Not only does the wrapper preserve the moisture from the fish, but the leaf also provides natural seasoning giving the dish a unique Amazonian twist. These neatly packaged meals can be found in many small restaurants or street-side grills for just a few dollars.
Chocolate is by no means endemic to Ecuador, but some of the world's finest cacao plants are found in the nation. Known as Arriba Nacional, these plants are especially hardy and disease resistant and their beans are considered to be of exceptional quality. In Ecuador's Amazon, smooth rich chocolate confections are produced and sold. Consider visiting the jungle town of Tena in May or June for their annual chocolate festival, where you'll have the chance to sample some of the region's best sweets.
So enjoy the warm beach sand, the cool mountain air, or the lush Amazon jungle and know that whether your tastes run towards the salty, the sweet, or the healthy, Ecuador will have something for you.
Get Your Free Ecuador Report Here:
Learn more about Ecuador and other countries in our daily postcard e-letter.
Simply enter your email address below and we'll send you a FREE REPORT – Ecuador: Live Like Royalty on Your Social Security.
This special guide covers real estate, retirement and more in Ecuador and is yours free when you sign up for our postcards below.
Get Your Free Report Here