"Would you like to…take my fiancé?"
My student looked at me for approval and despite my best efforts, a giggle escaped.
I apologized and explained what "would you like to take my fiancé" means…versus, "would you like to meet my fiancé." He laughed at his mistake.
I'm living in Barcelona, Spain where I work around 20 hours teaching English and correcting funny mistakes like this one. The lifestyle of a teacher can be absolutely wonderful with a lot of free time if you put effort into finding the right students with schedules compatible to yours.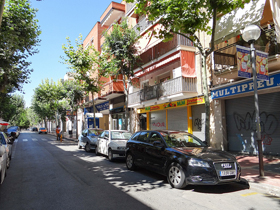 For instance, I like to eat a menu del día several times a week. The Spanish have really figured out how to eat well and plentifully in the middle of the day and most restaurants serve a menu that consists of three courses with a drink included that will keep me fueled while I teach my night classes.
I have enjoyed free walking tours of different parts of the city, museums and art exhibits, parks, and numerous Gaudi buildings to check out. There are countless unique neighborhoods to discover, delectable tapas and vermouth bars, and lots of interesting history to learn.
As someone who loves nothing more than reading an enticing book by the beach, I spend a lot of time exploring the less touristy beaches in the region as suggested by my students. One that I really enjoy is Montgat Nord which is a beach only 20 minutes by train from the city center and much less crowded than the beaches in Barcelona.
My students have also given me the insider's scoop on where to find lesser known hiking paths and places to camp. Catalonia is very hiker friendly and there are even trails you can take straight from Barcelona to other towns outside.
The wonderful thing about private students is that I have developed unique and rich relationships with them; most of the time I feel like I learn more about the culture, history and landscape of Spain than they learn English.
There is such a desire to learn English in Barcelona that I have never lacked in having enough students to teach at any given time. Although it's my main source of income, I hardly view teaching English as a "job." I have been able to build up a schedule that consists almost entirely of private students. This affords me lots of flexibility, as I can choose my own schedule to a certain extent.
Get Your Free Fund Your Life Overseas Report Here:
Sign up for IL's Fund Your Life Overseas e-letter today and we'll also send you a FREE report about ways to earn money abroad. Simply enter your email in the box below and we'll send you this free report: Fund Your New Life Overseas With These 6 Portable Careers.
Get Your Free Report Here