When I quit my job to travel the world for a year' the last thing I wanted to do was work. Well, at least not in the capacity that I used to as an editor in Manhattan. In fact' part of the reason I left the country was to take a break from the New York corporate rat race.
When I first moved to Quito, Ecuador in 2012' I worked at two language schools teaching English. But after several months' I wanted to explore another way to make money. Travel writing didn't interest me, so I turned to what I knew: copyediting. I never considered editing while traveling, but I quickly learned to tap into what I'd done professionally for decades and turn it into a portable business.
It's now more than two years since I left the States and editing is still how I make a significant portion of my income. But I'm no longer doing it from a drab cubicle in Manhattan; these days I'm working from a study cafe in Seoul' a coffee shop in Quito' or an apartment in Medellin.
I wake up in Beitou, a small district in Taiwan known for its hot springs and lush, green environment. Instead of turning on a desktop, I fire up my MacBook Air.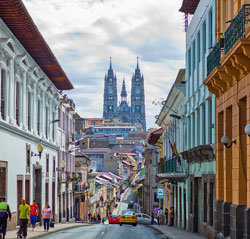 I edit articles the same way I would if I were in New York City. But the location is very different. In mountainous Beitou' I love going for a stroll along the river from which a steamy mist rises, the result of geothermal warming and a sign of the abundant hot springs. The bookstores and cafes of the bustling modern capital, Taipei, are only a 20-minute train ride away.
A few nights ago, I edited at the town library, a wooden structure recognized as one of East Asia's most beautiful and environmentally-friendly buildings.
In the past two years I've worked from Ecuador' Colombia' Jamaica' Taiwan, and South Korea. My preferred office is a hammock in the shade. Small towns in Ecuador and Colombia are perfect places to kick back and chill out. Both countries offer a peaceful existence in scenic valleys and quiet cities. Sun and sand are only short rides away, but the cost of living is a fraction of what it is anywhere in the United States.
The difference between working in the U.S. and abroad is that when I put down my laptop, I can go for a hike a nearby mountain or head to the waterfront. And in every locale my rent has been significantly lower than it was in the northeastern United States. While I'm still doing work that I like…office politics and a long commute aren't issues.
Free Report:
Sign up for IL's Fund Your Life Overseas e-letter today and we'll also send you a FREE report about ways to earn money abroad. Simply enter your email in the box below and we'll send you this free report: Fund Your New Life Overseas With These 6 Portable Careers.
Get Your Free Report Here