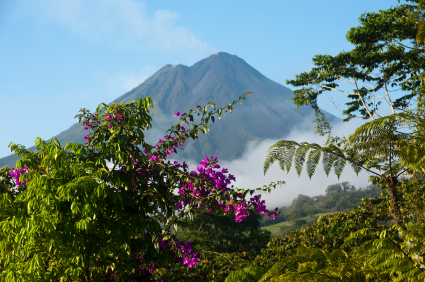 I'm heading back to Costa Rica this month, scouting. But I made sure to build some personal time into my schedule, a couple of days where I'll relax and chill out on the country's Pacific coast. I'm not alone in loving Costa Rica. It's a popular tourist and expat destination. And if you're looking for a second home or retirement spot overseas, Costa Rica has a lot to offer. Here are my top ten reasons why you should consider buying a home here:
It's a stable, democratic, peaceful country. In fact, it officially abolished its army in 1949. It's the only Latin country listed in the 22 most steadily democratic countries since 1950.
It's close to the US. A 2 hour 40 minute flight gets you here from Miami, and it's only five hours from New York. With so many major airlines flying here, and budget groups like Spirit and LACSA, you can take advantage of low-cost fares to visit friends and family back home…or they can come visit you.
It has a growing economy, up by 3.6% in 2010. The total amount of foreign direct investment was second only to Panama in the Central American region in 2010. Last year was a record year for tourism, too, when more than two million tourists visited Costa Rica.
It's stunningly beautiful. Costa Rica has an abundance of natural wonders… volcanic peaks, a craggy spine of mountain ridges twisting its way through the center of the country, limpid lakes, thundering waterfalls, pristine beaches, and rich cloud and rain forests. 27% of the land lies in parks and reserves. One area, the immense Corcovado park in the Southern Zone (covering more than 100,000 acres), ranks as the most biologically intense place on the planet, according to National Geographic. Fluorescent frogs, scarlet macaws, secretive tapirs, sociable monkeys, gigantic butterflies…you can't help but spot wildlife in this place.
Medical care is top quality and highly affordable. In San Jose, the capital, hospitals like Clinica Biblica or CIMA provide world-class care, at a fraction of the cost you'd pay back home. Costa Rica is a popular choice for North American medical tourists looking to cut the cost of major procedures (dental treatments, joint replacements, eye surgery, etc.). Costa Rican residents pay a low monthly fee to join the national health care system (CCSS), and can use CCSS hospitals and clinics. Fees for private medical cover start from around $50 a month.
Costa Rica boasts a superb quality of life. Life expectancy is high, at 77.7 years on average. The country also regularly tops the Happiness Index. The index is a measure of health, life satisfaction, and environmental footprint. A score of 8.5 for life satisfaction places Costa Rica almost a full point ahead of its closest rival in this category. Costa Rica's easygoing, friendly, family-centered, low-stress outdoors lifestyle plays a big factor in longer lifespans and feeling content with your lot.
The climate is warm year-round, outside the Central Valley (where temperatures hover in the 60s). You can wave goodbye to freezing winters, ice and snow. Temperatures average in the 70s and 80s, with no tornadoes or hurricanes. If you enjoy spending time outdoors…sport fishing, swimming, snorkeling, kayaking, zip lining, horse riding, hiking, wildlife watching…the climate in Costa Rica will allow you to enjoy these activities pretty much all year.
You have a choice of residency options. You can become a resident if you can prove income of $1,000 a month, for example.
Costa Rica is already home to an estimated 30,000-50,000 North American expats who own property in Costa Rica, or live here full or part time. They have a long-established association of residents with a bi-monthly newsletter, and they help newcomers get settled in.
It's affordable. It's not just the health care. Property taxes are low, at around 0.25% of the recorded or municipal-registered value of the property annually. That's around $462 on a $185,000 property…annually. You can afford domestic help, too. And despite the growing numbers of celebrities and wealthy businessmen who have purchased multi-million dollar homes in Costa Rica, you can still find low-priced properties here…and afford to custom build your dream home.
P.S. If you'd like to check out Costa Rica for yourself contact Pathfinder International here .

(If you're not a member of Pathfinder Alerts, sign up today for free here. We'll also send you a free report on 12 Killer Real Estate Deals for $50,000 or Less)
Editor's Note: Margaret Summerfield is a director of Pathfinder, IL's preferred real estate advertiser.