On a sunny spring day last year, I spent a pleasant hour or so shopping at my local market. The produce was fresh and appealing, the fish and seafood incomparable. My produce included goodies like ripe tomatoes; big bunches of fresh greens; tender artichokes picked so young that they have no fibrous choke; and juicy oranges and plums. On top lay my purchases from the fish hall: a pound of small shrimp and another of freshly caught tuna, from which I got three thick tuna steaks. I filled two large shopping baskets with food, for a total cost of about $18.
On the way back to my vacation rental (a one-bedroom apartment in the city center that cost me $800, utilities included), I stopped in a local tavern for a drink and a snack so filling that it ended up being my lunch. The cost? About $4.
These are the kinds of prices you expect to find in inexpensive, Latin American beach towns. But I was in Europe—specifically, in Jerez de la Frontera, in sunny southern Spain.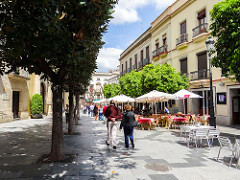 Spain has long been one of the lowest-cost countries in Western Europe, offering great bang for your buck. And lately it's been even more affordable, thanks to a low euro-to-dollar exchange rate. During my time in Jerez, $1,500 covered all my monthly living expenses, including rent.
There are any number of small cities in Spain where a single person can live comfortably on that amount, and a couple can live on $2,000 a month or less.
Many North Americans choose to live part-time in Europe, just as I do. Some of them book short-term house or apartment rentals, as I did in Jerez. Others end up buying a home that they can rent out when they're not there.
In Jerez, for instance, one- and even two-bedroom apartments in the city center can be found for under $100,000. In the popular seaside city of Alicante, on Spain's eastern Mediterranean coast, you'll have numerous small apartments to choose from at that price, even in the historic center.
Looking to live full-time in Spain? If so, you can take advantage of long-term rental rates, which cost less per month than short-term. A place like my $800-a-month vacation rental in Jerez, for instance, would rent for about $400 a month long-term. With long-term rentals you do generally have to pay for your own utilities. But in many beach destinations in Spain, winter heating costs are minimal and sea breezes cool the summer heat.
So whether you're dreaming of full-time living in Europe or just an extended stay, consider Spain this year. I certainly am… In fact, I've already bought my ticket.
Get Your Free Spain Report Here:
Learn more about Spain and other countries in our free daily postcard e-letter. Simply enter your email address below and we'll also send you a FREE REPORT — Live the Good Life in Sunny, Affordable Spain.
This special guide covers real estate, retirement and more in Spain and is yours free when you sign up for our IL postcards below.

Get Your Free Report Here