Bob and Tammy Davis are adventurous souls. Not for them a cheap South Beach, gated-community retirement, instead they wanted the Pacific Ocean, miles of pristine sandy beaches, and the sort of small town feel of the U.S.—40 years ago.
So they chose to build a beachfront house in the small fishing community of Salinas Grandes, just 30 minutes from León, Nicaragua. Now they can step out of their garden onto the beach and into the ocean.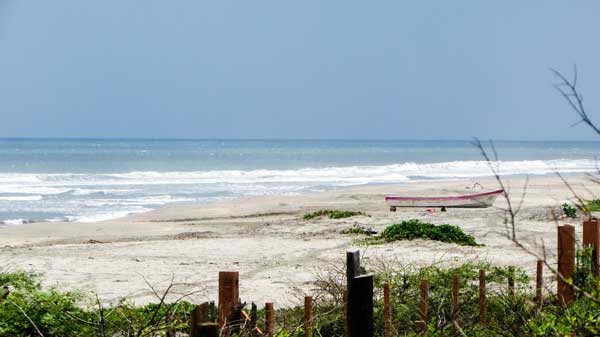 About 11 miles of the road to their community is still dirt, and the lack of development there unsettles some prospective buyers. But this is how you bank serious gains in real estate…buying ahead of a path of progress.
Which was a reason why Bob and Tammy chose to invest in Nicaragua for their retirement plans.
Bob explains, "I visited Costa Rica almost 25 years ago, and I didn't take the opportunity to buy at that point. Now look at the country." He feels buying in Nicaragua is a smart choice. "Nicaragua is making great strides to modernize its infrastructure and to be viewed positively on the international stage."
Bob and Tammy live for most of the year in St. Charles Missouri, just outside of St. Louis, where Bob works in the computer industry. They currently visit their beachfront home four times a year, but they plan to make it their permanent home by May of next year.
"We are ocean-loving people that are land-locked," says Bob. "After almost 15 years of searching Central America, South America, and the Caribbean we decided on Nicaragua because it checked 10 of our 12 'must have' criteria. These include: friendly genuine people; extraordinary beachfront property values; good access to healthcare; easy access to the U.S.; quality internet service; and an amazing ecology.
"Even the dogs on the beach are very nice. Bottom-line, we found small town virtues of the U.S. from 40 years ago."
Salinas Grandes is a small, working fishing village with three small restaurants, a new day spa, and a small restaurant bar /hotel. There are six other expats living in the area. "We like the peace and quiet here and the miles of clean beaches that we explore every morning. And when we need them, all our major amenities are in León."
Their home is a two-story, three-bedroom, three-and-a-half-bathroom property with open floor plan and is very airy—and a spectacular pool.
"We are right on the beach with views of volcanoes in the distance. The pool is great after our morning run on the beach, and the second-floor balcony is a great place to sit and watch the sunset."
The Davis' bought their house in early 2016 and paid a little over $190,000. They added an underground, custom-built pool, and included all the normal North American amenities: air-conditioners, granite counters, and so on.
"In Missouri you can get this type of house in a standard suburban neighborhood for about $250,000. This does not include any amazing view—or beach on your doorstep." Another saving is on property tax—$500 in Nicaragua compared to $3,000 Stateside.
But it's not all about the money savings, they love their life in Salinas Grandes and can't wait to make the final move there.
"Our favorite part is starting our morning sitting on the veranda with a coffee, listening to the birds, and hearing the ocean. Then we take a walk or run on the beach and greet the locals as they head out, or return from fishing—sometimes we help them with some added muscle to get their boats up on the beach.
"Today we went running on the beach, picked up a sand dollar and other shells, cooked an amazing breakfast, played in the pool, started reading a new book, followed by an afternoon nap, and then we had a quiet dinner on the beach."
"Our life here is very stress-free, very healthy, and very quiet."
Get Your Free Nicaragua Report Here:
Learn more about Nicaragua and other countries in our daily postcard e-letter. Simply enter your email address below and we'll send you a FREE REPORT – Start a New Life on the Beach in Nicaragua.
This special guide covers real estate, retirement and more in Nicaragua and is yours free when you sign up for our IL postcards below.
Get Your Free Report Here