Pedasi, a small fishing village on the southern tip of Panama's Azuero Peninsula, and just a five-hour drive from Panama City, has some of the most picturesque beaches in Panama. It comes as no surprise then that Pedasi has about 200 expats living here. With almost 30 miles of unspoiled coastline and a dozen pristine beaches it is a difficult task to name the top three beaches in Pedasi. But here it goes.
Within three miles of Pedasi town center there are two beautiful and mostly deserted beaches, Playa Arenal and Playa La Garita, these beaches have no long rows of homes, pay to park lots, or hot dog vendors. Just miles of natural beaches with only a few people walking their dogs or enjoying a cooling boogey board ride.
Playa Arenal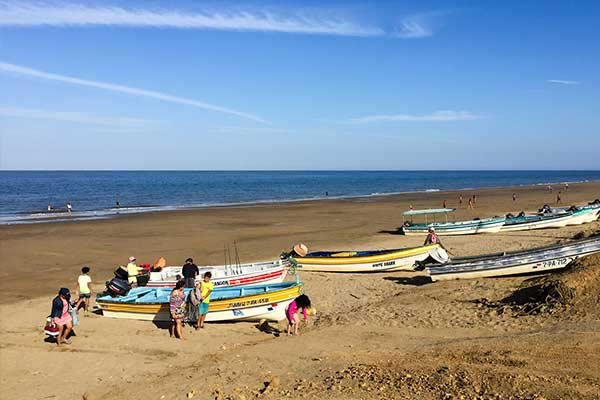 Located on the north side of Pedasi, Arenal is where the local fishermen launch their pangas to catch excellent tuna, mahi, and snapper. There is plenty of free parking here and the boat captains will also take you on a short 20-minute ride to stunning Isla Laguana, a small island National Park with sparkling azure green waters and a white-sand beach. People come from far away to spend the day, snorkeling or scuba diving her. There is a small beach cantina at Arenal that serves cold cerveza (beer) for only $1. This is a great gathering place in the late afternoon to swap fish stories or just hang out and watch the boats return.
Playa La Garita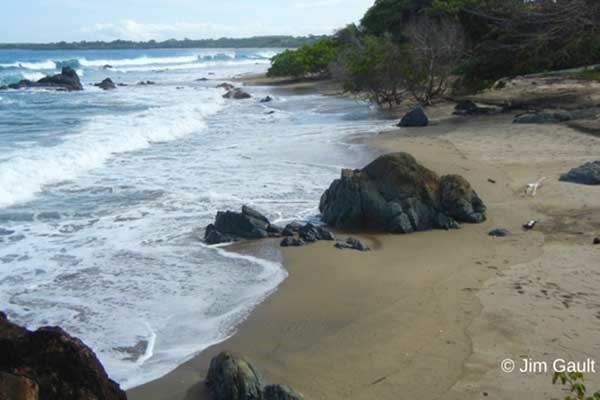 La Garita is located at the south end of Pedasi. There is a tiny parking area on bluff 30 feet above the rocky coastline here and you need to walk down a small incline to access the spectacular beach below. People come here for the excellent boogey boarding and surf fishing near the rocks, and you can stroll more than a mile along the beach. Usually there are 14 to 16-foot tides, which mean that at high tide the beach is narrow and at low tide there may be 100+ yards of exposed sand and jagged rock arrangements. There are no facilities, and just a few shady palm trees to relax under, but, the sunrise at La Garita is spectacular as the dark gradually fades and the rising sun slowly lifts out of the water.
Playa Venao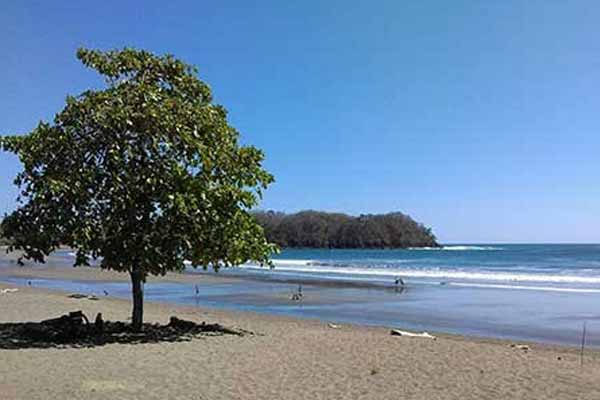 Playa Venao, located around 25 miles past the center of town is a fantastic crescent shaped bay and beach almost a mile wide, with probably the best surfing in Panama. In fact, in 2011 it hosted the ISA (International Surfing Association) Surfing Games and more recently the International Surfing Championship Playa Venao Golden Pro 2017. There are surf schools here so you have the opportunity to take surfing lessons that teach to a range of ages and experience levels.
Playa Venao also offers several very good places to eat with plenty of parking available. Selina's has tasty bar food at reasonable prices and a good beach vibe, while El Sitio is recognizable by its tall brightly painted lighthouse and large bar with thatched roof. Gavilan's is a great place to have a cold beverage, enjoy your favorite pizza, and watch the surfers. Panja is located just down the beach from the many other places to eat. This husband and wife team have worked at many places around the world, and use locally grown produce to create interesting and delicious meals in their farm to table restaurant.
Pro tip: If you want more than just beach activities on Playa Venao, then just go across the road to Eco Venao. It is set within a 346-acre reforestation project and offers cabins, hostel type accommodations, hiking, a waterfall, horseback riding, yoga, and a restaurant.
Each of these three beaches is unique and offers distinctive opportunities for you to be as busy or as relaxed as you desire. Go fishing for the "big one" at Playa Arenal, watch a stunning sunrise and boogey board at Playa La Garita, or head to Playa Venao for some serious surfing and good eats. Tough choices…but that's why you will love Pedasi.
Related Articles
Most Popular Facts About Panama
By Moving to Panama You Can Move to Paradise
The Best Places to Vacation in Panama