"Rio de Janeiro." The name alone conjures up images of broad beaches populated by impossibly beautiful people.
But while everyone has heard of Rio, far fewer know that "The Marvelous City" lies in a state of the same name. Rio de Janeiro state, though small in size, is geographically quite diverse.
Mountains parallel the coastline, sometimes veering down into the sea. Broad swaths of the original mata Atlântica (Atlantic forest)—one of the most biodiverse areas in the world—still blanket the hillsides. Scores of lakes and lagoons lie within sight of the shimmering South Atlantic. Majestic beaches stretch literally for miles; others lie sheltered in secluded coves, accessible only by boat. Tantalizing palm-studded islands, most uninhabited, await the more adventurous.
You'll also find delightful towns and small cities scattered across the state, each with its own attractions and its own personality. All are easily reached from Rio. Below are three of my favorites: Cabo Frio, Petrópolis, and Paraty.
Cabo Frio: The Largest City in Brazil's Lake Region
Cabo Frio (pop. 200,000), the largest city in Brazil's popular Região dos Lagos, or Lakes Region, is a favorite destination for cariocas (residents of Rio city) looking to escape Rio's summers—and a favorite of mine.
It's a nice size, with a good infrastructure, and as it's flat and well laid out, it's supremely easy to navigate on foot.
Petrópolis: A Popular Summer Destination
Petrópolis (pop. 300,000) lies less than two hours north of Rio, in the serra, or highlands. Its history stretches back almost 300 years, when it was founded as a way station along the new road leading into Minas Gerais.
Owing to its proximity to Rio (only 40 miles away) and its cooler uplands temperatures, Petrópolis soon became a popular summer destination with well-to-do cariocas seeking to escape the oppressive heat of the lowlands.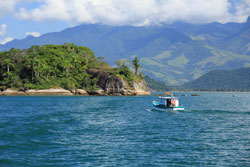 Paraty: Picturesque Beaches Just West of Rio
Located west of Rio, a two-lane road which threads its way between the ocean and the foothills will bring you to the small, pretty town of Paraty (also spelled Parati).
Her colonial center is one of the best preserved in the Americas. That's the way locals intend to keep it. Cars are prohibited from driving in the town center because of the historic cobblestone streets currently under consideration as a UNESCO World Heritage site.
The two beaches in Paraty proper, Pontal and Jabaquara, are picturesque and fine for lunching or sipping a beer in the shade, but aren't great for swimming. However, Trindade, about 40 minutes away by local bus (about $1.50), is absolutely wonderful.