Do you have any regrets? That's a question I often ask my friends who are living overseas. And I'd venture that 99.9 percent of the time I get the same answer.
"I wish I'd done it sooner," they say. "If I'd only known back then what I know now…"
So what's the big secret? It's that life can be so much better when you don't have to worry about budgeting your money or about taxes, life-threatening weather, impersonal corporate health care…or even household chores.
Another question I frequently ask expats I meet is how much they think they're saving by living in a foreign country. As you might imagine, the answers to this are all over the board, but typically, they say they are spending 50% to 70% less than they were at home.
And they always say that their quality of life has improved by the same amount…or even more.
The biggest benefits, expats say, are these:
1. The world is your playground. Latin America…Southeast Asia…even Europe…all are more affordable and likely more exotic than where you live right now. Choose your perfect climate and the type of scenery you want out your window and you instantly increase your happiness quotient.
2. You have the time and freedom to do what you want. This is true of retirement in general, of course, but when you live in the type of place you've always fantasized about, everything is just that much better. You can take leisurely walks on the beach, long hikes in the mountains, sit in the sunshine and savor your morning coffee, stop for Happy Hour with friends, find time for hobbies…and all in your long-dreamed-of, perfect setting.
3. You have more money, too. Pick the right location and your retirement income goes much, much farther, as I said before. You can have a little extra each month to spend on fun things, like travel, spa treatments, theater tickets, even hiring someone to help you with household chores. (In Ecuador, for example, the minimum wage is $340 a month. To have our small condo cleaned, my husband Dan and I pay just $10 for a couple of hours' work, and that's typical of most of Latin America.)
4. Just to elaborate a bit more on the financial benefits of living overseas: annual property taxes in most of the rest of the world are ridiculously low (as compared to the U.S., for example). Taxes for our condo in Ecuador were less than $54 this year. If we still owned our home in Omaha we would have paid more than $8,000 this year for property taxes. That's $7,946 in our pockets, not to mention that our monthly utility bill in Nebraska would be in the $500 range, but here in Ecuador we average $27 a month total…for gas, electricity, water, and trash pickup.
5. Health care, too, offers big savings. An office visit in Latin America or Asia will set you back, on average, anywhere from $10 to $40. Dental care is typically one-fifth the cost of the States, as are health plans. (Some countries offer public health plans, with prices I've seen ranging from $50 to $150 a month per person…a huge savings as compared to back home.)
But there are far more benefits to living overseas than just these, of course…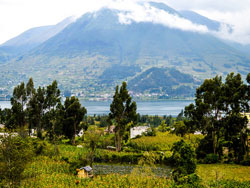 In all of the expat communities that we've been part of, there's a general camaraderie that's hard to find in Stateside neighborhoods these days. In expat communities, though, you become part of a family of like-minded people. These are the people you have dinners with, celebrate birthdays and sports team victories with…they're the people who care for you when you are sick and who are there to lend a sympathetic ear when you need one.
And that's not to mention the wonderful and welcoming local people you'll meet and the colorful local culture that you'll participate in…Imagine being part of a shamanic cleansing in South America or Asia…of floating a barge through river channels in France…or drinking mescal made by local artisans in Mexico…or snorkeling every day with your new Belizean friends in the Caribbean…
That's what life is all about, really…the experiences we have and the fellowship we share with others.
And if I have only one piece of advice, it's this: don't live with regret. Don't regret anything you've done up to this point because it's made you the person you are today.
And if you have the slightest inclination to try out the expat life, then do it. You will not regret it, although you may wish you had done it sooner.
Free Report:
Learn more about the best places to retire in our daily postcard e-letter.
Simply enter your email address below to sign up for our free daily postcards and we'll also send you a FREE report on The World's Top Ten Retirement Havens.
Get Your Free Report Here