After almost 14 years in Latin America…where I scouted highland towns in Ecuador…checked out coastal resorts in Chile…tried to chase down the next hot spot in the Caribbean…I'm in southern Europe, looking for a new base and any real estate opportunities I come across.
I'm in Albufeira, on Portugal's Algarve coast, as I write.
Faro, I as I told you recently, was a bit too tame for my taste. Albufeira on the other hand might be a bit too wild…
It's far from wild right now. In fact, it's positively well-behaved. But that's because it's out of season. Many of the businesses are closed, with signs posted saying they'll re-open next March. Throw in COVID-related travel restrictions, and Albufeira is eerily quiet.
That's not the case in season, when Old Town and The Strip are normally packed with partying tourists. Not the kind of tourist I'd want to party with, either. They're a younger crowd, looking for fun…but fun that's not too foreign.
Old Town is awash with cheap bars and "English" breakfasts for €5 (about $6). Menus in English are for French fries and pizza, chicken wings, and kebabs. The menus in Portuguese, on the other hand, offer traditional favorites like cataplana (a fish stew), bifana (pork sandwich) and fresh, grilled sardines.
From a distance, Albufeira looks like a traditional whitewashed village sitting on steep hills that slope down to a golden beach. There are so many hills and slopes, that Albufeira offers multiple ways to get to the beach. Tunnels…stairs…lifts…even escalators.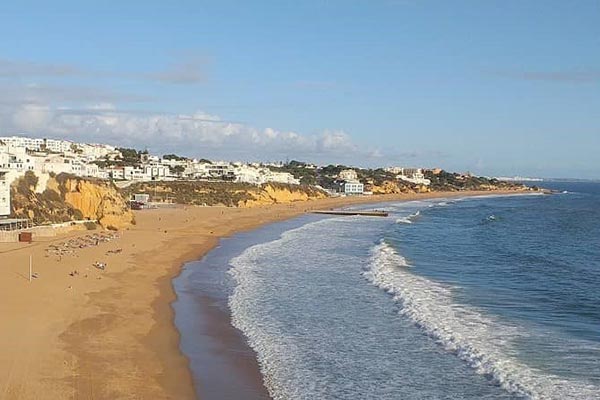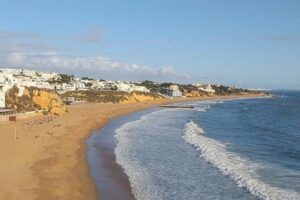 In the 8th century, the town was an Arab stronghold, known as Al-buhera. King Alfonso III conquered the town in 1247. Then it languished for centuries. The 1755 earthquake that devastated Lisbon caused a huge tsunami with waves more than 30 feet high that swamped Albufeira. Reputedly, only 27 residential buildings in the town proper survived.
In the 20th century, Albufeira was a fishing village. From 1930 to 1960, factories and businesses in the town closed, and the population fell by half.
Then, in the 1960s, with the advent of cheap jet travel, Portugal's Algarve became attractive to vacationers. Northern Europeans in particular flocked to its sun-drenched coast. Albufeira went from fishing village to tourist destination almost overnight. Its market isn't fancy or high end.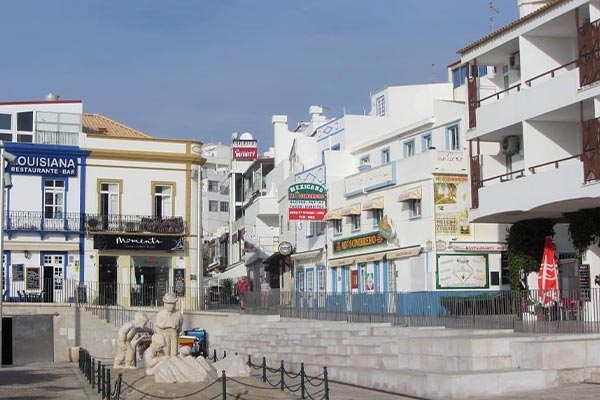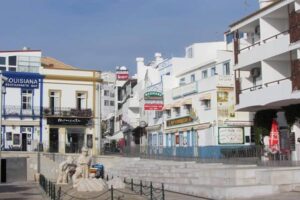 I'm not staying in Old Town or The Strip. Instead, I'm in a small condo complex on the crest of Cerro Grande. The position means incredible views of the ocean. It also means a killer climb when returning from Old Town, the marina, or the beach (they're all a 10-minute walk from here).
Cerro Grande shows another side to Albufeira. There are a couple of condo complexes, and lots of very large single-family homes on big plots. The homes have swimming pools and gardeners trimming the pomegranate, lemon, and orange trees. They're a world apart from The Strip's tacky bars and tattoo parlors.
This is the view from my office: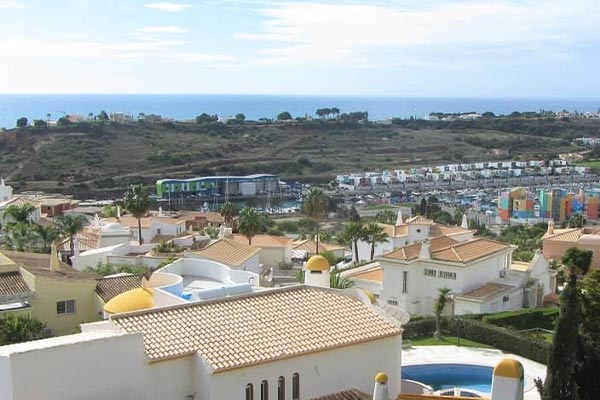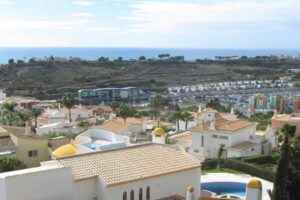 It also doubles as a sunny breakfast and lunch spot.
Irish and British folks often say it's cheaper to spend a month in places like Portugal in the winter than paying the heating bill back home. Indeed, traveling out of peak season has its advantages. Rents are lower, for a start. The spacious one-bed condo we're renting, with porcelain floors, granite counters in the kitchen, and two ocean-view terraces, is €490 ($593) for two weeks. That includes utilities. It's only €35 ($42) a night, the kind of price you'd expect to pay for a fleapit motel.
I've done a bit of digging and in high season the owner charges up to €230 ($279) a night. Their calendar shows they're already 50% booked for June, July, and August next year.
A non-view condo in the complex, with less living space, is currently listed at €199,000 ($241,021). A one-bed penthouse, with incredible views, is listed at €375,000 ($454,185).
Indeed, the median price per square meter in this zone is €2,620 ($3,173). It's a pricey part of town. Below us is the marina, with crazy-colored condo buildings around it. (They're currently working on the second phase of this project.) They're a little lower in price, but they're less private/exclusive, with commercial spaces on the ground floor of the buildings. And, the finishes aren't great. A one-bed condo, with 89 square meters of living space and a direct marina view, is listed at €189,000 ($228,909).
Swing a left from the marina and you can see some condos under construction. These are large and luxurious, with ocean views, and serious price tags. Amenities include landscaped gardens, pools, a spa and jacuzzis. A three-bed condo will set you back more than a million euros.
Would I put my hard-earned cash into any of these? I think not. I can't see where your future gains would come…whether on the capital front or rental returns. They're lifestyle buys, when you're buying for personal use and any gains are gravy.
I can't picture the lifestyle buyer who'll shell out more than a million for a condo in Albufeira, either. It's got a reputation for cheap vacations and must be crazy in the summer when it's packed with people. It definitely doesn't scream high end or expensive or luxurious—or million-dollar condos.
The search for a base continues. Albufeira, the wild card, doesn't make the cut. Will anywhere on the Algarve fit the bill? Only time will tell…
Get Your Free Real Estate Report Now
Sign up for our free daily Postcard e-letter and get a valuable free report on the The 5 Best Places to Buy Real Estate In 2023.
Related Articles
The Upsides (and 2 Major Downsides) of Buying an Older Condo
Dream Homes in Italy from $76,617
Upcoming Conferences
The Only 2023 Fast Track Costa Rica Conference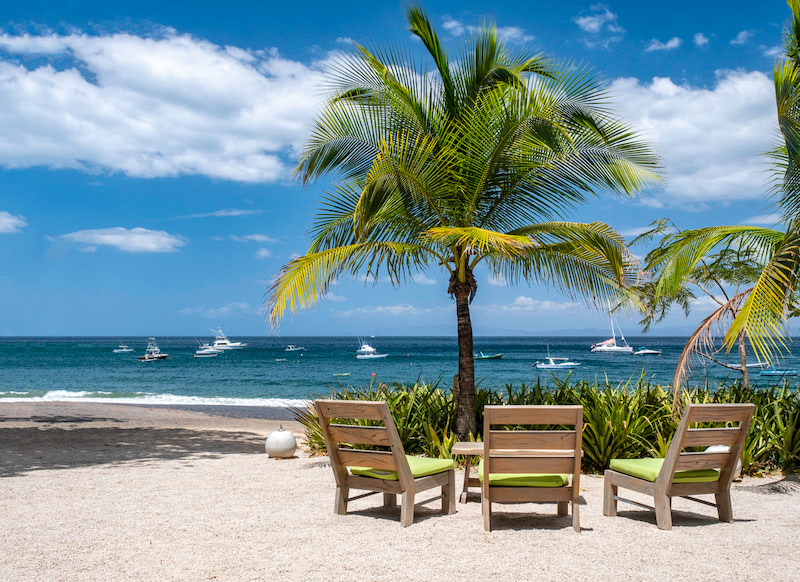 If your dream retirement involves stunning beaches… lush green mountains… a perfect year-round climate… first-rate healthcare… incredible value for money (a couple can live well on $2,109 a month—including rent!)...
Join our Costa Rica experts and expats in June and discover true Pura Vida.
REGISTER NOW, SEATS LIMITED: EARLY BIRD DISCOUNT HERE
---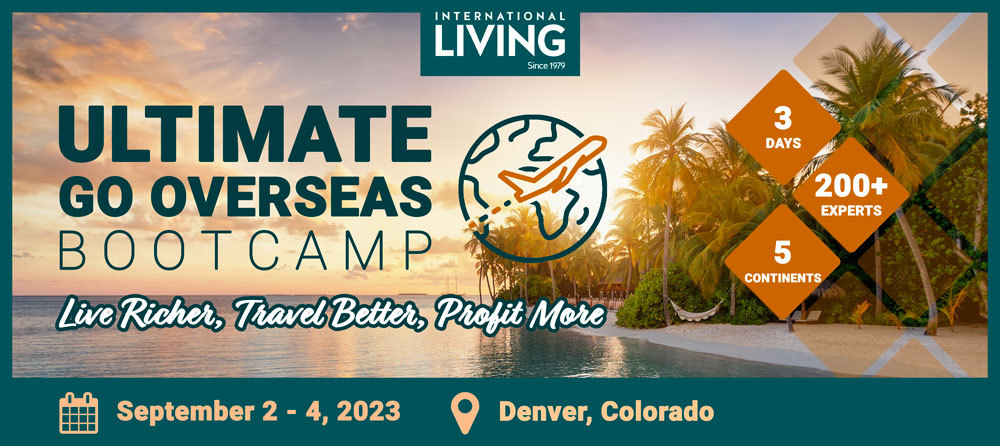 Most Popular Products