An increasing number of Americans have expressed an interest in moving abroad. At International Living, we've provided advice and information on transitioning to a new life overseas in retirement since 1979. In the last several months, we've seen a huge spike in queries on our website on topics related to moving out of the U.S….and we decided to find out why.
We sent out a survey to 9,000+ subscribers. This first group was subscribers to our free email list, who receive daily messages – called Postcards – from our correspondents living in expat destinations in Latin America, Europe, Southeast Asia, and beyond. They and other expats share what life is really like, their experiences, and details on specific locations.
We also polled paid subscribers to our magazine and other publications and programs to understand why they were reading International Living. Many of the usual suspects came up, including seeking a lower cost of living, the chance to live in an ideal climate, low-cost/high-quality healthcare, and more.
For the newest subscribers, we discovered that many were motivated by the pandemic and its fallout, not to mention political turmoil in the United States.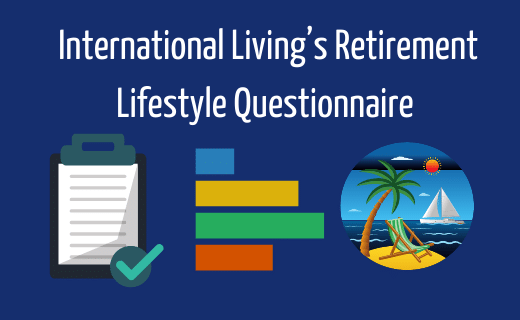 Question 1: What Gender are You?
62.64% of people who took the survey were male.
37.05% of people who took the survey were female.
0.28% selected other.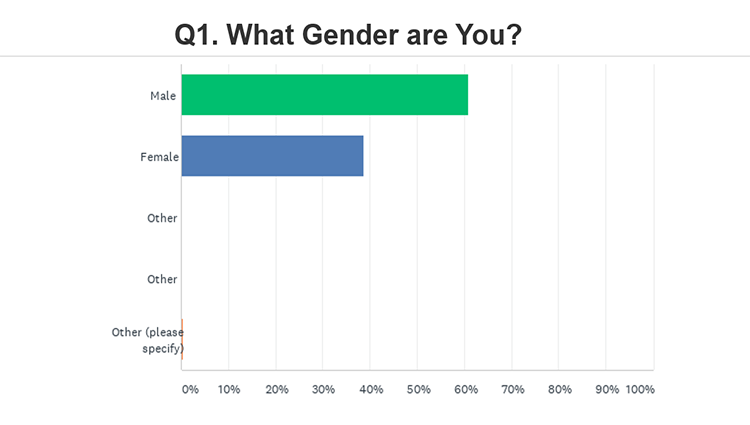 Question 2: What is your Marital Status?
Just about 56% of our audience is married, with 33% single. What's interesting is that in most expat destinations you'll find a large group of singles – male and female.
Living alone is safe in most places. And there are plenty of activities for everybody; singles never feel excluded.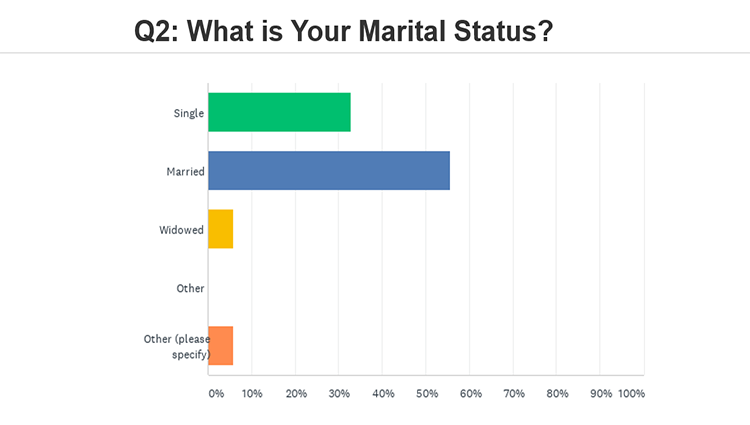 Additonal Resources for our Single Readers:
Moving Abroad Single? It's easier than you Think.
Question 3: Age?
Retirement is different for everybody.
Some people are planning for a retirement overseas several years from now, while others are already retired but looking for more adventurous and affordable alternatives than the U.S.
That's why you see this range of ages.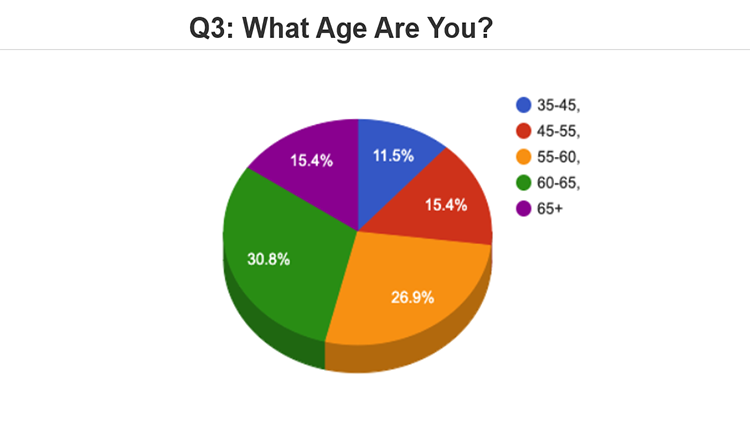 Find out More about The Best Places to Retire:
The World's Best Places to Retire
Question 4: What is Your Nationality?
The vast majority of our readers are from the United States, representing 82% of subscribers. Canadians make up 9.5%, with Australians and Europeans coming in at 3.8 % and 3.7%, respectively.
We address this issue by often profiling expats from these areas in our coverage and offering information that applies to people of all nationalities.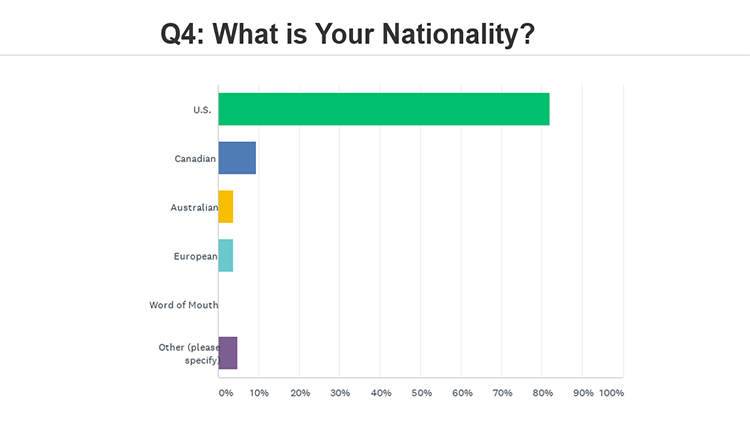 Question 5: How Did You Hear About International Living?
Of the people who could recall where they heard of International Living, most, at 22.7%, said that it was during a Google search.
Facebook brought in 12.5% of those surveyed, which is testament to International Living's active social media presence, including pages dedicated to popular retirement havens like Mexico and France.
Like International Living's Facebook page here – https://www.facebook.com/International.Living/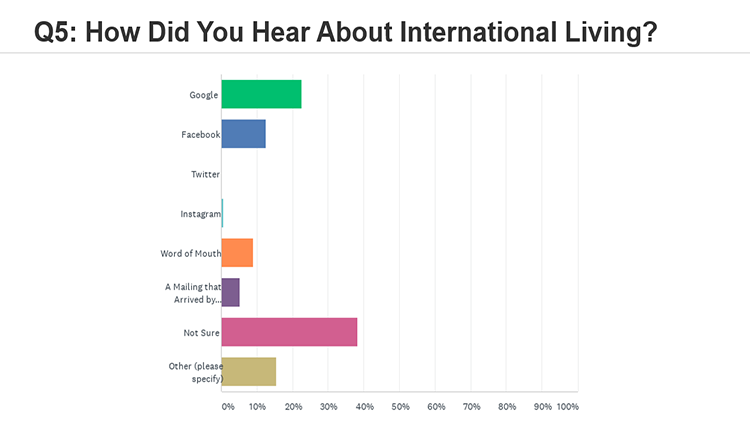 Question 6: What Made You Sign Up to International Living's Daily Postcards?
About 76% of new subscribers say they are looking for general information on moving overseas, and that's why they signed up for our Postcards, which is International Living's free daily email. That stands to reason as Postcards give a great overview of the overall expat experience.
IL readers tend to be travelers too, so it's no surprise that 27.5% signed up to get more information on this topic. We also take deep-dives into the countries that are in IL's universe in the daily Postcards, so the 26% of new subscribers looking for that information are finding relevant content.
Since we also cover ways to fund a new life abroad—whether it's starting a business, investing, real estate, freelancing, or something else—it makes sense that the 19.7% of respondents looking for that content signed up for Postcards, as well.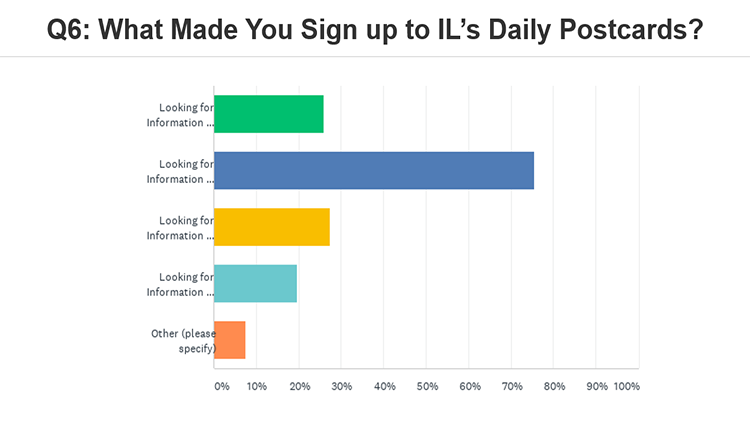 Additonal Resources:
Editor's Choice – The Best Content from International Living on Travel and Moving Overseas
Need a Way to Fund Your Life? Find Out Much More Here
Q7: Are You Currently Living Overseas?
It's no big surprise that 89% of our readers say they are not currently living overseas. However, 3% did say they are living overseas part-time. This is one of number of trends we covered in our 5 Ways Retirement is Changing article. If you prefer consistency and rootedness, you'd probably be happier moving somewhere full-time. But if you like variety, stimulation, and change, the part-time expat lifestyle might be just the answer.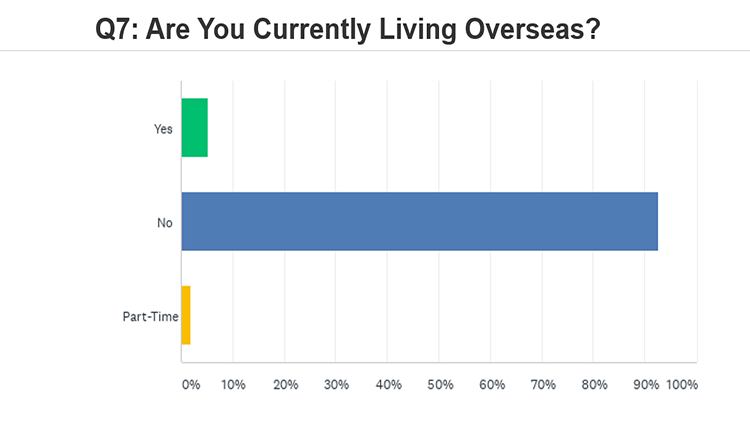 Additional Resources:
Q8: Have You Lived Overseas Before?
Of IL readers, about 61% have never lived overseas before – they're dreaming of the opportunity now and planning for it by reading IL.
Not surprisingly, a significant number, 38.8%, have lived abroad. And they're ready to experience that life again, whether in the same location or a new one.
Of these folks, some are retired military who had been stationed overseas, others worked abroad as executives. Some spent time abroad as young people… and want to recapture that magic later in life.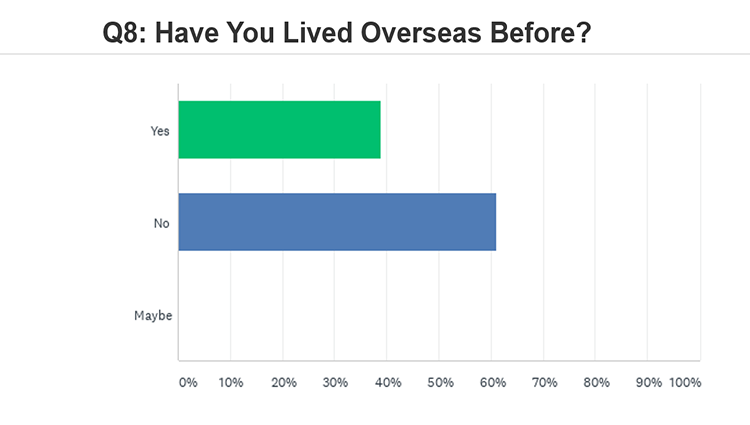 Q9: Do You Want to Move Overseas?
The decision to move abroad is not to be taken lightly. There is a lot planning and preparation needed. For IL readers, especially new subscribers, they're in the research phase to see if there is a location that appeals to them… and if it's even possible in their specific situation.
That's why 25.3% state that they're a "maybe" when it comes to moving overseas.
Of the 63%, who say they will move abroad, it's about split down the middle as far as full- and part-timers.
Both are good options. Being a full-time expat allows you to fully immerse in a new country and culture.
Part-timing abroad—much like snowbirding in Florida and Arizona—can allow you enjoy benefits of your hometown, like family and friends, as well as perks of an overseas haven, like warm weather in the winter and lower costs.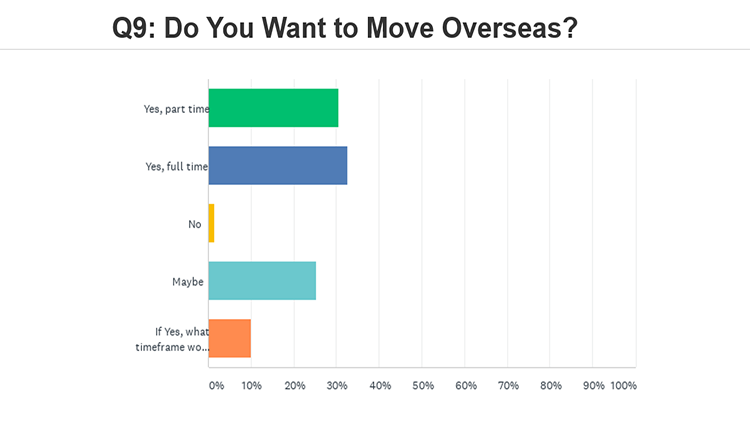 Q10: How has the Current Coronavirus Pandemic Affected Your Interest in Moving Overseas – If at All?
For more than 40 years, International Living has helped people find rewarding new lives abroad.
There is always a core group of people who will have that dream, in good times and bad. So it's not surprising that 72% of our audience remain unaffected by the pandemic as far as their motivation to move.
But based on the recent spike in interest in moving out of the U.S. we've seen, this idea has been gaining traction with a new audience, resulting in 20% of our readers citing more interest in moving due to the pandemic.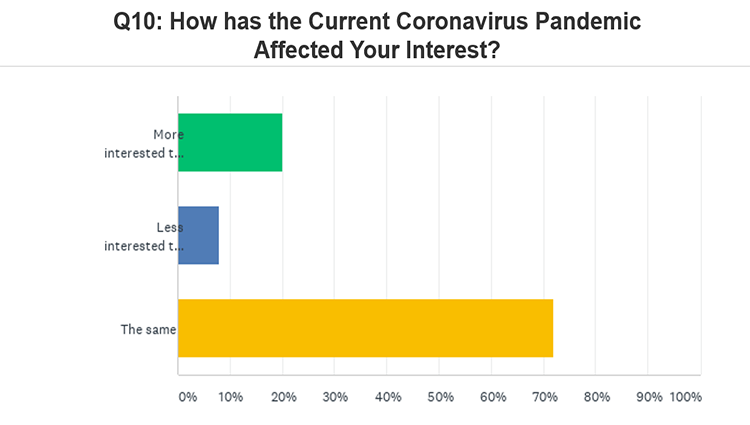 Q11: What Is Motivating You Most to Investigate Your Options Overseas?
There are countless reasons to move abroad. And the IL readership embraces many of them. With rising costs in the U.S., it makes sense that 38.4% of subscribers are interested in living in a country with a lower cost of living. At 12.7%, better climate is also a deciding factor. (We report on many locations with spring-like climates year-round.)
Some other factors, including lower health care costs (7%) – you can find low cost/high quality care better than the U.S. in many countries, travel opportunities (5.9%), new cultural experiences (10.2%), and adventure (7.4%).
In times of political turmoil, we have found that a certain subset of readers are motivated to escape for that reason. Currently, they number about 8.2% of our readership.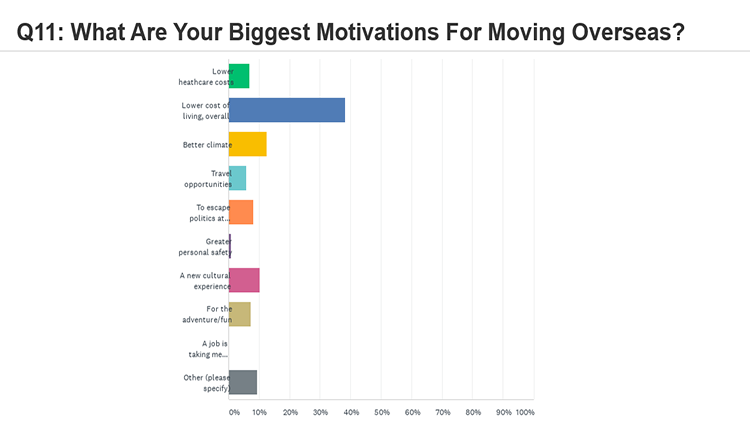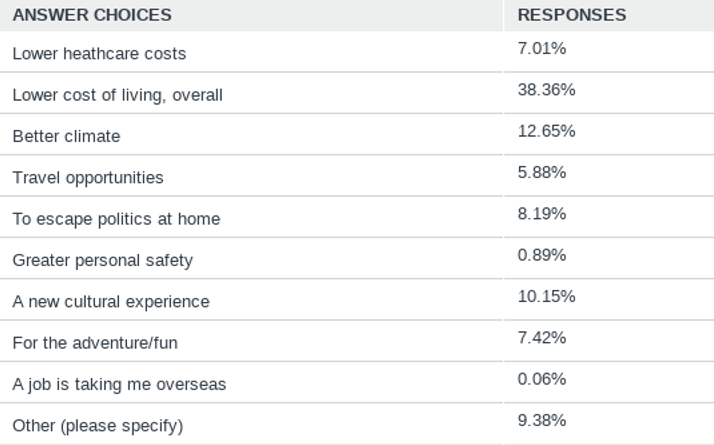 Massive Surge in Americans Searching for Info on Moving Overseas:
Q12: Do You Feel Your Retirement Funds Are Ample Enough to Provide for a Comfortable Retirement in Your Home Country?
This dovetails with the previous question, where more than 38% of IL subscribers said they were seeking a lower cost of living abroad.
When asked if they had enough money to retire in the U.S., 41.2% said no. They are drawn to the low cost countries we cover across Latin America, Southeast Asia, and even in Europe – which is more affordable than many think.
The other 58.7% said they do have the funds to retire at home. Of these, many know they can enjoy a better retirement for less abroad; they're interested in making their money go further.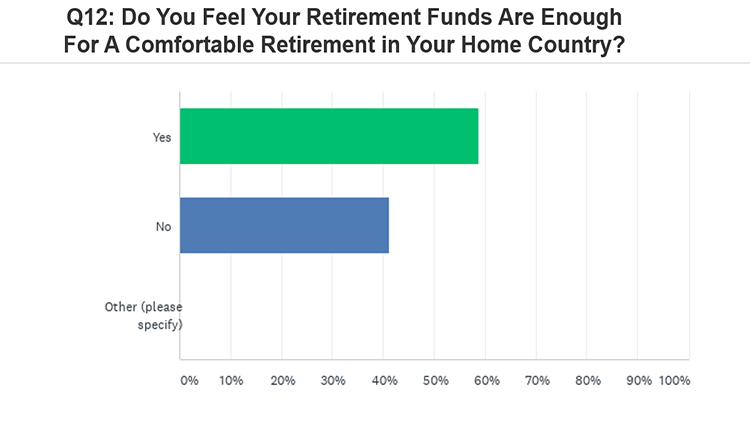 5 Countries that Offer a Great Retirement at Low Cost:
The Cheapest Places in the World to Live
Q13: What Is the Annual Budget You Expect to Have in Retirement?
IL readership is drawn from a variety of income levels; all people united by an interest in moving abroad, whether their motivation is mostly financial or related to experiencing a new culture, enjoying lower cost medical care, finding better weather, or something else.
About 29% if our readers expect to retire with an annual budget of $40,000-$60,000 a year. Nearly 24% say they will have $25,000-$40,000. 22.8% of respondents say they'll have $60,000 to $100,000 annually in retirement. And at the extremes, 14.7% of respondents will have less than $25,000 a year for retirement and 11.3% say they'll have more than $100,000.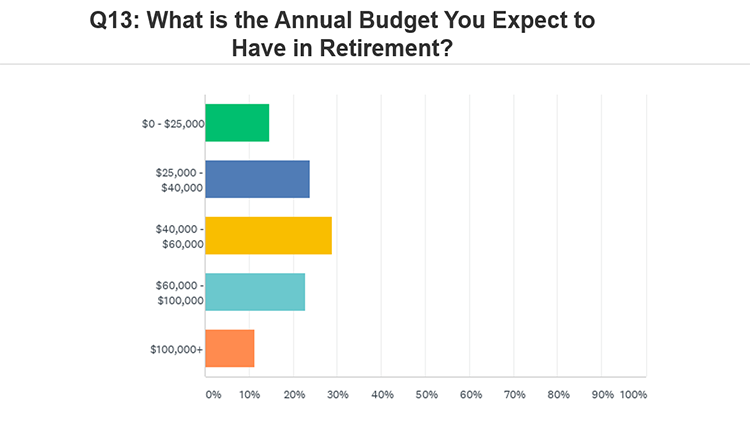 Check out How Your Budget Compares with our Best Countries for Retirement:
Your Overseas Retirement Calculator
Q14: What Country Are You Interested In
International Living covers countries across the globe, focusing on Latin America, Europe, and Southeast Asia. In all our reporting we try to highlight some of the top stops to retire, start a business, invest in real estate, and more. Our top 10 countries are generally pretty stable, but the order of popularity is a moving target.
After earning the #1 spot on IL's most recent Annual Retirement Index, it's no surprise that Portugal earns the most interest in our survey, with 16%. Past winner and perennial retirement haven Costa Rica comes next at 14.1%. Panama, which has its own benefit-packed retirement visa program, is next at 9.6%, followed by Mexico, which has been an expat favorite for going on 60 years, at 8.8%.
Other notable results include English-speaking Caribbean beach escape Belize at 5.2%, and several European destinations, which we've noted have become increasingly popular among our readers in recent years: Spain at 5.7%, France at 4.7%, and Italy at 4.5%.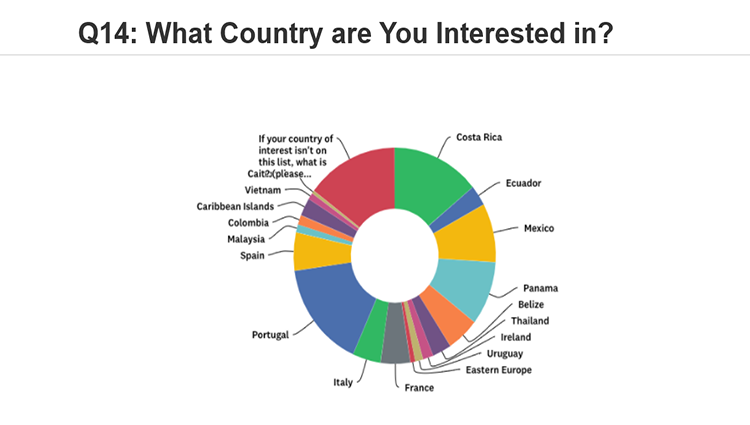 Q15: In Light of the Coronavirus Pandemic, Has Your Attention to the Healthcare Available Abroad (Its Quality, Cost, and Your Access to It) Changed?
Healthcare has always been a top area of interest for our readers; it's a huge topic for people planning for or in retirement. So it's always been popular.
That's 73.2% of readers have not noted a change in their interest in healthcare abroad during the pandemic.
Yet, 26.7% of readers have stated an increased focus on healthcare, perhaps prompted by the need to ensure that healthcare options abroad measure up and are effective for serious conditions.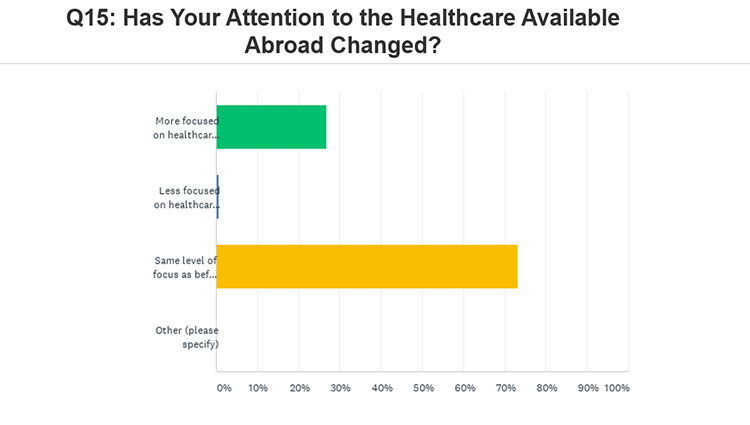 Healthcare for Expats:
5 Countries with The Best Healthcare in the World
Q16: How Do You Feel the United States Has Handled the Coronavirus Pandemic?
A major motivation for IL readers to move abroad is too seek lower cost/high quality healthcare, which is available in many countries.
For many, the medical system in the U.S. is broken.
And in the time of the pandemic, they have become even more concerned, with 71.6% stating the country has not handled the pandemic well and only a little more than 10% saying the coronavirus has been handled very well or extremely well.
A bit less than 19% have said the country has done well.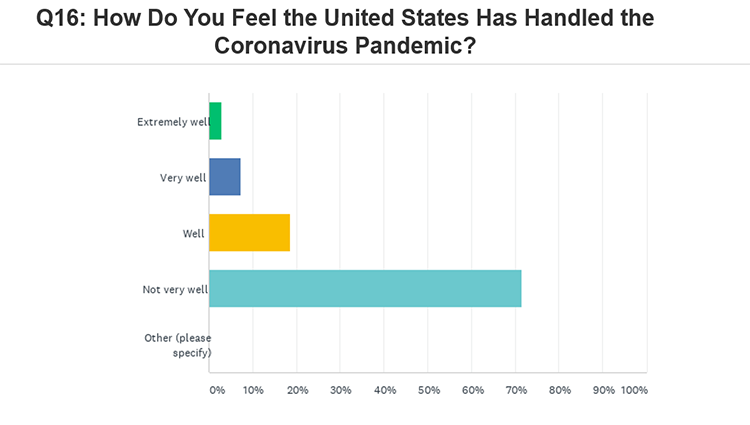 Q17: Do You Feel Some Other Countries Have Handled the Coronavirus Pandemic Better Than the United States Has?
In a continuation of the previous query, where nearly 72% of IL readers stated they felt the U.S. has not handled the pandemic well… 72.2% said that other countries around the world had done a better job, naming New Zealand, Ireland, Costa Rica, and South Korea as examples.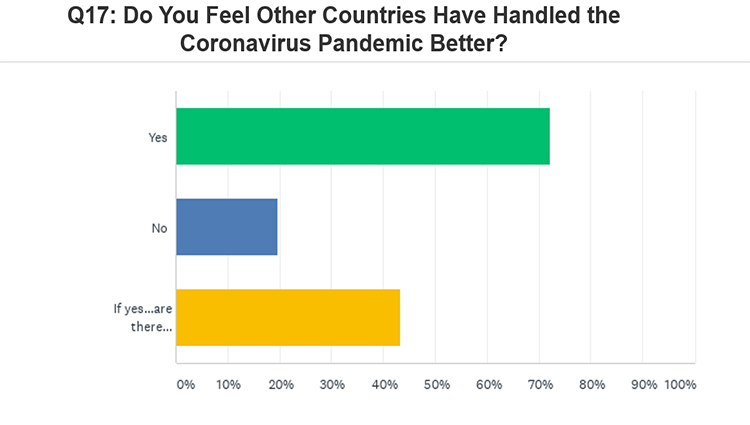 Q18: At What Age Would You Like to Retire?
Although the information we provide can be useful to someone of any age looking to move abroad, our sweet spot is retirement.
And that is reflected in our readership who are made up of those planning for retirement and those who have been retired but now looking for a different experience.
Of those subscribers surveyed, 46.2% are over 65, with 40.3% in the 55 to 65 age bracket.
An outlier – 10% of our readers don't want to retire. Many of our readers are hoping to keep working, whether it's a business they've always dreamed of or some online opportunity to earn extra income, such as teaching English or consulting.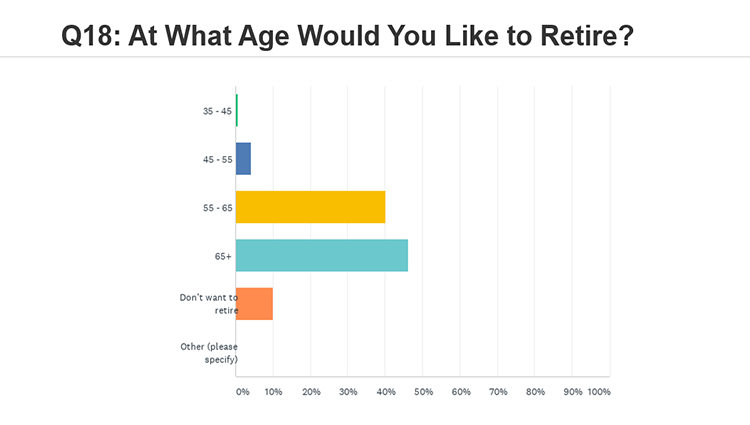 Q19: How Will You Fund Your Overseas Lifestyle?
It's one thing to want to retire… it's another to pay for it. With the finances of the average person under constant pressure from economic ups and downs, it can be a challenge to build your nest egg. Hence, the interest in retiring abroad, where your retirement dollar can go farther.
That's especially true for those relying on Social Security in retirement, which can be a challenge to live on in the U.S. Of those polled, about 75% stated Social Security and/or savings and investments would fund their retirement abroad. That's followed by a pension at 45.5%.
Some folks will continue working in some capacity after retiring from their careers. Freelancing and consulting – leveraging skills or experience you have in a part-time capacity – is becoming more and more popular.
About 27% of readers plan to engage in this type of work while living abroad.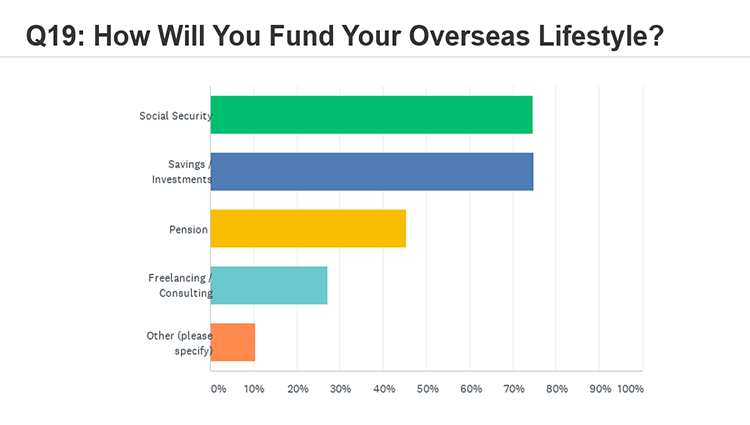 Learn how you can Fund Your Life Overseas:
Q20: Which Are You Interested In?
Just like back home, you have a wide range of housing options when you live abroad. There are condos, apartments, home, townhomes, country houses, beach bungalows… The big question when you make the move is do you buy or rent? Often renting is a good option at first so you can get the lowdown on the local real estate market.
Purchasing real estate, which you can do just a local citizen in most countries around the world, can give you a great asset, that can grow in value considerably in some cases. Among our readers, just under 73% are interested in renting. Of those interested in buying, 58.2% want to purchase a home to live in, which 11.5% are solely wanting to make an investment.
Only 11.6% want to build their own new home, which can actually be quite affordable in many locations although it does take more time and energy to get it done. We provide information on how to do all four.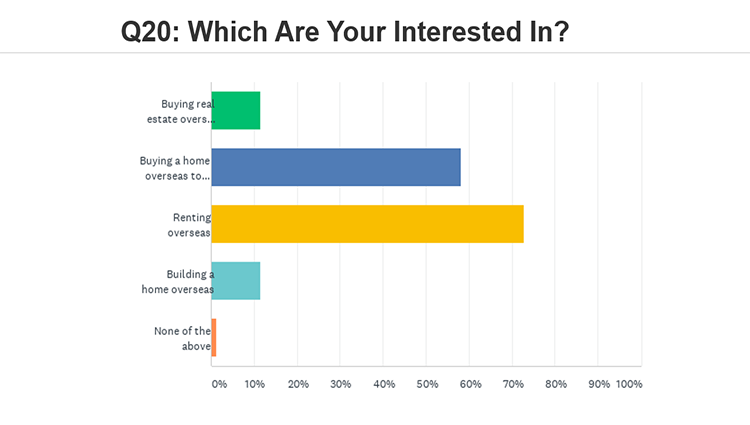 Check out some Great Examples of Real Estate for Sale Overseas:
Interntional Living Listings – Property Locations
Q21: Do You Speak a Second Language?
In most locations around the world that IL covers, it's not necessary to learn the local language. English is spoken worldwide, especially in expat havens and tourist hotspots, by everyone from doctors to shopkeepers. However, it's always a good idea to at least learn some key words and phrases – and pick up more as you go.
It will help you get to know your new country and neighbors, give you more insight into the culture, and be an asset in your daily life as you interact with people. You'll have a richer experience as an expat, and it's the polite thing to do.
So the 63.2% of our readers who do not speak a foreign language have nothing to fear.
It's not an obstacle to moving abroad. For those, 36.9% who do… they're in great shape, especially if they speak the language where they are moving.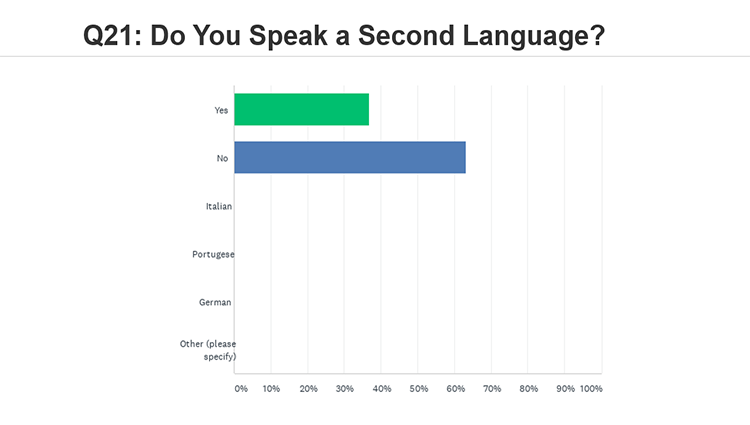 Q22: If Yes, What Other Languages Do You Speak
Of International Living readers who speak other languages, English is the top 31.5%.
This is English as a second language, a legacy of the United States and Canada's history of welcoming immigrants.
Next is Spanish at 27.8%. French and German sit at 10.1% and 6.3%, respectively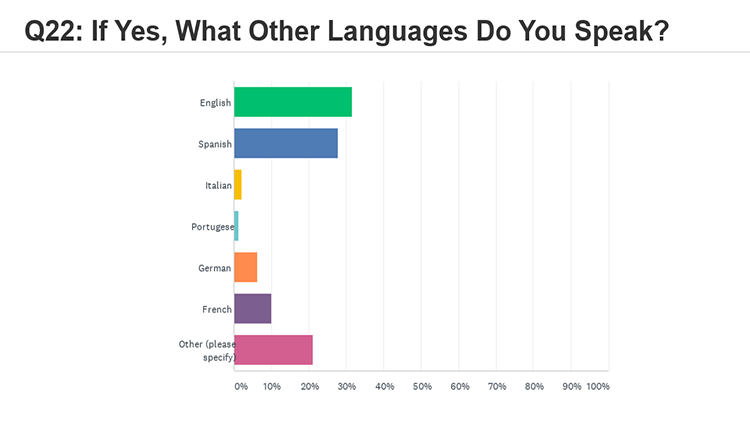 Additonal Language Resources:
Q23: As You Consider a Destination Abroad, How Important to You Is Proximity to Home?
When you move abroad one of the considerations is how easy it is to get to.
This makes it easier for you to visit home – or get back in a hurry if you need to – or for people to visit you.
Of course, the affordability of air travel today makes many places around the globe accessible.
Among IL readers, 55% say proximity is somewhat important and 10.2% said it is somewhat important, but 34.9% said it was not important at all.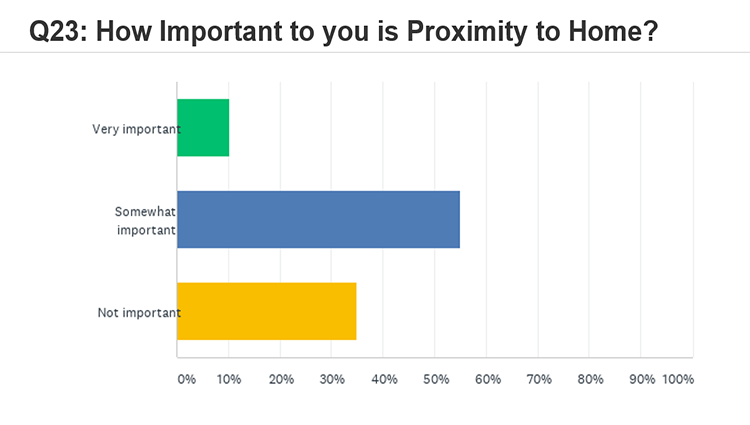 Q24: What Concerns You Most About the Prospect of Making a Move— What's Keeping You From Just Going?
There are lot of moving parts to moving abroad. You have to figure out a new way of life and ensure all the essential services you need are in place… and that you can afford the cost of living in this new place and that it will be safe.
Of those IL readers surveyed, 30.6% state they are unsure if they will have enough money to get by after the move. A valid concern, but keep in mind that there is a dramatically lower cost of living found in most countries IL covers.
There is also quality healthcare at a reasonable price, something that should alleviate the concern of the 11.4% of readers who had healthcare worries.
When you move abroad, often family and friends are not on-board, they think you're "crazy."
That's certainly the case for the 11.3% of readers who had that concern. Also, a worry is navigating the residence visa system. It's true there can be red tape and a bureaucracy.
But many countries have easy to qualify for residence programs and you can hire consultants and attorneys to get you through the process.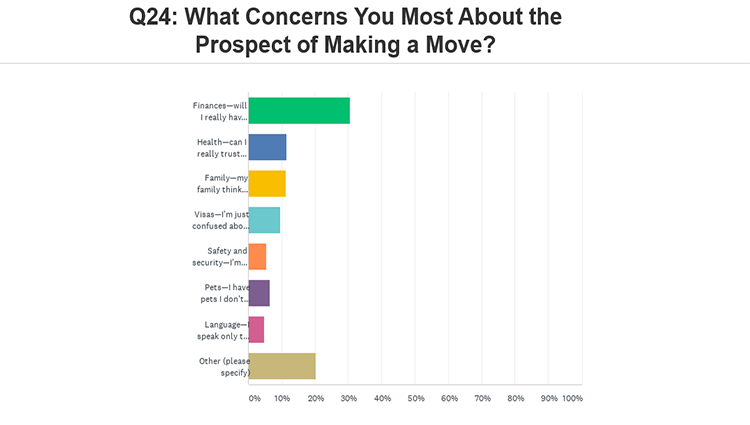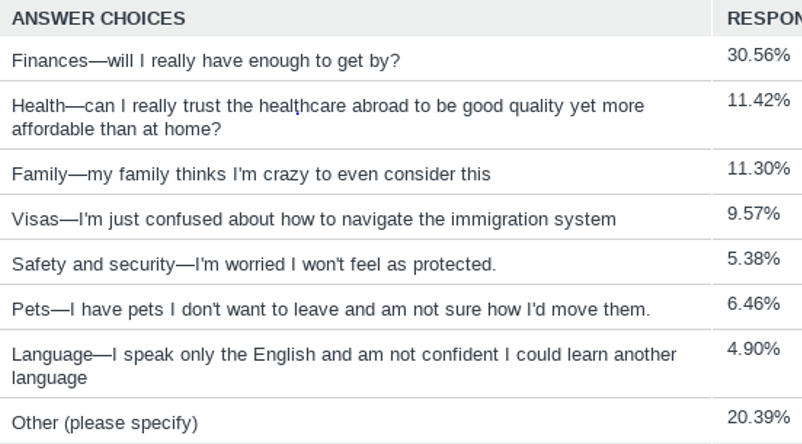 Q25: What Characteristics Do You Hope Will Describe Your Overseas Retirement?
Everybody has their own dream retirement in mind. No two look exactly alike. Everybody has their own reasons for going overseas. And that is reflected in what IL readers hope their time abroad will be like.
Twenty-seven percent hope to have a "roving" retirement, where they slow-travel from place to place, exploring a country, many countries, or even the world. With the low cost of travel these days, it's certainly possible.
About 13% of readers hope to retire earlier overseas than they could at home; with the lower cost of living, affordable medical care, and other benefits, they certainly can. There is also a significant number of would-be part-timers, with 8.5% preferring that lifestyle.
As far as locations, 14.8% hope to spend time in Europe, 9.7% in Latin America, and 3.5% in Asia.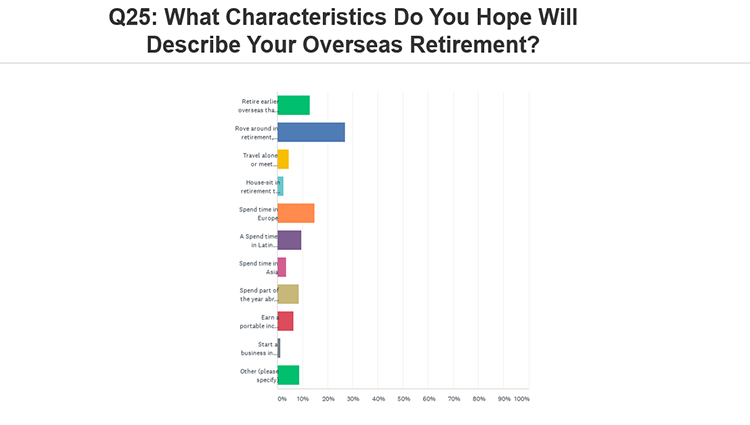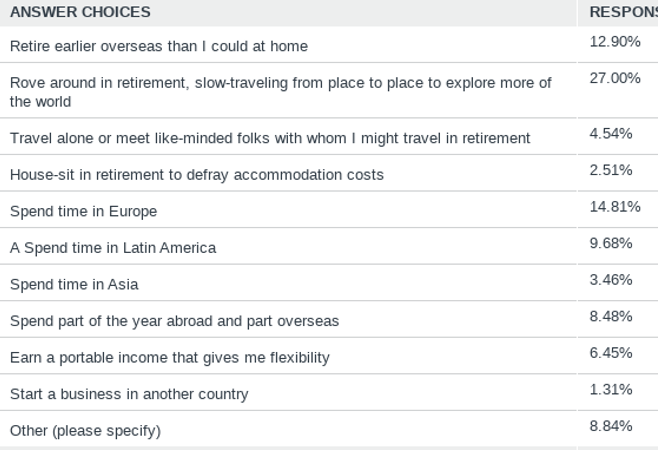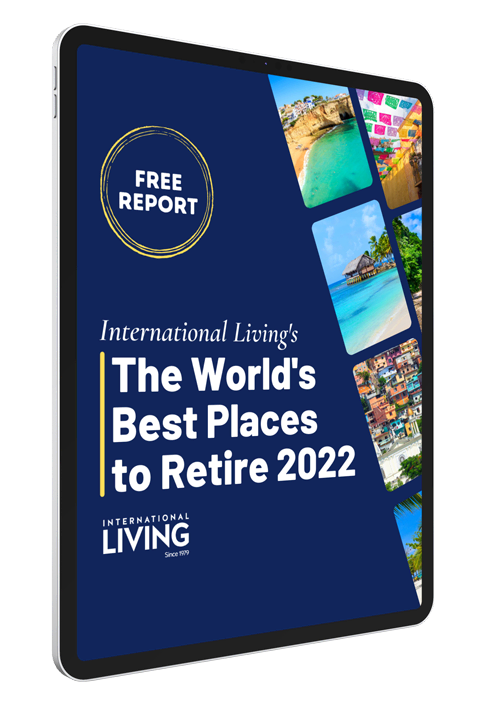 Get Your Free Report on the World's Best Places to Retire:
Learn more about the best places in the world to retire in our daily postcard e-letter.
Simply enter your email address below to sign up for our free daily postcards and we'll also send you a FREE report on The World's Top 10 Retirement Havens, plus access to over 10 more free reports. Our gift to you, on our favorite destinations.
Upcoming Conferences
Make 2023 Your Best Year Yet. Discover Panama with International Living

Panama has it all: beaches, mountains, a world-class capital city, top-notch, low-cost healthcare and the "World's Best Retirement Program" that makes the already low cost of living even more affordable.
Join us for International Living's Fast Track Panama Conference to see all that Panama offers. There's no better place to be and no better way to make 2023 your best year.
Most Popular Products