Like so many baby boomers, Suzy Giles felt she was destined to continue working full-time in the U.S. She wasn't working a bad gig—conducting wine tours in Napa Valley, California—but it didn't leave much time to pursue her passion for painting.
So she began to explore her options overseas for a location affordable enough to allow her to retire…and discovered Cuenca, Ecuador. After visiting the colonial city twice, Suzy took the leap. That was almost two years ago and the decision has proven to be a good one.
"I wanted an adventure," says Suzy. "I needed to stay out of life's ruts and to get out of my comfort zone."
That's something she's achieved in Cuenca. Thanks to its low cost of living, she's been able to retire. There's much more besides to enjoy here, too.
"One of the biggest draws of living in Cuenca is the weather," she says. "Where else can you live with spring-like temperatures year round, with lows in the 50s F and highs in the 70s F?" (Despite sitting on the equator, the city's altitude of 8,315 feet keeps the climate temperate.)
And, now that she's retired, Suzy has plenty of time and inspiration to fulfill her passion for art.
Cuenca is the cultural capital of Ecuador and, with its picturesque cobblestone streets, wrought-iron balconies draped with bougainvillea, and colonial period architecture, it's a painter's paradise.
"Painting is about creativity and making life beautiful," explains Suzy. "And I've found that here in Cuenca—from the people to the landscape."
Roughly 330,000 people call Cuenca home and, in recent years, it has become a popular retirement destination for "Norte Americanos." Cuenca's expat community has grown from approximately 200 in 2007 to roughly 3,000 to 5,000 today—depending on who you ask. It's one of the largest and most well-established expat communities in the world. On any given day, you'll find a fun activity to do, from pottery making to salsa dancing.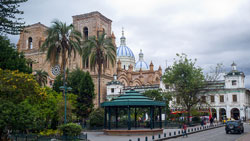 Of course, Suzy's dream life hasn't been without its bumps. She thought that learning Spanish would be a cinch and in three months she would be speaking fluently. Instead, she's still at it—learning a little more at a time.
Still, she's fitting in easily and making a lot of friends—not just expat friends, but also Ecuadorians, who she has found to be kind, helpful, and generous.
"Living here has helped me to form new relationships and connections with people that I would have never made otherwise."
She's thankful that she challenged herself to leave the States, to grow out of her comfort zone, and, in short, having the chance to "paint" a new life for herself.
"Cuenca has made it possible to pursue all that I love about life—learning, growing, and meeting interesting people."
Get Your Free Ecuador Report Here:
Learn more about Ecuador and other countries in our daily postcard e-letter.
Simply enter your email address below and we'll send you a FREE REPORT – Ecuador: Live Like Royalty on Your Social Security.
This special guide covers real estate, retirement and more in Ecuador and is yours free when you sign up for our postcards below.
Get Your Free Report Here