Nestled on the edge of Costa Rica's Central valley is the town of Atenas. With a population of about 7,000 that mushrooms in the high travel season, Atenas has a tradition of welcoming visitors, dating back to the days when it was a hub for oxcarts making their way to and from the coffee fields in the mountains to the nearby capital of San Jose.
At 698 meters above sea level, Atenas boasts the "best climate in the world," a slogan that is printed on local buses and signs. Compared to hotter beach communities and cloudier, much cooler towns, Atenas has become a popular spot for foreigners to relocate.
Here, it is common to meet expats who first tried living on the Pacific or in a remote jungle before deciding that their dream locale proved to be less than desirable. Before gravitating to a favorite beach or eco-lodge that first attracted you to this magical country, it is wise to picture yourself living day-to-day rather than vacationing. For many, Atenas fits that bill.
Living abroad is an open-ended question, often without ready answers. The local Costa Ricans (called Ticos) and an established group of foreign residents offer a sense of community. In the inevitable adjustment to living abroad, friendly resources are available to advise on opening a bank account, paying annual fees for cars, or locating a hairdresser, repairman, or dentist.
Healthcare, always a concern when living outside one's country, is available through public clinics, private doctors, and through Linea Vital (a private medical clinic and ambulance service). Nearby San Jose offers prepaid private medical care through MediSmart with top notch facilities. Local veterinarians see to the care of beloved pets.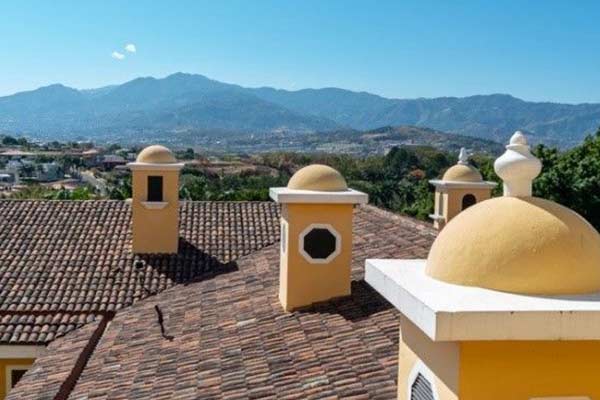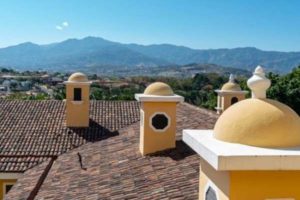 In Costa Rica's Central Valley, you'll find stunning vistas, welcoming communities, and affordable homes.
Meeting others is easy through volunteer and social opportunities. Animales Atenas rescues and funds population control for dogs and cats. The Angel Tree annually gathers gifts for needy children at Christmas. Get acquainted with other expats at the Bridge Club, Atenas Book Club, Women's Club, or Men's Club. Learn Spanish with Su Espacio or ATESA. Get fit at Atenas Yoga, Academia de Tai Chi Chuan /Lohan Qigong, or the Cafi Gym. Join Biclistas de Atenas or the off road long distance running group, NCS (No Corras Solo or Don't Run Alone.) Practice tranquility through the Buddhist Book Club or at Meditation classes.
During high season (December through April) a 5 p.m. Friday Happy Hour at Pizzeria La Finca provides an opportunity for expats to socialize. A local rock and roll group, Flashback, frequently performs at various venues.
For those who lament giving up living on the coast, an hour away are a variety of beaches. The Arenal and Poas volcanoes are an easy day trip from Atenas, and the Caribbean and Pacific Oceans provide weekend getaways.
Atenas is in close proximity to the Juan Santamaria International Airport and an hour bus ride from San Jose. The capital city shines with its internationally recognized National Symphony of Costa Rica, museums, and ethnically diverse restaurants. A thriving art community exists in San Jose with frequent art crawls and the sculptures of Jorge Jiménez Deredia.
Atenas is no slouch when it comes to restaurants, either. Try Crema y Nata for New York bagels and desserts, Al Gusto for a build-your-own salad, pasta or sandwich, El Fogon Campesino or El Balcón del Café for breakfast, or Natsuki Sushi Bar for authentic Japanese fare. The culinary scene is always changing. A newly opened Antaños offers Thai, Mediterrean, and Italian cuisine. The iconic Kay's Café has long welcomed both visitors and residents for American fare.
For me, each venture out my door is an adventure. I choose to live in a Tico neighborhood, a convenient 15-minute stroll from the center of town. My street is sometimes like a market, vendors passing by to sell snow cones, tamals, and kitchen pans. Each Thursday, Alex arrives with his grocery truck, filled with vegetables and fruit that fill my pantry. I frequently walk into town where, along the way, each person greets me with a friendly, "Buenos dias, señora."
In Parque Central in the center of Atenas, I enjoy sitting on one of the blue benches, painted in the town's official color, and observing children play, teenagers congregate, and older men sharing stories. San Rafael Catholic Church faces the park, its clock chiming every hour and half hour. From this point I can easily reach the bank, post office, coffee shops, and grocery stores.
My calendar follows the seasons, every day filled when the returning snowbirds arrive to escape their winters, and less active in the rainy or low travel season. Various groups of friends arrange beach days, day trips to nearby towns, or take the bus into San Jose for movies or to hear the symphony, always followed by a gourmet meal. Each Flashback performance is a reunion of expats who show off their dance moves. With friends, I breakfast at El Fogon Campesino, lunch at Poco Loco, or have dinner at Antaños. Numerous expats host parties and dinners at their houses, the custom being to bring a dish and drink to share.
Once a center for coffee traders to meet, Atenas still serves as a crossroads where the town welcomes newcomers, some who elect to stay.
Get Your Free Real Estate Report Now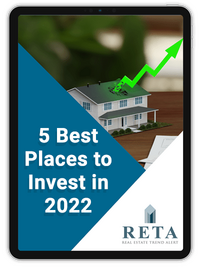 Sign up for our free daily Postcard e-letter and get a valuable free report on the The 5 Best Places to Buy Real Estate In 2022.
Related Articles
Sample monthly budget for a couple in Costa Rica
What Does It Cost to Retire in Costa Rica?
There Are Many Reasons to Move to Costa Rica
Upcoming Conference

Pura Vida! Fast Track Your Retirement Dreams in Costa Rica
See if Costa Rica is right for you at the International Living Fast Track Costa Rica Conference. Enjoy the views and meet the experts who will show you how you can live the good life on $1,200-$2,700 a month or even less.