You never forget your first time.
Mine was in Mexico, in a small city nestled in the hills of the Central Highlands.
I had dreamt of Latin America's colonial towns, cobbled lanes, and shaded parks ever since first encountering the literature from that part of the world. The movies I saw confirmed it…
There was magic and romance in those places and I wanted in.
I suspect that in those youthful days I enjoyed the thought of doe-eyed seňoritas resting on wrought-iron balconies above bougainvillea-draped walls. Like Romeo I could woo those Juliets (without the grizzly ending of Shakespeare's play of course.)
So I arrived in a hostel in the old silver city of Guanajuato, and was greeted by a kindly old gent running the place called Odysseus.
That was my first breathtaking colonial city. I was hooked.
Since then I've seen many…from Guatemala to Colombia I've relived the thrill you get when you first enter these picture-book Spanish-era towns.
While I'll never forget Guanajuato, in my book, by far the best of them all if you want to own a piece of colonial history is León, in Northern Nicaragua.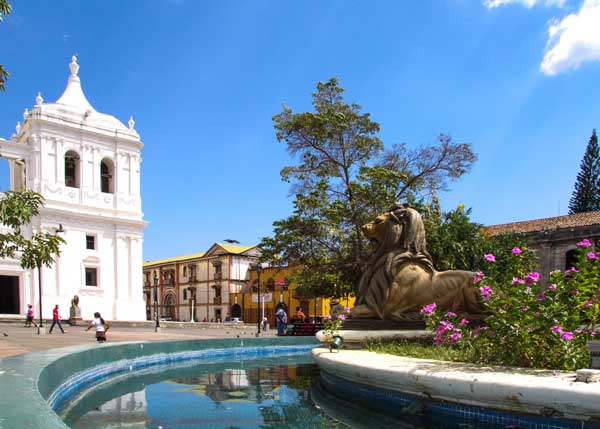 I scouted León and the beaches nearby in February of this year. In my opinion it's the most authentic and atmospheric colonial city on the IL beat. And I have seriously thought about acting on the opportunity I found…
I love the idea of owning a colonial home. It's particularly attractive if that property is going to pay for itself. And if I can actually make a profit?
Right now, that's the deal in León. Colonial homes within a few blocks of the central park are for sale from as little as $90,000. Some of them are large, sprawling courtyard complexes ideal for a renovating into a tourism business or short-term rentals.
The demand for short-term rentals in León isn't being met. A new wave of visitors to Nicaragua are venturing north from the more established colonial city of Granada. León is like Granada used to be before it was gentrified and restored. It's also the country's second city, a university town, and a place of art and "every day of the week" nightlife.
The case for Nicaragua is strong. This land of deserted beaches and volcano vistas has been on the "hot" list of mainstream travel publications for several years now. The case for León in particular is, for me, the most compelling piece of that bigger story.
One evening after dinner I sat in El Sesteo opposite the cathedral with a glass of Nicaraguan Flor de Caña (among the finest rums in the world) and watched as a group of grey-haired tourists strolled through the park, their heads swiveling to take it all in.
These are the folks that will rent your colonial from you for a week…a month…three or six months… You'll make a good yield, enjoy the place when you want it yourself, and—if you want to sell in a few years—the case for hefty capital appreciation is strong.
I took a good long look at colonial homes for sale within a few blocks of the central park. It was no hardship…high ceilings, burnished tiles, and terracotta tiles…they were everything you picture when you daydream about colonial properties.
Outside these centuries-old homes are painted pastel blues, creams, greens, and terracottas. Wrought-iron window guards swirl and curve…heavy timber beams frame ancient-looking doors studded with rivets. Look for those unique touches, like a worn brass door knocker shaped like a lion…or a glazed tile naming the house…
It gets better. León is alive…this is no museum of a city like so many colonial towns. Around one corner I nearly stepped on two small kids building a jigsaw on the pavement. In the evenings after dinner, when the tropical sun drops out of sight and the air cools you can join the locals for the paseo—the leisurely evening stroll once common in Mediterranean and Latin American countries. It's a dying tradition elsewhere but in León you'll find it alive and well.
Families and friends meet and walk. It's not about going somewhere, it's about people…talking with them, watching them pass by…taking time to enjoy your city. That's another thing to love about León. It's one of those cities designed for people to live, not just to shop, work, and commute. It's a walkable and pleasurable place. Leafy plazas tucked protectively in the shade of crumbling churches, narrow lanes best tackled on foot…just sit on a bench in the central park and take a private moment to contemplate the rhythm of the place…
León was a city of poets. You can visit the house of Ruben Dario, the country's most famous son. I imagine him on his evening walk with friends, past the bandstand and blooms of pink, purple, and mauve, onto a pavement shaded by the eaves of your colonial home…timber beams supporting the terracotta roof from which hang cast-iron lanterns.
Outside of town is a land of cattle hiding in the shade of jicaro trees. Close to the city the deserted beaches of the Pacific coast are ripe for your enjoyment. In fact, I discovered you could buy a two-bedroom house on a one acre site, with 40 meters of beachfront for $192,000.
I think though, if I did put my money in this part of Nicaragua it would have to be into a colonial. I would look more into the deal I saw three-and-a-half blocks from the central park.
It's a remodeled colonial being sold by a Swiss expat for $265,000. The plumbing and wiring has all been updated and there are two apartments and a cool and shady commercial space. You could rent the apartments for $800 and $500 a month and the commercial space for $300. A total of $1,600 a month and a 7.2% yield. But perhaps the thing to do would be rent one apartment, live in the other…maybe run a bookstore or café out front…
Like all colonials, it's private, the courtyard is the ideal place to string up a hammock. The romance of these properties is partly down to the mystery of what's within the walls. The Spanish monarchs of the 16th century were an interfering lot and León is a grand example of their laws. They ordered that: "All town homes are to be so planned that they can serve as a fortress… Each house is to be constructed so that horses can be kept therein, the courtyards and stockyards being as large as possible…"
From here I could easily walk to the French bakery, Pan y Paz, and eat smoked mackerel quiche, washed down with papaya juice for a couple of bucks. I would roam around the town ducking into the cool of crumbling churches…my living costs would be phenomenally low. Nicaragua is the most affordable destination in Central America and León is more affordable than the other havens in the country.
But I digress…
It's like this: If your dream is to own a colonial home then listen to the maestro of Latin American romance, the author Gabriel Garcia Marquez: "It's not true that people stop pursuing dreams because they grow old, they grow old because they stop pursuing dreams…"
León is the perfect place to pursue your dream of a colonial home. It will pay you in more ways than money…and it could pay you a lot of that too.
Get Your Free Your Overseas Dream Home Report Now

Sign up for the FREE Your Overseas Dream Home e-letter and get a valuable report (free for a limited time) on the The Global Real Estate Boom of 2021: 15 Places Where You Can Profit.
Related Articles
3 Tips For Successful Vacation Rentals—And One to Avoid
A Roving Retirement in Latin America for $1,500 a Month
A Hot Rental Market in Puerto Vallarta