What's the best deal in the history of real estate deals?
Some would argue that it's the purchase of Manhattan by the Dutch in 1626. They purportedly bought the island for just 60 guilders from Native Americans—the equivalent of less than $1,000 in today's money.
That's certainly not bad, but the best deal ever?
The price of real estate in Manhattan is well over $1,000 per square foot today. But I doubt any of those 17th-century Dutch merchants lived long enough to have claimed that kind of wealth.
For me, the perfect real estate deal is a balance between potential gains, risk, and timing…
And I can think of no better example than John Jacob Astor, America's first multi-millionaire.
His real estate purchases were also in Manhattan, but the difference is he bought his property more than one-and-half centuries later. Just as New York was showing big signs of growth.
From 1799, he began assembling a real estate portfolio of staggering proportions. He made a bet that New York would grow rapidly—and that growth would be towards Manhattan.
His bet paid off. By the time of his death he was America's first multi-millionaire. He held 0.93% of all of the U.S.'s wealth. Not bad for a guy who started out in a German backwater, working in a butcher's shop owned by his father. The thing is, Astor got in ahead of the incredible progress that was coming to Manhattan, but not so far ahead that he couldn't reap the benefits himself.
As I have told you before, buy ahead of a Path of Progress and you can make some serious profit. But you need to get in at the right moment.
Buy at the very beginning and you stand to see the biggest gains, but you're also exposing yourself to the biggest risk and you'll have to wait much longer to see a return.
I prefer to get in right as a Path of Progress is showing some real evidence of momentum, when I can see development happening on the ground, but the price is still low.
This is the John Jacob Astor moment to buy. It's the moment I wait for in any Path of Progress. Not right at the start, but at the point where the momentum is unstoppable and when you find big profit potential even in the medium- and short-term.
I've use this strategy to extraordinary effect on Mexico's Riviera Maya, which has perhaps one of the most spectacular (or profitable) Path of Progress events you'll find in the world today.
I've been tracking the juggernaut Path of Progress running south from Cancún for 15 years. It has recently barreled into the beach town of Tulum and given members of RETA one of the most incredible deals in our history…more on that in a moment.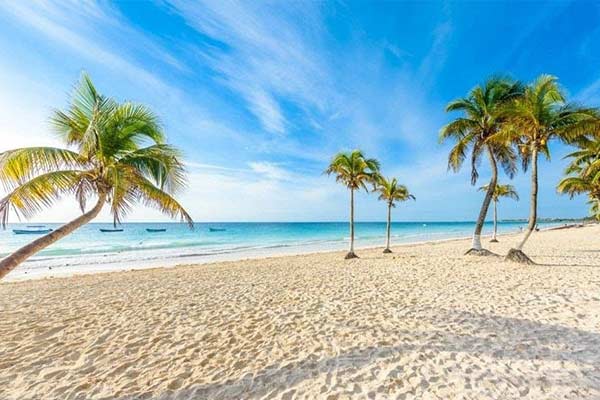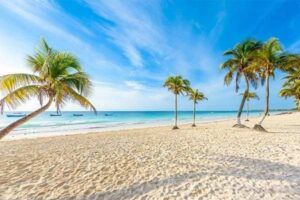 Members can read my full report in the Current Deals section of the website, right here.
The Path of Progress here has its origins in the smart thinking and deep pockets of Mexico's tourism investment authority, FONATUR. Back in the late '60s they scoured Mexico for the perfect location into which to pour funds and roll out major infrastructure, thereby creating a moneymaking tourism machine. They settled on Cancún, where they built the international airport, began major highways, and gave incentives to major hotel groups.
It has been a roaring success. Cancún airport saw 25 million passengers last year…put that in the context of any tourism market in the world and it's just enormous.
The success of this region sprang from nothing—literally. Cancún was scrubby land that faced onto some of the world's best Caribbean beaches. But nobody knew it was here. And the rest of the Riviera Maya was so sparsely populated that Quintana Roo—the state that the Riviera Maya is in—didn't achieve statehood until 1974.
In other words, it could have been a complete flop. But instead, the concept was proven and the Riviera Maya went on a tear…
Progress came thick and fast. As it rolled south, Playa del Carmen was transformed from a one-horse town where pigs roamed dirt streets, into an international resort city. Before the road was in, $10,000 bought you a building plot in the unpaved village center. Today, a 1,000-square-foot oceanfront condo in Playa del Carmen can set you back $600,000.
Farther along the coast, Tulum, once a little fishing village is now a chic destination where you'll see fashionistas, Hollywood celebrities, and Instagram models.
Hemmed in by the Sian Ka'an Biosphere, Tulum marks the end of the line for the Riviera Maya Path of Progress.
By buying ahead of the Path of Progress heading west, RETA members have done extraordinarily well.
Mexico's Caribbean coast had the basics going for it, including the intrinsic value of being a Caribbean coastline with a huge potential market on its doorstep in the U.S.—only two hours away. The government's FONATUR had the capacity to make good on its promises to deliver infrastructure and accessibility. And it offered effective tax incentives to attract major international hotel groups. These guys had not just vision, but also the ability to actually make that vision a reality.
By getting in at the right moment, and at the right price, RETA members have done incredibly well.
In October 2017, members of my group could buy premium condos in the luxurious community of Tao Tulum. In June 2019, a price-list crossed my desk and a premium condo in Tao Tulum, that members could buy in 2017 for $230,556, was listed for $449,000. I bought along with members in Tao Tulum. I recently accepted $225,000 for my condo (the members-only price was $154,500).
Or take our recent deal in Akumal, between Tulum and Playa del Carmen. RETA members had the opportunity to own luxury condos steps from one of the nicest Caribbean beaches you'll ever see for $174,800. In a matter of months, listings from local brokers have price tags more than $100,000 higher than what RETA members paid. One penthouse condo is showing an increase of $125,200 on RETA-only pricing.
And our opportunity on the Riviera Maya is far from over…
In fact, because of this crisis moment, we're getting a once-in-a-lifetime opportunity to buy here for less than I thought we'd ever see again.
In the most recent RETA deal, members can lock down a two-bed, two-bath condo on Tulum's emerging Golden Mile for a killer price of just $134,000.
Tulum is at the end of the Path of Progress. From here, it has nowhere else to go. To the south of Tulum is the Sian Ka'an Biosphere, made up of over 1,000 square miles of mangroves, verdant tropical forest, stunning blue lagoons, magical cenotes (sinkholes), and 23 ancient Mayan sites.
We have this opportunity because of the unique buying moment we're in and because of RETA's incredible buying power.
As the U.S. dollar has risen against the Mexico peso, and because we buy in dollars while the developer pays his construction costs in pesos, he has agreed to pass those savings onto RETA members.
This means we're buying in Tulum for a price that's unheard of…
I figure these stunning condos we can buy for $134,000 will be worth $190,000 just three years after delivery—a gain of $56,000. And breath-taking penthouse units, which members can lock down at $184,000, will likely see a faster rate of appreciation. The rental potential is enormous too, certainly double-digit yields.
The Riviera Maya is now firmly among the world's most inherently desirable destinations. It has it all…perfect weather, world-class beaches, fine dining, and almost every activity you can imagine. That's just for vacationers. The increasing number of longer-stay folks have every amenity they need as well, including international schools for their kids, gourmet supermarkets, and so on.
And, as it continues on its growth trajectory, we're set to profit.
The condos RETA members can lock down are slated for delivery in spring 2023. By then I expect we'll be back traveling and millions of folks will have the type of location flexibility my team and I have. Their work will no longer be tied to a rigid place and time.
That means we don't just sit on extraordinary capital gains, we also get very attractive income potential.
I like the play of renting six months of the year at a rate of $60 per night, but with a minimum stay of a month. So, $1,800 per month. Then in January and February I'd rent by the night at an average of $150 per night. That's 50 nights for a total of $7,500 plus our $1,800 a month multiplied by six…annual total income $18,300.
RETA members can get the full details on this deal over the Current Deals section of the website.
Connect with Ronan on Instagram  or Facebook
Get Your Free Real Estate Report Now
Sign up for our free daily Postcard e-letter and get a valuable free report on the The 5 Best Places to Buy Real Estate In 2023.
Related Articles
The 10 Best Places to Invest in Real Estate
Use This Classic Strategy to Double Your Money