When my friends and family see me investing in countries they've never even set foot in, they think I'm mad. A wild gambler. The kind of person who thinks nothing of betting it all on the spin of a roulette wheel.
But, truth be told, I am a very conservative investor. I only put my money on as close to sure things as there are in this world. Gambling is not for me.
I value my peace of mind too much…and this is why I've spent my career investing in real estate, and encouraging others to do the same…
The right real estate offers diversification and insurance, especially for times of crisis like right now. But also much, much more upside than you might have imagined.
Historically, land has been one of the best hedges against inflation and turmoil. People will always need a place to live and land to grow food.
In fact, since the end of WWII, farmland in the U.S. has experienced a steady rise in value every year except for four.
It's a very attractive long-term investment in that it offers consistent income, capital appreciation, a hedge against inflation, diversification, and perhaps best of all, it negatively correlates with traditional asset classes—meaning that if the stock market plummets, farmland usually goes up in value.
The case for farmland is straightforward. It supplies a fast growing global food demand, and, as the saying goes, "they're not making any more of it."
Demand for farmland is growing across the globe. The current world population is 7.7 billion people, a number that the UN predicts will grow to nearly 10 billion by 2050.
China alone accounts for 20% of the world's population, yet has just 7% of the world's arable land. On top of that, their consumption of beef (a highly inefficient food source) is rising dramatically, having increased sevenfold since the 1980s.
Simply put, there are a lot of mouths to feed. And in counties with fast middle-class growth, like India, Indonesia, Nigeria, and China, there are a lot more tastes to cater for, too.
All this adds up to a powerful investment case for agricultural land…
And it's attracting some major investors, such as Bill Gates and Michael Burry (the founder of Scion Capital made famous in the film The Big Short).
Yet it can be difficult for the regular guy to get in on this opportunity due to high barriers to entry.
For instance, the world's largest agricultural asset managers, Westchester Group, has over $8 billion and 2 million acres in farmland assets under management in the U.S., Australia, South America, and Europe. Meanwhile the Chinese state has been aggressively funding agricultural development efforts in Africa, mixing aid with commerce.
While in many of the above destinations the macro case is strong and exciting, they don't stack up for small, individual investors…
The complexity of doing business in places like Africa doesn't bear thinking about. While in many Latin American countries like Brazil and Argentina there are restrictions on owning land. Argentina, in particular, has unfriendly policies for farming. They have strong capital controls…taxes…tariffs. And they change all the time. Not the kind of place you want to make a long-term play.
But there is one place on our RETA beat where the small, individual investor can do very well with farmland, and that's Uruguay.
As I wrote last week, Uruguay is a global safe haven. It's progressive, democratic, ranks highly in indices such as the Human Development Index, the Human Opportunity Index, and the Economic Freedom Index. In the 2019 Corruption Index, Uruguay was rated less corrupt than the US. It was #15 in the 2019 Democracy Index…10 spots higher than the US.
Best of all, Uruguay offers a bargain way to make a farmland play this macro trend. It's among the most fertile countries in the world and there are no limitations on what you—as a foreign investor—can buy.
The best land in Argentina is still 30% to 40% more than the best land in Uruguay. Same in Brazil and in Chile. In the U.S. and Canada you'll pay from $3,000 to $6,000 an acre for the best land. But in Uruguay, you can still lock down land for $1,000 to $2,000 per acre.
All these places are producing for the same global markets but Uruguay is significantly better value. And Uruguay is probably the easiest place for the individual farmland investor. It's a passive, turnkey investment. You don't need to know anything about farming. You can lease out the land for a cash rental paid up-front, or you can hire a local farm management company that reports on operations directly to you.
They'll give you a business plan. Once you agree on that with them, they will implement it on your behalf. (As a general rule, the more land you buy, the better chance of getting a good farmhouse with your farm.)
Perhaps the most attractive aspect of this buying farmland in Uruguay is the level of transparency available. Farm listings in Uruguay come with a comprehensive description of what you are buying. This includes location maps and sketches, descriptions of farm buildings and any farm/caretakers homes, fences, power, water sources, agricultural use (including where land has been improved), and climate information—even down to details on winter frosts. The government has even set up an online system that can tell you the productivity level, soil grade, and value of any piece of land in the country.
On top of that, Uruguay makes doing business easy. It has no export tariffs, production quotas, or other restrictions that are in place in Europe and other parts of the world. In Uruguay, there's a flat, 25% income tax rate (the effective rate can be 10% to 20% depending on deductions). Farms with income below $205,000 per year have tax capped at $5,125. There's no asset tax, even if held by a corporation. Property taxes are low, averaging 0.2% or less.
But this opportunity still wouldn't stack up as actionable for us if it weren't for this agri-industry infrastructure. Access to the global market is essential. And in this regard, Uruguay is well positioned. It's already a major agricultural exporter, accounting for 22% of all China's beef imports. They have a completely computerized traceability system on beef, good transport systems, and an established logistics network.
Forward-thinking institutions and foreign investors are already pumping significant sums of money into farmland. But in Uruguay, there's still an opportunity for the little guy to have a piece of the pie.
I was extremely bullish about this opportunity a decade ago. Then land prices rose strongly as Argentinian and other foreign investors piled in.
But now, thanks to crisis on crisis, we can buy at prices I haven't seen in a decade. Argentina has been in crisis for the past five years. Many Argentinian groups have been forced to sell off their Uruguay holdings. Now the COVID-19 crisis has halted much of the world's trade and Argentina is in lockdown. There are motivated sellers…making this an incredible buying moment.
Wishing you good real estate investing!
Get Your Free Real Estate Report Now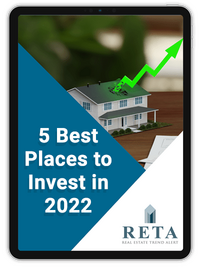 Sign up for our free daily Postcard e-letter and get a valuable free report on the The 5 Best Places to Buy Real Estate In 2022.
Related Articles
The 10 Best Places to Invest in Real Estate
How to Not Just Survive…But Prosper