The travel rebound has started…
On Monday I flew back to Cabo from Puerto Vallarta (via Guadalajara). The airport was slammed with domestic travelers and vacationing North Americans. The community where I live in Cabo is now completely full with renters for the next couple of weeks. Summer bookings in Mexico's main tourist destinations are seeing between 48.7% and 61.5% occupancy, up dramatically from 2020.
The vaccine rollout is finally having a visible effect. U.S. travelers are more confident and passenger numbers are ticking up fast.
Nowhere is set to benefit more than the Riviera Maya on Mexico's Caribbean. In the first two months of 2021, Cancun airports received 2.4 million passengers of which 1.3 million were international visitors. And I'm seeing new flight routes into Cancun announced each week.
I'm not saying we are out of the woods. But, we are getting a taste for the post-COVID travel bounce back now…
As I wrote in this month's issue of RETA, my contact in the Riviera Maya has been inundating me with news of rental demand in Tulum. "Monthly, short term, everything is up in Tulum," he says. "Longer term rentals are in high demand. Most of this has been driven by remote workers, digital nomads, and people who aren't stuck to one location."
The Riviera Maya is what I call "the convenient Caribbean", every bit as beautiful as any island, but a lot easier to get to for millions of people.
Indeed, Tulum and the Riviera Maya have been drawing people from right across the world for a while. These folks come for the weather, the beaches…the amazing range of cool stuff you can do.
And now they are coming in much greater numbers because they can.
This bodes well for our past RETA deals in Tulum. Right now, a two-bedroom condo there will run you $1,750 to $2,000 per month. A house could go up to $2,000 to $3,000. And remote workers are more than willing to pay those prices.
Even better, my contact tells me there's not just one type of person coming here. Older people, younger people, families, groups of friends…all want to be in Tulum—and that variety makes the rental market that much stronger.
I'll be in Tulum myself in just a few weeks' time…
I'm finalizing the last few details on an incredible new deal. It's unlike anything I've seen before in Tulum…
Plans include a beach club and a private shuttle from the community to both the beach club and to Tulum town. It will have a rooftop terrace with an infinity pool overlooking the national park and with views to the Caribbean…
The kind of place remote workers will want to stay. And because of our RETA group buying power, we can get in at an incredible members-only price.
I'll be joined in Tulum by my researcher Jason Holland.
Jason once lived on the Riviera Maya, down the road from Tulum in the small seaside town of Akumal. He knows the secret spots where you can still find empty white-sand beaches…the best cenotes….and the best beach bars to spend the day relaxing in a hammock while being served $2 beer and great food.
He shares a few of his Riviera Maya travel tips below…
The Best Kept Secrets on the Riviera Maya
By Jason Holland
The ray was cloaked in sand. Barely visible. As I got closer, it got spooked and dashed away. It was so quick I got a bit spooked too.
When I put my head above water to take off my snorkel and catch my breath, I could see my wife waving at me from our table on the beach—our ceviche and guacamole was ready.
My philosophy is to always see what's down that iffy-looking dirt track off the main road. Faded signs nailed on fenceposts…or no sign at all…it's often worth slowing to take a closer look, especially if a local has clued you in to something special.
That's how we found this place, and that was just the start.
On Mexico's Riviera Maya, the side roads brought my family and I to underwater-river-fed freshwater pools in the jungle known as cenotes…little-known white-sand beaches…and delightful seaside watering holes where we could enjoy a cold chelada (beer with lime juice, on the rocks) with ceviche and fish tacos made from local fresh catch.
Yes, even on the Riviera Maya, home to resort vacation mega-destination Cancun, chic international hotspot Playa del Carmen, and the artsy bohemian haven of Tulum…trod by millions of international tourists each year…there are "secret spots" for those in the know.
I got in the know when my family and I lived in Akumal, a little seaside town midway between Tulum and Playa. It was convenient to get to both on the main artery up and down the coast, Highway 307. There was big city shopping, dining, and nightlife in Playa just 30 minutes away. And we loved the funky beach restaurants in Tulum 20 minutes south.
But what we enjoyed most was discovering hidden gems in the area that we'd passed in airport shuttles and rental cars when just visiting.
I first visited Soliman Bay, about midway between Akumal and Tulum proper, when I met up with an acquaintance who owned a small boutique hotel right on the beach. While enjoying a coffee and watching a guest paddle out in a kayak, he said a must-do in the area was Chamico's on the southern stretch of the bay.
I was there a few weeks later and returned several times over the year we lived in Akumal. At the gate, you tell the security guard you're headed to Chamico's. This is a residential community, open only to homeowners and vacation renters—and restaurant patrons. That means no crowds.
Drive along the packed dirt track for about 10 minutes, and you get to a ramshackle beach shack serving up seafood and cold drinks. Buy a few $2 beers and some food—and you can stay all day…swinging in hammocks, beach combing, or snorkeling right off the sand among seagrass and rocks, which, as I found out, is the perfect habitat for rays, among other creatures.
We always pretty much had the place to ourselves, other than a few other groups. Plenty of hammocks to go around.
In the case of the Yal-ku lagoon, you get there by going almost all the way through the waterfront strip of homes and condos in Akumal proper. Unless they have a rental car, it would be tough for a typical tourist to get there. Most seeking a similar experience go to Xel Ha, a watersports theme park up the road, complete with admission starting at $90 per person, buffet, waterslide, zipline, and the like.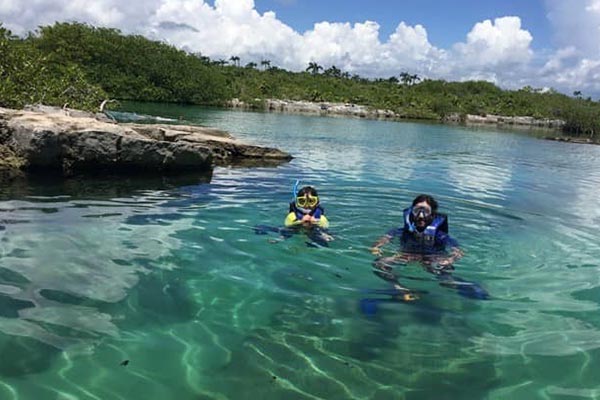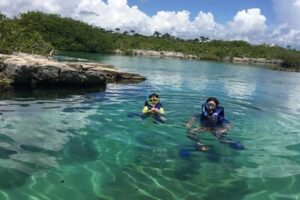 Yal-ku is low key and low cost; $14 a head to get in. You can bring your own snorkeling gear or rent a set $15. Then rent a cabana for $20 for the whole day. That gives you a shady spot, a table, hammock, and your own private entrance into the lagoon.
We spotted rainbow-colored parrotfish, sergeant majors, and other tropical fish as they glided among the rocks and mangroves. A waiter from the onsite restaurant will keep you well provisioned with food and beverages all day long.
We also enjoyed nearby Casa Cenote, which is a freshwater pool and short river running through the forest on one side, with the beach and Caribbean just over the road. Best of both worlds for the Riviera Maya.
Our usual routine was to park at the on-site hotel and head to the beachside restaurant for fish tacos and cold beers (have you noticed a trend here? Nothing better in my mind than my toes in warm sand and cold beer in hand, with a cooling sea breeze). It's the perfect day trip. You take a dip in the cenote, wade out into the bay (very calm because it's protected by a reef), and then head back to your table and just watch the water.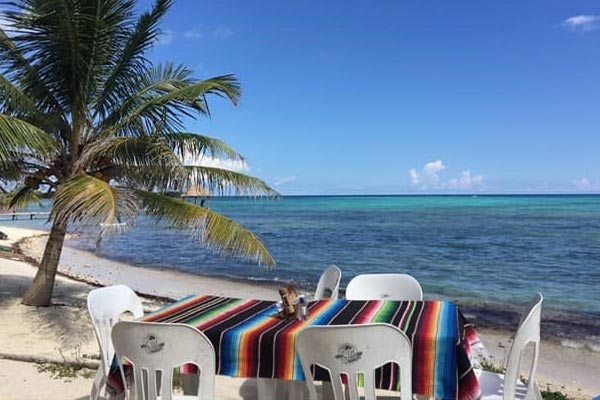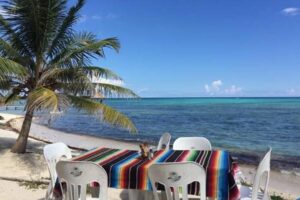 One last insider tip to reveal—but you must promise to keep it to yourself. If you're looking for a seaside lunch or happy hour drink with a Caribbean view, my favorite spot in Akumal is hands-down La Buena Vida. That means "The Good Life" in Spanish.
Deep in the residential section of the town, it's not under-the-radar. But it's mainly patronized by local expats and visitors staying within a short walk or golf cart ride, so the crowd is buzzing but not overwhelming. It's the type of place where the kids run loose, exploring the beach, you can relax in a hammock or bean bag, and the most coveted seats are in a tree house—beers pulled up by bucket.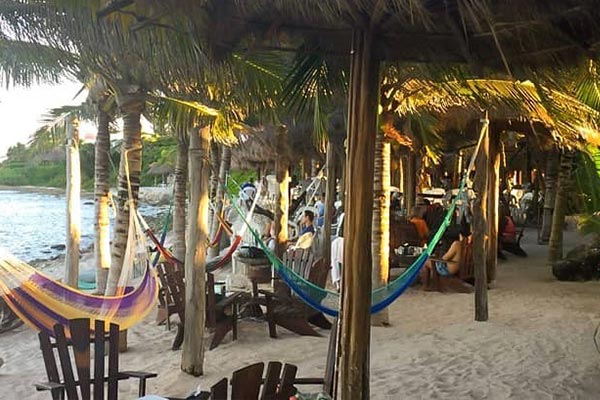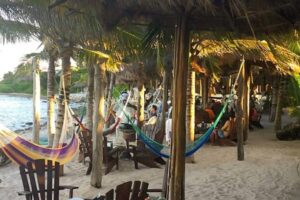 You take your time, do what you want, and nobody is rushing you out. That's typical in the lesser-known spots on the Riviera Maya.
Your Daily Dream Home
Margarites, Crete, Greece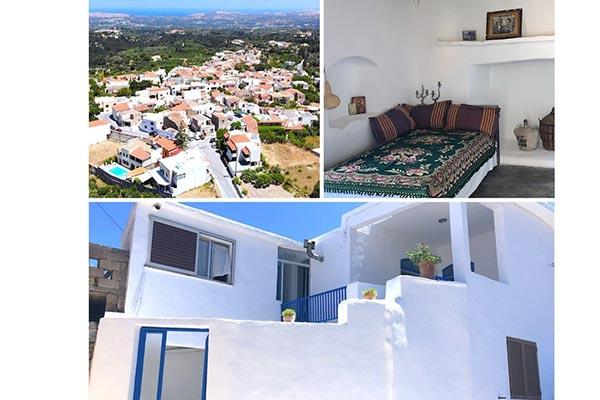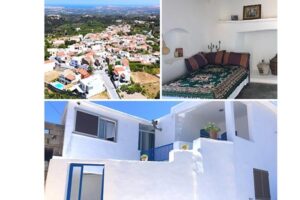 Located in a small village famous for it's ceramics, this Greek island home has just over 1,400 square feet of living space spread across two floors. The ground floor consists of three rooms which all need to be renovated. The upper floor currently has a large living room with a traditional fireplace, a fitted kitchen, a bedroom, and a bathroom. There's also a large veranda.
You are about a 20-minute drive from the quiet but easily accessed beach at Spilies. ⁠⁠
I haven't visited this property or done due diligence on it. If you're interested in the listing, you should hire an attorney and do your own due diligence.
Get Your Free Real Estate Report Now
Sign up for our free daily Postcard e-letter and get a valuable free report on the The 5 Best Places to Buy Real Estate In 2023.
Related Articles
See How Far Your Real Estate Dollar Will Go in Cannes
Cheap Homes in Year-Round Springlike Climates
100% Legal: Profit from the Colombian Drug Trade