The price of oil just hit minus $16.74 a barrel…from a low of almost minus $40. The S&P 500 dropped almost 3%. It's Tuesday afternoon as I write this, but by the time you read it both oil and the stock market might be rebounding. That's just the nature of these volatile markets.
However, nothing will have changed with me…
I'll still be writing from my terrace. Or having a conference call from my office. The Pacific will still be a deep blue. The temperature will still be nudging towards 80 F here in Cabo.
I stay abreast of the news, but I'm not glued to it the same way I would be if I had skin in the game. I don't like panic, gossip, hopelessness, or helplessness…
I don't like to be the schmuck in a card game.
And for these reasons, my investment portfolio isn't tied to the stock market. I like control and security. I like to have built-in advantages, like paying much less than other people. I like to spread risk around. And I like assets I can use that can generate income.
In other words, I like real estate… I believe it's the single best asset you can hold, not only in times of uncertainty, but at any time.
In particular, I mean income-earning real estate. Because when you own the right income-earning real estate you will never want to sell unless someone offers you more than it's worth. Simple.
Even during this crisis, the income from my portfolio is down by no more than 20%. And, that's with me hunkering down right now in my Cabo condo that I planned to rent from April 1.
Unlike any paper investments, or dare I say precious metals, I can use my condo.
Buy right and you'll always have tenants. You might just have to reduce your rates when things get rocky. And, there are other markets like Ireland, Brazil, and the U.K. where, despite having their own issues, I've continued to receive rent checks, uninterrupted.
My advice is never sell unless someone offers you too much money. But…bide your time and boy, can you buy.
Buy at the right moment and you can see values double in three years on top of income. Over the course of my investing career, I have found these moments in Ireland, Panama, Spain, Brazil, and Mexico…
Real estate is an illiquid asset—that's why some folks don't like it. I love real estate's liquidity, or lack thereof. The crowd surges at the top of the bubble so you have a lot of buyers when it's too expensive. That's when you want to sell.
And there's no buyers at moments like right now, when the best opportunities are going to come up.
That's when we want to buy…now.
We have an unprecedented buying moment…the buying moment of our lifetimes. We can use this crisis to buy great income-earning real estate at as much as 50% off. I'm talking Caribbean beachfront…homes in historic Europe…sleek, modern condos in the best neighborhoods of world-class cities…
Buying at a low price is step one in locking in incredible yield potential. Buying something with huge appreciation potential is key to your exit strategy.
Plus, we are in an unprecedented zero interest rate environment in the developed world. We can use incredibly cheap money to buy high-yielding, undervalued real estate.
In the coming weeks and months, we'll delve much deeper. I am already bringing the deals right to the door for members of my Real Estate Trend Alert.
Up next, I'll give you more reasons why I love real estate.
For a start, residential real estate, not equity, has been the best long-run investment over the course of modern history. And real estate is a way to diversify your portfolio, spreading the risk, and hedging against inflation. (If you are worried about inflation, you definitely want to be in the right real estate).
And even during the Great Recession—the one recession largely caused by real estate—home values still fell far less than stocks did.
More on that here.
Wishing you good real estate investing!
Get Your Free Real Estate Report Now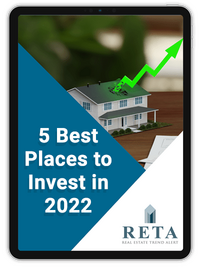 Sign up for our free daily Postcard e-letter and get a valuable free report on the The 5 Best Places to Buy Real Estate In 2022.
Related Articles
The 10 Best Places to Invest in Real Estate
Project Prosper: How to Save and Grow Your Retirement
A Whirlwind of Deals…and We're Only Getting Started