Weekends, Rita Sosa tends to spend at her beach house, just over an hour's drive from Panama City.
"Our house is literally on the beach," says Rita. "When I go up there, I just go to relax and swim. I'm very happy to sit and read a book outside and not do a whole lot of anything. It's so great to have beach weather 12 months a year, and I love the tropical greenery.
"I've really gotten used to being warm all the time. Now I'm such a wimp when I'm somewhere cold. If it goes below 70 F, I'm freezing!"
Rita moved to Panama City for love. She met her Panamanian husband, Alex, when they were college students in Massachusetts. Right after graduation, they made the move. And in Panama City, Rita found friendly people, a ready-made expat community, and a growing capital.
Though the warm climate suited her perfectly, she was worried she might not have enough to do. "I'm such an urban person," she explains. "I lived in Teaneck, New Jersey. I could be in downtown New York in 35 minutes."
But "Panama has come such a long way," says Rita, who has watched the city expand and add modern amenities with increasing speed in her years of living here. One of her favorite things is the growing food scene. "There are great restaurants. I love fish, so having access to fresh corvina and ceviche is wonderful. And I am a big fan of all the fried stuff," she adds. Empanadas, yucca, and a fried breakfast bread called hojaldra are just a few of the local preparations she enjoys.
"There are also great shows and exhibits…I've seen fabulous things in Panama. There are a lot of people really working hard to provide cultural opportunities here. I've been to shows on par with stuff I've seen on visits back to New York."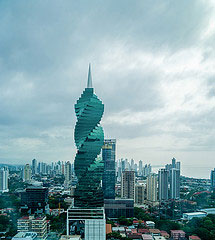 She feels safe and at home in Panama…and has no plans to move back to the U.S. Expats who leave Panama end up missing the close bonds they formed here, she explains. "Panama is small enough that you can maintain friendships. In the States we had friends who lived 50 miles away or more, and it was hard to get together. Here we have a lot more opportunities to spend time with people."
Over the years, Rita has made friends by getting involved in various groups—she joined the American Society, served on the board of the Ancon Theater Guild, and even sings in the choir at St. Mary's church. During the weekdays, she is a middle school principal at the English-language school Balboa Academy.
One of Rita's favorite restaurants—a local treasure called Los Camisones—is just a short drive from her beach house. "We go all the time, it is a fabulous place with the best lobster. I've had lobster all over, but this place does it exactly en su punto—perfect," she says.
For just over $20, Rita can enjoy lobster with a choice of French fries, fried yucca, or salad, and a glass of wine. "We go so often, they know us. When they see us coming, they bring out the little wine bucket! And we've known the owner forever—he is Spanish and he learned to cook in Austria.
"I think if you're going to leave the U.S. for first time, this is probably the easiest place to try it out. Lots of people speak English and there's good healthcare. It's the same dollar economy. It's a great metropolitan city to live in."
Get Your Free Panama Report Here:
Learn more about Panama and other countries in our daily postcard e-letter. Simply enter your email address below and we'll send you a FREE REPORT — Panama: First World Convenience at Third World Prices. 
This special guide covers insider advice on real estate, retirement and more in Panama. It's yours free when you sign up for our IL postcards below.
Get Your Free Report Here