"When you get here, I'll pick you up from your hotel and show you my favorite parts of the city"…this was a message I got from IL Panama Editor Jessica Ramesch when I told her I'd be visiting Panama City last week.
I'm off the plane having spent 10 days exploring all that Panama has to offer. And it offers so much…the cost of living is affordable; I know couples who are enjoying life on $1,600 a month. Good-value real estate abounds…you can pick up a three-bedroom house, with a swimming pool, in a Pacific coast beach town less than an hour from Panama City, for $150,000. And then there's the stunning beaches, picturesque mountain towns, and the best retiree benefits program in the world…all reasons why we picked Panama as the world's number one retirement destination for 2016. And the reason I came here.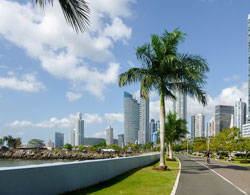 And having Jessica, who has lived in Panama City for almost 10 years, show me around was the perfect start to my adventures.
My first day in Panama City started with a tour of its old town of Casco Viejo in the company of my "local guide" Jessica. As we walked around the narrow streets, filled with beautifully renovated colonial buildings painted yellow, cream, and olive green, with colorful plants and flowers spilling from their wrought-iron balconies, Jessica filled me in on how the area has been undergoing huge regeneration in the last number of years.
Once an area of the city that was considered run down and distinctly unappealing, Casco is now the place to see and be seen. Jessica discovered some new restaurants she hadn't seen before, telling me that new bars, restaurants, and shops are popping up all the time. She took me to her favorite Japanese restaurant in Casco for lunch where I had fish cakes with a mouthwateringly delicious peanut sauce, which along with a glass of rich red wine, which cost just $13.
Next we hopped in Jessica's car took a tour of some of the city's most popular expat neighborhoods. Leaving behind the historic Casco, the scene changed quickly as we drove along the Cinta Costera. Sweeping along the Bay of Panama this busy road took us to the heart of the city's financial district where towering skyscrapers, housing banks, hotels, and shopping malls dotted the skyline.
From there we checked out up-scale Paitilla…San Francisco, popular for the large, green Park Omar and close proximity to shopping malls and restaurants…and El Cangrejo, a leafy neighborhood that Jessica says is one of her favorites for city living. Due to their location close to all the modern conveniences the city has to offer, prices for property in these neighborhoods start in the low $200,000s.
I also spent time last week with our Chiriqui Correspondent Linda Card in her hometown of David. A bustling city, about an hour's flight from Panama City, downtown was buzzing with locals going about their daily business or sheltering from the hot morning sun while catching up on the local gossip in the shade of the pretty Parque de Cervantes.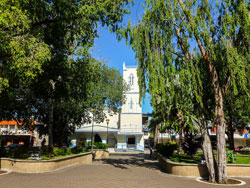 With Linda as my guide, I discovered there's more to David than just the busy center. Go just a few blocks in any direction from Parque de Cervantes and things become a lot quieter and less frantic.
Linda lives in a quiet neighborhood on the outskirts of the city…she has beautiful views of the rolling, verdant, green hills that surround David, but she's still close to grocery stores, Hospital Chiriqui (which she told me is undergoing a major expansion at the moment), and shopping malls. When I commented how peaceful her neighborhood was, she told me if I was interested, a house the next street over was for rent for just $500 a month.
Jessica and Linda are our "inside" people in Panama…and the best people to have by your side when scouting any area of the country. They know the ins-and-outs of, not just their own cities, but all the other beautiful and affordable retirement locations around Panama. If you're interested in more information on Panama, see our main Panama page here.
Get Your Free Panama Report Here:
Learn more about Panama and other countries in our daily postcard e-letter. Simply enter your email address below and we'll send you a FREE REPORT — Panama: First World Convenience at Third World Prices. 
This special guide covers insider advice on real estate, retirement and more in Panama. It's yours free when you sign up for our IL postcards below.
Get Your Free Report Here