Financial struggles weren't the only thing motivating our retirement abroad, but I'd be lying if I didn't admit that's what got us looking for an out-of-the-box solution to begin with. Like a lot of people during the financial crisis, my husband, Donald, and I took a big hit. Here we were nearing the end of our working years, and our financial security had evaporated in a seeming instant. My husband had his second heart attack in three years, and then lost his job—along with his medical insurance.
We were tired, vulnerable, and drowning in stress. I remember my husband declaring that he felt as if he'd, "been running a marathon for 60 years." We both worked regular jobs, and even started a couple of small businesses on the side to claw our way back. But it would be years before we could hope to retire, and we were spending all our time and energy just to hold on.
Don's health was suffering, and we began to fear that he would never get to enjoy the retirement he had earned.
So when we ran across an article about affordable retirement havens overseas, our interest was piqued. More research confirmed the existence of places around the world where a comfortable lifestyle could be had for a fraction of the cost of maintaining our modest lifestyle in the States. We wouldn't be roughing it either. We saw that beautiful, interesting places with rich histories, inviting climates, good food, and welcoming people, were widely available to us.
We did exhaustive research, joined online expat forums, and began communicating regularly with people who had already taken the plunge. The more we learned, the more we found to love about the idea.
We narrowed down our choices, and decided to relocate to the northern coast of Ecuador. When we arrived in the little seaside village of San Vicente, the reduction in stress was profound and nearly immediate. We saved a lot of money living there, too, living a good life for just $1,500 a month including rent.
We stayed there for over two years before deciding last year to see what else was available to us. We wanted to be near first-class healthcare in case Don needed it, and Cancun fit the bill.
You may know it just as a tourist locale…but this wonderful city is my happy place. I've enjoyed living in a lot of places around the world, but this destination makes me sparkle from the inside out.
The sand is powdery and white; the jewel-like Caribbean water is warm and crystal clear, shimmering in dazzling hues of turquoise and blue. I wake up in the morning and gaze out at the stunning shoreline from my bedroom window, inhaling the sea air. I go to sleep at night to the sounds of the surf rolling onto shore as tropical breezes brush over me. In between, anything I could ever want to do is here: world-class snorkeling and diving, every watersport and recreational activity imaginable, and more restaurants, clubs, and entertainment than I could ever visit in a lifetime.
There are Maya ruins and exotic cenotes nearby to explore. Shopping opportunities encompass everything from local, artisan markets to U.S. retailers to Gucci and Prada.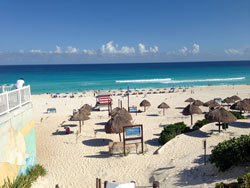 Being retired in Cancun has been a dream come true. We finally have the time to enjoy everything around us, and the wisdom to appreciate every minute of it. An active, engaging lifestyle is almost effortless to maintain here. Who needs a gym membership with the beach just steps from our door?
Before we started researching, I didn't believe the life we are living now would be within reach for regular folks like us. We are on a fixed income, and don't have a massive nest egg to carry us through our retirement years. What I found out, however, is that a retired couple can live quite nicely, on the beach right here in Cancun, for around $2,500 a month.
Every month we remained in the U.S., we sank further into a hole. Making the move overseas stopped that whole process in its tracks, and once we were settled, actually reversed it. Living overseas, we can finally breathe again and live the life we thought was out of our reach.
Editor's note: Diane Murray and her husband, Don, put in hours-upon-hours of groundwork and research to find their ideal destination overseas. You could do the same…or you could take a shortcut to all the information you need to start you on your way.
This summer, at a major IL event, we'll gather all our correspondents, legal and real estate experts, and expat insiders in one place…so you can ask the relevant questions and get immediate answers…or hear more about the dozens of retirement destinations we cover…or discover anything else you might need to know to make the right choice for you…  (Diane and Don will be there, too. It's being held in Diane's "happy place"—Cancun.)
We call it the Ultimate Retire Overseas Conference. And you can find out more…or reserve your place (with an Early Bird discount)…by clicking here.
Get Your Free Mexico Report Here:
Learn more about Mexico and other countries in our daily postcard e-letter. Simply enter your email address below and we'll send you a free special report – Why Millions of Americans Are Moving to Mexico.
This special guide covers real estate, retirement and more in Mexico and is yours free when you sign up for our postcards below.
Get Your Free Report Here