I'm in Cork, Ireland, planning a trip to the Beara Peninsula to check in on recommendations I made to my Real Estate Trend Alert in 2016.
The Beara Peninsula in West Cork is Ireland's wild Atlantic coast at its most dramatic.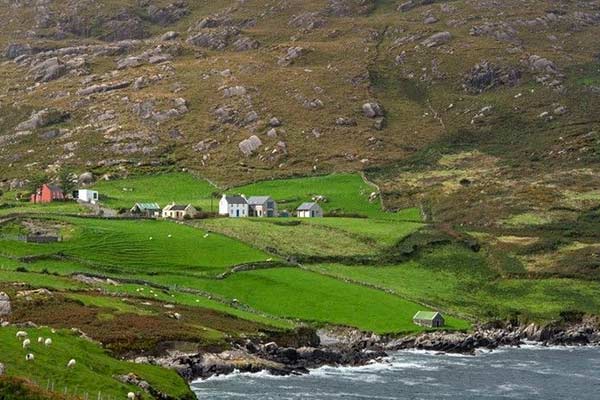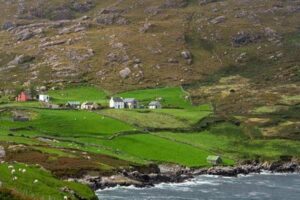 I'm heading back to Beara to see if there remains any opportunity for us there.Beara is the kind of place where you find historic old cottages with sweeping sea views and towering mountain backdrops. For years it's attracted an eclectic bunch of expats. It's the kind of place you meet an English financier or a Swiss banker in the corner of a cozy pub along with bohemian artists and local farmers.
It's fitting that today is the day I learned it was a Cork man who coined the term "the United States of America." (So says the New York Historical Society.) Stephen Moylan was George Washington's secretary and first used the term in a letter seeking foreign aid against the British. Moylan was from a wealthy Catholic family in Cork City. Educated in France, he worked and lived in Lisbon, Portugal, before heading across the Atlantic to fight for freedom.
I'm heading to Portugal soon after my Beara expedition…
As you know, I've found opportunities across Portugal but the Algarve, with its perfect weather and enormous numbers of vacationers, has proven the most profitable hotspot for RETA members so far. That's where I'm personally looking to buy, but I'm also calling a crash in Lisbon. Even before the current crisis, sales had been stalling anyway as the market overheated. I called it overpriced and frothy two years ago. It still continued to climb after that, but it's always better to call a peak early. A connected deal-maker, who doesn't want to be named, says the market is on its last legs…certainly the top end…as soon as the developers start going bankrupt, I'll be talking to the banks about getting RETA access to the best inventory at 50% off.
Bargains in the Crisis
While the coronavirus pandemic has been devastating, it has also had a silver lining in that it's creating real estate bargains around the globe at a time of unprecedented low interest rates. So say Forbes, which ran a story that I sent you first here in Roving Real Estate Investor.
Looks like the mainstream is catching on faster than I thought they would to the opportunity created by this crisis.
To remind you…nothing like the crisis we're seeing now has come along before. This is an unprecedented intersection of economic and social trends, culminating in the buying opportunity of a lifetime.
Historically low interest rates…a strong U.S. dollar…a massive transformation in how we work and how we travel…and crisis discounts right across our global beat. I see opportunities in internationalized markets on an uptrend; destinations undergoing big multi-decade transformations; and downward-trending spots like parts of Europe where the population is older and innovation is limited, but where offerings have historic appeal, like Italy or Spain.
The fact this is now getting out there to the mainstream just goes to show how urgent the opportunities are. Which is why I'm organizing something completely unique for you next week.
It's not overstating it to say that next week is the most important week in the history of this e-letter.
I'll be bringing you the culmination of Project Prosper, my ongoing mission to help you turn this crisis into the buying moment of a lifetime.
I'll be bringing you the opportunity to get in on the best deals from across my RETA beat and all the in-depth, "from the ground" expertise of my global contacts.
Is Bacalar the Next Tulum?
I'm still hearing it…reading it…
From the New York Times to TripAdvisor…"Is Bacalar the next Tulum?"
As Mexico's Riviera Maya reopens and the tourists return, it's worth repeating what I told RETA members about Bacalar a few months ago.
Lake Bacalar, if you don't know it, is a brilliant blue-water lake on Mexico's Costa Maya, less than an hour from the border with Belize.
The line about Bacalar being the next Tulum is great click bait, and that's the media's business. Now, let me set the record straight…
I first visited Bacalar 15 years ago when my friend Suzan Haskins picked me up in Playa del Carmen and drove me down the Costa Maya.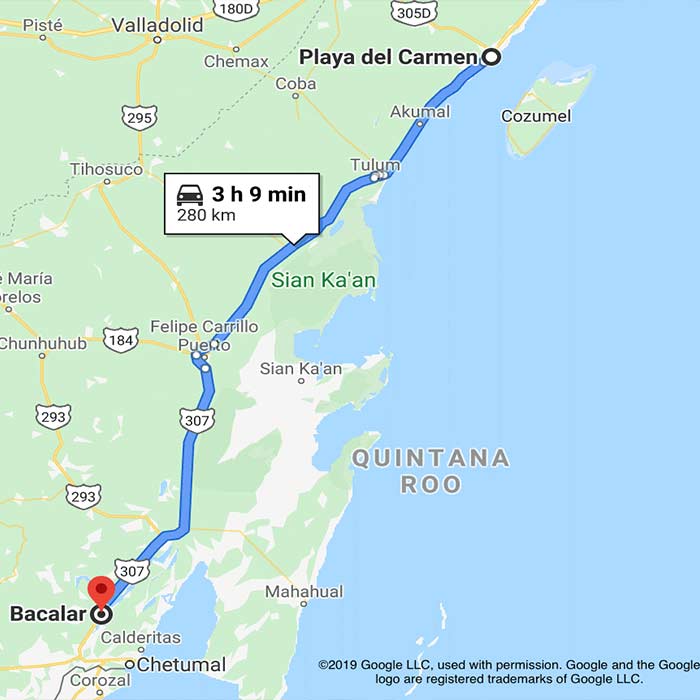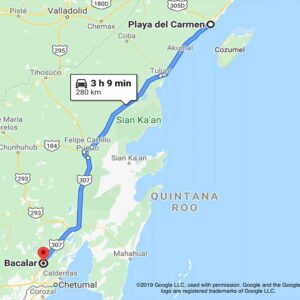 I have two particularly vivid memories of the trip. The first makes me chuckle…
We stayed in a basic guesthouse near the lake. Geckos—small lizards that can walk up walls and across ceilings—darted in and out of cracks in the walls. I was a young real estate guy, unaccustomed to the tropics. I was afraid of the geckos…where they might crawl as I drifted off to sleep. I outgrew that fast. Road trips in the tropics will do that.
The second memory? I never outgrew my profound appreciation of the beauty and colors of Lake Bacalar. They call it the lagoon of seven colors. Depending on the time of day, colors roll from a tranquil turquoise to a deep indigo. On that trip we explored by boat. The water was crystal-clear down to the white-sand bottom. We had the lake to ourselves—this was long before you could read about Bacalar in The New York Times.
So, is Bacalar the next Tulum? The thesis goes as follows: Bacalar is the next stop along the Costa Maya, and a planned train route will make it more accessible to Cancún airport. This is the Maya Train, nearly 1,000 miles of track traversing the Yucatán and linking it to Chiapas.
But here's three reasons why Bacalar is not the next Tulum:
There's no beach. This is huge. Tulum is all about the beach. It's what first attracted tourists and expats to the area.
Bacalar is far from Cancún airport…a good four-hour drive. Tulum is an-hour-and-20 minutes from Cancún on an excellent highway. Tulum is the last stop along a rapid and profound Path of Progress. It's the last stop for development on the Riviera Maya—one of the world's most popular tourist destinations. The Path of Progress doesn't stretch down to Bacalar…
The promised Mayan train route is an election promise from a populist leader. He doesn't have the money to do it. It's highly unlikely it will happen, at least in its current form. If it does happen, it will be years out, and schedules will be irregular. A typical arrival will still be a good seven hours plus from touchdown in Cancún airport to arrival in Bacalar, between customs, waiting for the train, and train travel time. It's very far to have broad appeal. (And if the train does happen, Tulum will be much closer by train, plus you also have car and bus travel options.)
That's not to say Bacalar won't develop. It will. But, at a modest pace and it will appeal to the more adventuresome type of traveler.
Record numbers of visitors were coming to Tulum to enjoy the culture, heritage, and mile after mile of stunning white-sand beach before travel restrictions. Over 2 million people passed through the archaeological site of Tulum in 2019.
Now Tulum is re-opening. Here's a short video from a vlogger who was down there two weeks ago.
Tulum has a very special and unique mix of attributes. There's a vibrant dining and entertainment zone along the beach, and a few miles back, the town offers a different experience. You have spectacular beachfront Maya ruins and you are a short drive to the huge and impressive ancient Mayan cities of Coba and Chichén Itzá. Cancún airport is close…Playa del Carmen, with all the conveniences of a city, closer…all this with the stunning beach…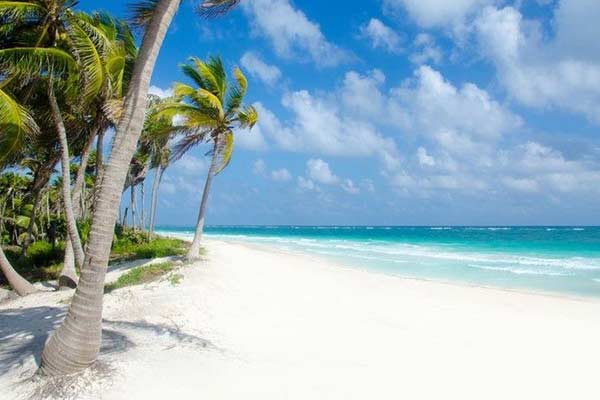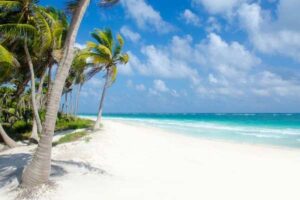 I'm getting ready to give RETA members a sneak peek of our latest Tulum opportunity and it's very special…if you are not a RETA member next week you'll get a historic chance to join our group amid the buying moment of a lifetime.
Finding deals in Tulum is difficult because of everything that makes Tulum such an amazing place to invest and visit.
To the south is the Sian Ka'an Biosphere—over a thousand square miles of UNESCO-protected natural beauty. To the north are the stunning beachfront archeological ruins. Building is heavily restricted and permits are difficult to get.
And we're fussy. We only want the best-in-class. We want what will appreciate fastest and command the most demand from renters.
But we're on a roll…
For instance, Gran Tulum, where I along with RETA members bought last April, is in the closest master-planned community to where I was sitting when I took this photo…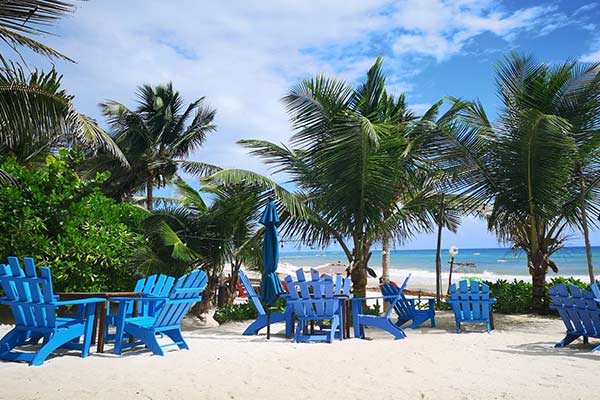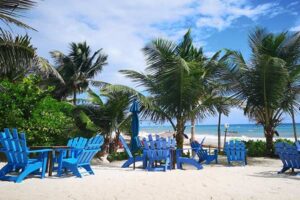 We got in at Gran Tulum with pricing from $175,000 for a luxury, two-bed condo. The crème de la crème of developers will be our neighbors in the new, high-end, master-planned community that Gran Tulum is part of.
One of those developers is getting ready to open to friends and family. The pricing I got a sneak peek at was coming in 47% higher than what we paid in Gran Tulum on a per square foot basis.
We had another opportunity… Earlier this year, RETA members had the opportunity to lock down spacious, two-bed homes in Tulum for just $149,000. But, because of the crisis, I negotiated an added kicker, giving every member who bought in on this deal a pool worth an extra $7,000.
I expect these homes to fetch $225,000 or higher soon after delivery. And that's not to mention the income potential. I figure on 13% gross yield, easy. (Read more about the Edena deal right here.)
Tulum has come a long way since the early days when it was a rough-around-the-edges beach town. It has truly arrived on the global stage. Visitors come from all over the world in their millions. Many of them increasingly want to stay longer, maybe for a few months. There are more retirees…more families coming for a better quality of life and jobs in the booming tourism and hospitality industry…more of the international, well-heeled set who are drawn to Tulum.
Everything You Wanted to Know About Buying in Europe
Your appetite for information about real estate in Europe is astounding…so I decided to create another video to answer more of your questions. Keep them coming!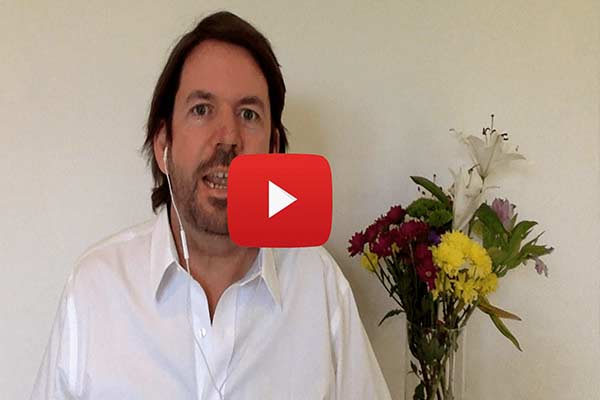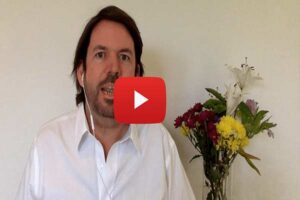 Connect with Ronan on Instagram  or Facebook
Get Your Free Real Estate Report Now
Sign up for our free daily Postcard e-letter and get a valuable free report on the The 5 Best Places to Buy Real Estate In 2023.
Related Articles
The 10 Best Places to Invest in Real Estate
VIDEO: Buying Real Estate in Europe
Your Questions About RETA Answered