Town is quiet in the morning; a few local vendors set up roadside shops where they sell wood carvings, tapestries, and the like. A few people gather for a generous breakfast and fresh-brewed, local coffee for about $8 at the cafés. "Downtown" is small, really just one street that wraps around the western shoreline…walk through from the road and you'll be in awe of the three-mile stretch of lush, palm-lined coast and blue water. An old fisherman's boat is always washed up during low tide.
My husband plays in the Association of Beach Volleyball Costa Rica National Open and we've traveled to Playa Samara, on Costa Rica's Pacific Coast, a few times for tournaments, and each time I love this sleepy beach town a little more.
Signs for businesses here are mostly hand painted and wooden. While there are a few businesses owned by expats, bringing cultural influence from elsewhere, Samara is widely known for harnessing and preserving authentic, Tico culture. With no large resorts, you'll find an eclectic and somewhat bohemian mix of boutique hotels and lodges, restaurants, and cafés.
Costa Rica in general is hailed for its friendly people, but Playa Samara embodies this reputation to its fullest. People will stop you on the beach to chat and they're interested in your story; I always leave Playa Samara with new friends.
Perhaps one of the largest draws for expats to Samara is the Costa Rica School of Massage Therapy, the world's premier study abroad program for Massage Therapy Certification. It draws both young professionals and those looking for a gratifying and peaceful second career. And do you know what this means for visitors and locals alike in Samara? Incredible massages at an affordable price at the school's tranquil massage center; on average they offer massages at varying lengths, up to 90 minutes for just $1 per minute.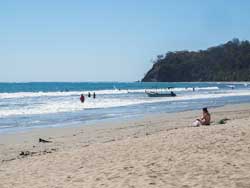 Small organic markets selling everything from fresh produce to chocolate and herbs and spices are plentiful here, as well as yoga and practitioners specializing in holistic healing. While the town itself is fairly small, Samara's residential community stretches out into the countryside and up into the hills, which abounds with wildlife, and overlook the crystal-blue waters.
The shape of the cove and reef that's just offshore cause the waves to break before they reach shore, making swimming conditions here relatively calm and warm. You can surf occasionally, but this beach is more suited for relaxation than sport. While there are beachfront hotels and a couple of restaurants, the majority are tucked away so as not to obstruct the natural beauty of the beach. And locals often ride horseback along the water, some offering rides to tourists, but some simply enjoying the serenity of gentle waves and salty air.
To satisfy my own curiosity I did a little research and found a simple one-bedroom apartment, fully furnished, with utilities included, available to rent for $700 per month. I also found a three-bedroom luxury villa, fully furnished with immaculate landscaped gardens, and an ocean view for rent for $1,500 per month.
Samara is far enough off the beaten path to feel like you've entered a different reality, but still accessible via a paved road to both the international airport in Liberia and necessities like banks and hospitals about 23 miles away in Nicoya.
During all my years living through Michigan and Illinois winters, daydreaming of tropical getaways, I now know it was a beach town just like Playa Samara I was longing for.
Get Your Free Costa Rica Report Here:
Learn more about Costa Rica and other countries in our daily postcard e-letter. Simply enter your email address below and we'll send you a FREE REPORT – Why Are Americans Still Flocking to Costa Rica.
This special guide covers real estate, retirement and more in Costa Rica and is yours free when you sign up for our IL postcards below.
Get Your Free Report Here