When Bruce and Shelagh Duncan, 67 and 65, respectively, came down to Costa Rica's southern Pacific Coast 13 years ago, they felt an immediate affinity.
"It was the weather…and the people we met," says Shelagh. "It is mostly unspoiled and offers many breathtaking views of the mountains and the ocean. We can walk along deserted beaches and explore caves and secret beaches that are only accessible at low tide. We have fabulous restaurants and a great community. When we first arrived it was like being on vacation 24/7. That gradually changed, of course, but the pace is slower. And we have such an interesting mix of people here from all over the world, and with varied backgrounds.
On that trip in 2000, the couple bought a lot for $30,000 in a gated community just outside the small village of Ojochal, which sits just off the two-lane coastal highway. Their aim was to build a home for their retirement and use it as a vacation property themselves and also for rental income.
They visited often during the building process. In 2007, they moved down permanently.
But the couple wasn't ready for a traditional retirement. Shelagh had been an interior designer back home in Canada (they are originally from the UK) and saw a great need for her services. More and more expats were discovering the region and either settling there or building vacation homes. And they needed help filling their homes with high-quality, fashionable furniture and accessories. Thus Royal Palm Interiors was born.
The store is in the region's commercial hub, Uvita, about 20 minutes north of Ojochal. They sell bedroom sets, dining-room tables, sofas, and chairs, as well as bed and bath linens, mattresses, and more. They also offer complete home furnishing sets. Shelagh exercises her design skills by offering packages to people who need to totally furnish a new home or a vacation rental they plan to open to guests.
Bruce handles the bookkeeping, banking, and other administrative work, as well as maintenance on the building. He averages about two hours a day on store business but has plenty of time for his work in the community. He's president of the condo association where he and his wife live, president of the corporation for a local bridge built by the community… and he's involved in several expat and business groups, as well.
"Most days I am in the store for some of the time. It is a beautiful place to be, plus customers become friends, and they always pop in to see what's new or for a chat. It is a bit of a social hub, which is great," says Shelagh.
The Duncans' 1,700-square-foot, Spanish-style home is in the foothills above the coast, close enough to the ocean to hear the crashing waves at night.
They're in a gated condo community and have a pool and detached one-bedroom guest house above their garage. It's the kind of low-impact development typical of the area. The local government restricts building height to three stories. "There are lovely boutique hotels and low-density building developments that try to blend into the landscape, rather than overpower it," says Shelagh. "We have amazing mountain views and can see many waterfalls, hear the monkeys, and watch the parrots fly home each night. We can see and hear the rain coming down the mountain in the green season; it is a fabulous, ever-changing view.
"We are 'retired,' so life is good— morning coffee on the rancho listening to the toucans and the sounds of the jungle. After work, we may grab a beer and take the quad up the mountain to our own 'sunset spot' under the mango tree, and watch the sun go down over the ocean. Pura Vida."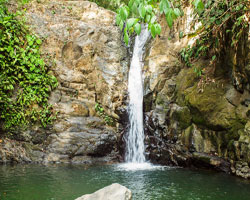 The couple also enjoys movie nights with neighbors, social events with expat friends, and nights out at local restaurants. The Southern Zone, especially Ojochal, is well-known for its gourmet establishments and food festivals.
Exotica, which offers European-Asian fusion cuisine, is one of their favorites. Another is Azul, a Mediterranean restaurant on-site at the El Castillo hotel, known as a happy-hour sunset spot for local expats and visitors. And, says Shelagh, "Fabrizio's has the best pizza."
"We have a busy store, and that takes a lot of work and dedication," says Shelagh. "However, there are some great ways to beat stress down here. A swim in the ocean, a cocktail watching the sun go down, a jungle massage, and just breathing in our oxygen-rich air are all great stress-beaters."
Free Report:
Sign up for IL's Fund Your Life Overseas e-letter today and we'll also send you a FREE report about ways to earn money abroad. Simply enter your email in the box below and we'll send you this free report: Fund Your New Life Overseas With These 6 Portable Careers.
Get Your Free Report Here