Imagine if you could snap your fingers and instantly cut your monthly expenses in half. You'd effectively double the value of the money you budget for monthly expenses. It would mean the cash you once used for monthly bills would be available for other uses.
There are hundreds of beautiful retirement locations around the world where this is possible. For the past 15 years, my wife, Suzan Haskins, and I have lived in many of them.
Coming from Omaha, Nebraska, the first major cut we experienced in our cost of living when we moved abroad was our monthly heating and air conditioning bills. I can still remember sitting in our house in the middle of a Nebraska winter hearing the furnace burn money trying to keep us warm when the temperatures could stay below zero for weeks at a time. Same in the middle of summer, when the air conditioner seemed to literally guzzle electricity as we sheltered from 100-plus degree heat for days on end.
Imagine the effect on our monthly budget, then, when we moved to a place where we needed neither heating nor air conditioning…none, at any time of year. We've lived in several places like that, including Ajijic, Mexico and San Juan del Sur, Nicaragua. We live in one now, in the Andes mountains of Ecuador. When your heating and cooling budget amounts to the energy it takes to open or close a window, the effect on your monthly budget can be dramatic.
Another example…mass transportation just wasn't as cheap and readily available in Omaha as it seems to be in every other place on the planet we've lived. For that reason, at least one car, and often two, were necessities for our lives in the U.S.
We now live in a place where buses and taxis are so common and affordable that we literally have no need for a car. We can get anywhere we need to go for just a few dollars…even to the next city or town. Can you imagine the drop in our monthly expenses when we eliminated the cost of a vehicle and its ongoing fuel, maintenance, repair, and insurance?
These are just two ways in which expats are reducing their costs of living by living and retiring abroad. It's also possible to significantly reduce medical insurance costs and expenses by taking advantage of lower healthcare costs abroad.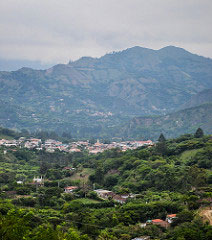 Entertainment costs go down to near zero for those who get their kicks walking along beautiful beaches or breathtaking mountain trails or magnificently lush jungle paths or on the cobbled streets of historic old town centers. Such exotic surroundings are the stuff of everyday life in many popular expat destinations.
And for those who like to eat (and what would life be like without food?) fresh produce can be had by the bagful for just a few dollars in the mercados and farmers' markets of tropical and subtropical destinations.
In addition, many little eateries, cafes, and restaurants in the towns and villages we've lived in serve daily lunch specials that are so affordable that we couldn't cook the same meal for less ourselves. These are full meals that often include soup, fruit juice, rice, salad, potatoes, meat…and dessert. In fact, we know a lot of expats who have simply given up cooking for themselves and eat quite well—and quite inexpensively—at these tidy little eateries.
These are just a few of the ways that moving to the right location abroad can significantly reduce a monthly budget. For some, it's one of the main reasons for moving or retiring overseas. For others, it's just icing—albeit very welcome icing—on the cake.
But in either case, the effect on monthly budgets and fixed incomes of a lower cost of living can be dramatic…and dramatically affect your overall quality of life.
Get Your Free Top 10 Retirement Havens Report Here:
Learn more about the best places in the world to retire in our daily postcard e-letter.
Simply enter your email address below to sign up for our free daily postcards and we'll also send you a FREE report on The World's Top 10 Retirement Havens.
Get Your Free Report Here