When considering a place to retire abroad, there are many factors to keep in mind. The availability of good health and dental care, safety, climate, the price of real estate, the "vibe"… Costa Rica ticks all those boxes. It's a naturally beautiful country to boot with an established expat community and a stable government.
People often ask us how much it costs to live in Costa Rica. Although, it's not the cheapest country in Latin America, for the quality of life it provides, it's great value. And it's still an affordable destination where a retiree can live comfortably on their Social Security or pension far better than they did back home.
I know one expat couple from Baltimore. They've lived in the Central Valley town of San Ramon for many years. Their goal is to keep their total monthly expenses (rent, medical, food, transportation, everything) at $2,000. And, barring something unexpected like a major car repair, usually they hit that mark.
Another expat couple I know manages to keep their expenses at that level, too. Sometimes they even stay under $1,500 a month.
Both these couples, and many others I've met over the last three years, are having the time of their lives. They live in nice homes with views…travel around the country…and host parties regularly… They're not scraping by.
I'd say you can't get much lower than $1,500 to $2,000 for monthly expenses if you don't want to scrimp to get by. With a budget of $3,000 or more, you'll live very well. Consider that the vast majority of Costa Ricans live on much, much less. The per capita income for 2014 was $14,900. And look at the government-mandated minimum wages for certain job categories. Somebody with a bachelor's degree makes at least $983 a month. An office worker, $581. Yet, even on those very low budgets, people manage to keep their families fed and clothed, have nice homes with cable TV and internet access, own cars—there's a solid middle class.
You first can expect to get great deals on real estate. A three-bedroom home with a pool in Atenas, an expat haven in the Central Valley, is available for $149,900. A two-bedroom condo in the northern Pacific coast beach town of Playas del Coco, a short walk to the beach, is available for $88,900. And you'll get a pleasant surprise when you get your property tax bill. The tax is just 0.25% of the assessed value, which is usually much lower than what you paid for the house. That means a property tax bill in the hundreds, instead of the thousands.
(Speaking of taxes…although you're always on the hook to the IRS, you'll pay no income tax to the Costa Rican government unless you have a business. There's no capital gains tax either.)
If you rent, you can get some real steals. A 900-square-foot casita, fully-furnished, in the Central Valley artisan town of Sarchi is available for $495—all utilities and internet service included. You can get good deals on the coast as well. A two-bedroom home a block from the beach in Jaco, a hugely popular resort town on the central Pacific coast, is $850 a month—fully furnished.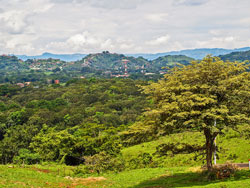 Another huge savings—and peace of mind—is healthcare. When you become a legal resident through, say, the pensionado (retiree) program, you join the government-run healthcare system known as Caja. There's a network of clinics, hospitals, pharmacies, and other facilities throughout the country. And after you pay your monthly fee you don't have to pay anything for doctor's visits, testing, prescriptions, specialist consultations, surgery…anything. The fee is 7% to 11% of your income. For example, if your income is $2,500 a month, you pay $181 per month. That covers the applicant and a dependent spouse.
A big way to save is to adopt local habits. You can get many, many imported food products in some of the fancier grocery stores. But you'll pay a price. That's why most expats splurge occasionally—my must-haves are peanut butter and olives—but mostly shop in local markets. The feria is a weekly farmers' market; any good-sized town or village will have one. Here a couple can fill their fridge with fresh-off-the-farm fruits, vegetable, meat, cheese, eggs, honey, coffee, and more for $25 a week. One of my family's favorites is the seafood. It was something we avoided back home because of the expense. But in Costa Rica a pound of red snapper or sushi-grade tuna will set you back $4 to $5.
Yes, electronics, cars, and other imported goods are pricey. But you find that the urge to have the latest and greatest of everything goes away. You fix your car instead of buying the latest model every few years (car repairs are cheap). You don't buy the latest fashions. And as far as electronics like smartphones, you're content with what you brought with you from home—supplemented by what friends and family bring down when they visit.
You change your habits when you come to Costa Rica. And the rewards are a better life for less.
Related Articles
Best Places to Live in Costa Rica: Five Top Expat Havens