If you're a Real Estate Trend Alert member I have good news…
The first wave of deals are upon us.
Just weeks into this crisis and our group is already beginning to get in on actionable opportunities. Last month we had our taste of a massive bailout of Panama's hoteliers and developers in the form of a $65,700 discount on true beachfront condos close to Panama City. That was in addition to what was already a sweet RETA-only deal.
And in Tulum I used the currency fluctuation between the peso and U.S. dollar to make our Edena homes deal even better by negotiating the added benefit of a free pool for each RETA member.
Deals won't get any better than these RETA-only deals in places undergoing unstoppable transformations…
If you are a RETA member, you can check out my full reports on these deals in the Current Deals section of your RETA website.
Buying the right kind of undervalued real estate now sets you up for the recovery and a lifetime of income.
Doing this is the perfect path to freedom, both financial and personal. The freedom to go where you want, when you want.
Freedom from worry and stress…
Freedom to be indifferent to what happens in the stock market…nor be concerned by job losses…politics…
And whether you are a complete beginner or an investor with some real estate experience under your belt, what I reveal in the latest issue of Real Estate Trend Alert—out today—will help you save and grow your retirement…
Wall Street is working from home. Main Street is closed. Every day brings more bankruptcies. More horror stories from an economy in shutdown.
This will be a time of great change. This change will create great opportunity. The world looks upside down…I fear for many people's economic security…but there is a solution…in the midst of all of this will be the real estate buying opportunity of a lifetime…
Everything we've done at RETA since our group's foundation in the teeth of the 2008 crisis has been building to this historic moment…
And in the latest issue of Real Estate Trend Alert I show members exactly how you can use this buying moment to set up an income stream for life.
This is the start of my Project Prosper…
I'm being flooded with news and intelligence from my connected insiders all over the world. I've been vetting opportunities and gathering intelligence…for example:
I spoke with my contact in Brazil who told me about a luxury villa at 70% off. He also told me that values of the Sao Paulo micro-condos RETA members locked down in November 2018 are up—that's despite this crisis. I'm working hard to use this moment to find us another micro-condo deal.
Over in the Algarve on Portugal's southern coast, my contact reports that the real estate industry has just shut down…nearly all brokers have closed their doors and set up auto replies to their emails. He has spotted an opportunity…more on how he's playing the situation in the April issue of Real Estate Trend Alert.
Up in Lisbon sales had been stalling anyway as the market overheated. I called it overpriced and frothy two years ago. It still continued to climb after that, but it's always better to call a peak early.
A connected deal-maker who doesn't want to be named says the market is on its last legs… certainly the top end…more on this in the April issue of Real Estate Trend Alert. Plus some good news about Portugal's Golden Visa. The rules were set to change to limit access to it but this crisis means they aren't…this is good news for us.
Over in Spain…"There will be deals here for sure," says my contact on the Costa del Sol.
In Belize, I'm looking at some island deals right now to see if they stack up.
In Thailand my contact tells me he's already seeing signs of life coming back to the market. He's due to reopen his office in the next couple of days and tells me once he's had a chance to talk to owners across the city he'll drop me a line with any promising deals.
And more…
As soon as planes fly again, my team and I will be organizing extensive on-the-ground scouting in Italy and elsewhere. The time to buy in Italy's historic centers is now, it's just logistically hard to get there and do it.
As the deals come, I'll present them to you…
And, as part of Project Prosper, I'm expanding the RETA remit to include "pocket-money" boltholes…dream retreats at bargain prices in places that afford an amazing lifestyle… They may not have RETA-style gains and income attached, but they could form part of your overall international strategy and lifestyle. Take one example. Around two hours' drive east of Rome and 15 minutes from the Adriatic Sea, I came across an historic sea-view apartment of 4,000 square feet for just €49,000.
Plus:
An opportunity in one of the world's greatest safe havens…
We can own ocean-view lots in "the Switzerland of South America" from $31,356 that I predict will be worth $50,000 in the next few years as this crisis passes.
Plus, there's interest-free developer finance on the table. RETA members can buy with a manageable down-payment, followed by monthly payments of $490.
Wishing you good real estate investing!
Get Your Free Real Estate Report Now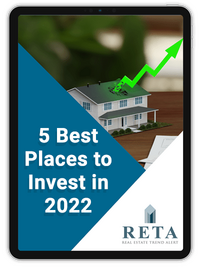 Sign up for our free daily Postcard e-letter and get a valuable free report on the The 5 Best Places to Buy Real Estate In 2022.
Related Articles
The 10 Best Places to Invest in Real Estate
Get Ready for the Second Wave of Crisis Deals
My 4-Step Formula for Finding Profitable Real Estate