When I was in Dublin in August, I was struck by the juxtaposition of two buildings in the city's financial district.
On one side I saw a pretty standard office building, occupied by accounting firm KPMG.
On the other was a charming old harbormaster house, dating back to the 1830s.
The contrast between the two was eye-catching. The intricate brickwork versus the utilitarian concrete. Yet, it struck me that the office building was as much a product of a bygone era as the harbormaster house.
In the year 2020—the year of Work From Home and Zoom meetings—these 20th century bastions of white-collar labor no longer make any sense.
Remote working has been trialed and tested, and it has passed with flying colors. When the pandemic is over, some employees will return to the office, sure, but many more won't. Yet, these huge buildings continue to dominate the urban landscape…outliving their original purpose.
I suspect the key to their future can be found in the city's older resident buildings like the harbormaster house. It's a structure that stopped being used by Dublin port many years ago, but it continues to exist because it's found a new purpose as popular café and bar.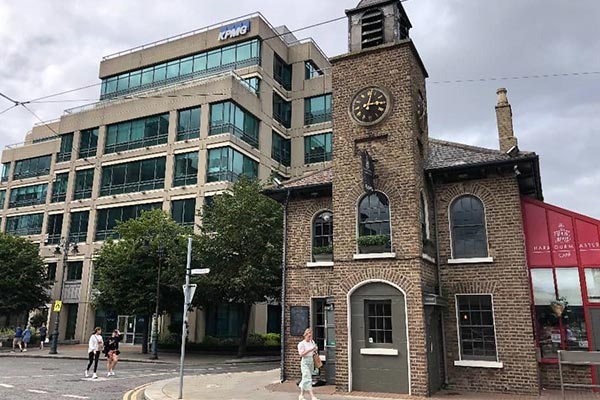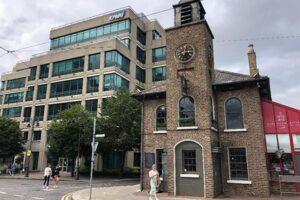 Adaptive reuse isn't a new concept. Buildings outlive their usefulness. Walk through any city and you'll see old industrial warehouses converted into food halls or art galleries. Disused churches have been turned into apartments, concert venues, and nightclubs. In the U.S., Cold War-era silos and bunkers have been repurposed as private living quarters for survivalists. In China, the Olympic swimming pool from the 2008 games is now being used as a waterpark.
In a recent edition of Real Estate Trend Alert, I discussed the opportunity of repurposing old Irish pubs as Airbnbs.
The idea of repurposing commercial real estate in city centers isn't such a leap. Indeed, like many of the trends accelerated by the onset of COVID-19, it has already begun.
Big retail players like Walmart and Target have been converting their retail spaces into mini distribution hubs to shorten the last mile for customers. In Seattle, a 41-year-old shopping mall is being converted into a 300-unit apartment complex.
However, adaptive reuse at the scale of these big commercial buildings doesn't come cheap. You could be looking at 84% of the cost to build from a green field site.
Great locations and buildings will be repurposed. Some deals really lend themselves to adaptive reuse. A hotel that catered to business travelers could easily be converted into a luxury micro-condo development.
But in a real estate crash, some repurposed real estate created might not be worth the meagre savings. Some will wind up getting cleared and becoming parking lots or farmers' markets. Anything marginal has a bleak future.
Watch out for creative uses. How about paintballing through a Wallstreet former investment bank offices, for instance…
The question isn't if we'll see a major repurposing of commercial real estate…it's how long it will take.
In the last few months, Pinterest paid nearly $90 million to escape a massive 490,000-square-foot lease in San Francisco. Google announced it was pulling the plug on a lease for a new office space in Dublin, Ireland. Companies including JPMorgan Chase, Ford Motor, Twitter, and REI, have all announced a commitment to a long-term or permanent work-from-home future.
And we're not just seeing a drop off in demand for office space. Retail is being hit just as hard. By one estimate, more than half of all U.S. departmental stores in malls will be vacant by 2021. And as the crisis draws on, there hasn't been enough commercial real estate transactions to gauge how far commercial property values may fall.
Wealthy speculators with deep pockets are already waiting on the sidelines to lock up cheap commercial real estate with a view to adaptive reuse, particularly for high-density residential use.
It's a prospect I've been keeping a close eye on. However, the timeline on this play is, as yet, too far out for it to make sense for regular investors…
This is very early days, and even if you can bank an undervalued commercial property in a great location, there are many regulatory bottlenecks to contend with. Zoning laws, legal regulations concerning conversions, and local objections all need to be ironed out. It's a messy process.
It could be close to a decade before we see a streamlined framework emerging.
For me, the stronger opportunity right now is residential real estate. With folks no longer tethered to their office, they're free to live and work from anywhere in the world.
Why pay thousands in rent and commute long hours when you can do your job after a daily morning jog on a Caribbean beach and save a whole lot of money living somewhere warm?
There are places in the world that already attract millions of people for their climate, lower costs, and quality of life. The most successful are easy to get to. These will be the hot spots for this kind of traveler. They will rent for weeks, even months at a time, stretching the rental season and driving demand.
By owning the right type of property in the right location, we can set ourselves up for fantastic rental returns in the years to come.
Paradigm shifting moments like the one we're living through right now are truly once in a lifetime. And they offer up many different ways to profit if you know what you're looking for. My goal is to find the best, most profitable road to wealth. The one with the strongest potential, the clearest path, and the lowest cost of entry for us.
Get Your Free Real Estate Report Now
Sign up for our free daily Postcard e-letter and get a valuable free report on the The 5 Best Places to Buy Real Estate In 2023.
Related Articles
The 10 Best Places to Invest in Real Estate
A Skiing Retreat From Just €35,000