If you love boisterous, colorful celebrations, folklore, and pageantry you will love retirement in Panama. Panamanians work hard and play hard; they have music in their souls. They're happy, gregarious folks who love to set aside their cares and woes and "party hearty."
You'll find arguably more formal opportunities to celebrate in Latin America than anywhere else on earth.
The most popular tradition in Panama is Carnival. In fact, it's one of the largest and longest in the world, taking place from the fourth day preceding Ash Wednesday until the start of Lent. All business, including government, comes to a complete halt for those frenetic days and nights.
The most elaborate Carnival celebration takes place in Panama City. Crowning of the Queen and her attendants occurs the first day but every day the streets are alive with parades, pulsating music, dancing, and, of course, the traditional "mojaderos" or "getting drenched."
Sunday is a parade dedicated to the pollera, the beautiful national costume of Panama. Hundreds of women parade and dance their traditional dances through the streets.
The final day is Fat Tuesday, which begins with a huge parade, complete with elaborate floats, costumes, and blaring music. Bars, discoes, and hotels rock until the wee hours.
If you're not a big-city person, you don't have to miss out on the fun. The second largest Carnival celebration takes place in Las Tablas, a small town about 130 miles from Panama City in the province of Los Santos. Huge crowds congregate here from all parts of the country to celebrate and to soak in the more folkloric and traditional approach to the fun.
Religious holidays are extremely important to the Panamanian people. Being mostly Catholic, their Christmas festivities are moving and heartfelt. And Semana Santa, or Holy Week, is their biggest religious holiday of the year. Taking place during the last week of Lent, leading into Easter, its celebrations and festivities include grand Catholic masses, re-enactments, and more fun parades.
All of these celebrations keep this tiny country active and upbeat throughout each year. Fireworks are extremely popular and any occasion, no matter how small, provides an excuse for a huge display.
While all this is fun, if you prefer a quieter, more laidback lifestyle you won't be bothered by the exuberance.
And all of this should give you some picture of how happy people here are—homegrown and expat alike. They have good reason to be.
This is a country that welcomes other people. And you won't find a more respectful destination for retirees either. Panamanians have huge respect for older people. They have special lines for retirees in banks and government offices so that you never have to queue.
On the bus or in line at the grocery store, younger people will give up their seat for you without a second thought.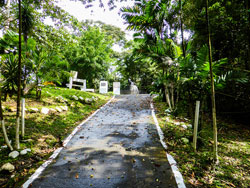 On top of that, thanks to the country's pensionado (pensioner) discount program, retirees automatically receive discounts from 10% to 50% on a range of essentials and luxuries: hotels, movies, travel, restaurant meals, sporting events, pharmaceuticals, and more.
Homes are affordable, even without the discount. Our home on three-quarters of an acre of land in the rural province of Chiriqui, cost us $90,000. That price included household furnishings and a vehicle.
We eat well for pennies on the dollar. We can get a bag of produce—cabbages, lettuce, tomatoes, celery, potatoes, beets, carrots, and more—for $5 to $6.
Doctors, dentists, and optometrists are big savers, too: A recent trip to the optometrist for an exam and new lenses cost less than one third of the cost I'd have paid in Canada. Teeth cleaning in Panama costs just $30 to $50 a session. A chiropodist will work on your back for $20 a session.
And trips around this diverse country are affordable. In the last few months, we could afford to see the Caribbean destinations of Portobelo, a divers' paradise, and the island of Bocas del Toro, all on a retired couple's income.
So, while Panamanians love their festivals and know how to throw a party, I think you'll agree, there are plenty of reasons to celebrate life here already.
Get Your Free Panama Report Here:
Learn more about Panama and other countries in our daily postcard e-letter. Simply enter your email address below and we'll send you a FREE REPORT — Panama: First World Convenience at Third World Prices. 
This special guide covers insider advice on real estate, retirement and more in Panama. It's yours free when you sign up for our IL postcards below.
Get Your Free Report Here