Some years ago, I met a real estate developer who was having "trouble" with his wife.
Whatever the trouble was, he didn't reveal. But it had left him feeling bitter. His wife, needless to say, was a frequent topic of conversation. Especially her faults and failings. He should have known they weren't compatible, he told me, when they met. He loved the outdoors, fishing, hunting, and camping. His wife, he said, was the type of woman that can't be more than a few miles from a movie theater.
Then he turned to me. "Can you understand that?"
Well…I can see where his wife is coming from. I like nature and the outdoors, walking, and wildlife watching.
But I'm not about to maroon myself in the wilderness and commune with my inner Walden any time soon. I never go to the movies…but I like knowing there's a movie theater close at hand if the notion ever takes me to go…
I've lived in cities for almost the whole of my adult life. But I'm a bit like Goldilocks. The city has to be not too big, not too small, but somewhere in the middle.
When I lived in the U.K. for example, I discovered that I preferred Brighton to London. London's population of 8.9 million dwarfs Brighton's 290,000. And while Brighton can't match London's sheer variety of shopping and dining, it's a cool, fun city. It attracts artists, writers, filmmakers, and fashion designers…hosts music festivals and veteran car rallies…and its Theatre Royale has staged some world premiere plays.
I lived in Buenos Aires for a few months (metro population, north of 15 million). I loved the cultural scene, the shopping, the gourmet ice cream stores. What I didn't love was the sheer volume of people, the traffic, the noise.
At weekends, the city emptied out. Without the crowds, it became much easier to get around. I also found little stores and cafés that went unnoticed during the week—hidden by the constant stream of people hurrying past.
I also lived in Uruguay's capital, Montevideo (1.38 million), for a couple of months and found it much more manageable, tranquil, and friendly.
Like Montevideo, Panama City, my home base for the last 13 years, falls into the "somewhere in the middle" camp. Its metropolitan population is north of a million. It covers a tiny land area, so even with traffic, it's a short hop from one neighborhood to another. It's got enough malls, shopping, and dining to keep me happy. And good infrastructure, from smooth roads to world-class hospitals.
It's also got some extras you mightn't expect in a Central American city that make it even more appealing as a home base.
One is the excellent hub airport with direct flights across North America, Latin America, and Europe. Around 3 million tourists visit Panama a year, but more than three times that number transit through the international airport to other destinations. It's easy to fly back home, for friends and family to visit you, to travel for work.
Then, there's its melting pot of nationalities, creeds, and cultures. Panama's strategic location, in between North and South America, the Pacific and the Atlantic, has helped it cement its status as a regional powerhouse and global hub. Its focus is shipping and logistics, banking and insurance, trade and services. It's home to the world's second-largest free trade zone, more than 160 major multinationals (like Dell, 3M, Johnson & Johnson) and its eponymous Canal through which 5% of all world's seaborne trade passes. It's welcoming to foreign entrepreneurs, too.
So, you'll meet all kinds of people in Panama City. French and Italians. Americans and Canadians. Indians, Chinese, Arabs, Jews. You don't stick out as a foreigner. Better yet, everyone pulls together. And they've brought their cuisine with them—you can eat Korean kimchi, Indian aloo gobi, Argentinean or Brazilian style steak, Italian pasta, Peruvian seafood. If I walk a few steps left from my apartment building, there's a French brasserie. On the opposite side of the street, an Italian café. A little to the right, Hawaiian style poke bowls and an upscale restaurant run by a Michelin-starred chef. It's a foodie's delight.
And, last but not least, there's the Panamanian love of trying to figure out a connection. When you first meet, they're sometimes a little disconcerted because they can't place you based on your surname—you're not Panamanian born and bred. But they'll often pivot and ask where you're living, which company you work for, or what your interests are. Once that's established, they'll mention some people they know in your neighborhood, your company, or your book club. Chances are, you will know someone in common (Panama City is a pretty small place). This helps build a network of connections, personal and business, quickly and easily.
Get Your Free Real Estate Report Now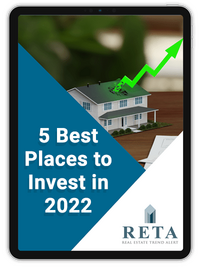 Sign up for our free daily Postcard e-letter and get a valuable free report on the The 5 Best Places to Buy Real Estate In 2022.
Related Articles
The 10 Best Places to Invest in Real Estate
How to Claim a $65,700 Crisis Bailout
Claim Your Own Private Bailout