I was enjoying a stroll down the beach in Tamarindo the other day—it's just a 10-minute walk from my house—when a couple, visitors from the Midwest, asked me to take their picture. We chatted, and I mentioned that I lived in town. They told me how much they loved Costa Rica, the wildlife, the natural beauty, the beaches, the friendly people…but, they said, they were surprised how expensive everything was.
It's a comment I hear a lot from visitors.
Sure, Tamarindo, a popular beach resort town on the northern Pacific coast, is expensive…if you go to the tourist restaurants, boutiques, and the high-end grocery store with imported brands from the U.S. and gourmet foods from around the world. Import taxes keep prices high on those items. And those places cater to tourists and well-heeled expats and Ticos. So if you're on a budget, the key is to shop like a local. It's easy…and you can do it wherever you live in Costa Rica.
I must admit, I do pick up a few favorites from back home and splurge occasionally at the "fancy" grocery store; jamon serrano from Spain from time to time, peanut butter for the kids, good wine at Christmas. There are some things we just can't do without. And the great thing is, whatever you're craving from home, you can probably get it in Costa Rica.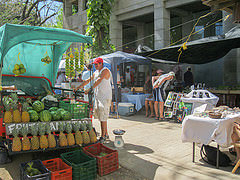 But for the most part we shop at the weekly farmers' market, known as the feria. In some parts of Costa Rica the feria is a huge open-air structure with row after row of vendors offering produce, meat, seafood, eggs, honey, dairy products, bread—just about anything that doesn't come in a box. It's where people come to do their main shopping for the week. It's quite a social occasion as just about everybody in town passes through at some point.
In Tamarindo, it's a simpler affair: a few rows of small tables on the roadside in a village five minutes' drive from the beach. But they bring everything you need. We get enough cilantro, bananas, broccoli, cabbage, papaya, strawberries, and other fruits and veggies for a week (even with my two growing boys who eat nonstop) and spend about $30. That's a fraction of what we spent in the U.S.
On Tuesdays, I always keep an eye out for the "fish truck." It's delivering to local restaurants but you're welcome to buy too. Five bucks a pound for fresh tuna or snapper. We love to make sushi—imported soy sauce and rice vinegar comes in handy there.
In Grecia, the Central Valley town where I used to live, we had a huge feria that was a noisy, crowded, bustling cultural experience every Friday afternoon. Vendors gave out samples and always had great deals.
But we also learned a whole new meaning of "shop local" while in Grecia. One of my neighbors introduced me to a dairy farmer up the road. Soon we were getting weekly deliveries of fresh, "raw" milk. The little old lady a few houses down sold eggs. Another neighbor sold chicken…although it was a little too farm-to-table for us to pick out a chicken for dinner that we'd seen pecking around the neighborhood earlier that day.
By shopping as Costa Ricans do, we not only save money, we also have a much healthier diet. We make things like hummus and salad dressing from scratch. We get creative with our meals. Our diet is better, and I don't think that's a bad thing.

Related Articles
The Truth About the Cost of Living in the Orosi Valley, Costa Rica
3 Unique Towns for Beachside Living on Costa Rica's Pacific Coast
Keeping Fit and Making Friends in Costa Rica's Southern Zone