Life, as we all know, is full of contradictions. Even here in Panama City—my little slice paradise. I've been living here since 2005, ever since I quit my job sailing the world aboard luxury cruise liners. For my money, there's no better location and no better value anywhere in the world.
Not everyone agrees with me, of course. I spend my days traveling around Panama and interviewing the people that live here. "Panama is so cheap!" That's a common refrain. So is this one: "Panama is expensive!"
It's all relative. Sure, if you choose to live in Panama City rather than in less expensive towns like Pedasi, Las Tablas, Santa Fe, Volcan (and the list goes on), you will spend a bit more. The colonial Casco Viejo sector is full of touristy restaurants and shops…the downtown malls boast high-end products from the likes of Ralph Lauren…and upscale supermarkets and delis sell everything from caviar to black truffles. Oh yes, you can spend a pretty penny here.
But if you're on a budget, it really is easy to keep expenses down and shop like a local. And for most of us, our expenses do go down after we've lived here for a while…the first three months, while you're settling in, tend to be the most expensive. After that, you begin to learn where the locals shop and eat, and you settle into a routine.
I still splurge on a few items every month, but I'm able to keep my costs low by shopping at the local markets or mercados. In some parts of Panama, mercados are large, covered areas with row after row of vendors offering everything from plants and produce to handicrafts. The capital's fish market is famous for its fresh fish and seafood, but there are also stalls selling buttery grilled fish, cold lemony ceviches, and more.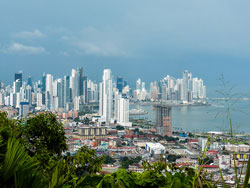 But there are smaller kiosks and vendors, as well. At Omar Park, where I like to walk in the evenings, I can choose from a small but good selection of fruit and vegetables. Potatoes, tomatoes, green peppers, local root vegetables like yucca, mangoes, and much more are cheaper here than at local supermarkets. (They even sell fresh fruit smoothies for a couple bucks.)
And if I'm in a real hurry, I can usually buy some fresh produce from vendors on the street, right from the comfort of my car. They sell bags full of lemons or tomatoes…over a dozen, usually…for as little as $1. It may seem strange to get your veggies this way, but it's the Panama way…cheap and convenient. And the vendors are so polite and friendly.
Even at local supermarket chains, I stick to local and regional produce. For $25 I can buy fresh herbs, bananas, papaya, cut pineapple, broccoli, shredded cabbage, eggplant, carrot sticks, watercress, and a "soup fixings" pack of cubed veggies (usually zapallo, which is similar to pumpkin, pieces of yucca and other root vegetables like the fun, purplish otoe, and slices of corn on the cob).
I just stay away from expensive items like imported spinach ($8 a bag) and cherries ($9 a tray). Why bother with imports when local produce is so tasty and abundant?
Alright…I admit it…I do pick up a few favorites from back home and splurge occasionally at the "fancy" Riba Smith grocery stores. Creamy brie, chopped walnuts, organic maple syrup, and chia seeds are some of my indulgences. It makes me happy that they're all available…in Panama these days it's hard to think of anything we can't get. Life here is tremendously easy and convenient.
But by shopping like a Panamanian (most of the time) I save a lot and I end up eating healthier. It's just one added perk in a place where you can roll down your car window and get a bag of red, juicy plum tomatoes or delicate, sweet mangoes for a buck…and a gracias que dios la bendiga (thank you, may God bless you) from a friendly vendor to boot.
Get Your Free Panama Report Here:
Learn more about Panama and other countries in our daily postcard e-letter. Simply enter your email address below and we'll send you a FREE REPORT — Panama: First World Convenience at Third World Prices. 
This special guide covers insider advice on real estate, retirement and more in Panama. It's yours free when you sign up for our IL postcards below.

Get Your Free Report Here