Let's start with the obvious here.
Cuenca is awesomely stunning. Known for its 15th- and 16th-century Spanish-colonial architecture it's a historic gem. No wonder it's a UNESCO World Heritage city.
If you squint your eyes you could feel you're in downtown New Orleans. The baby blue mosaic domes of the massive Cathedral of the Immaculate Conception with its gold embossed sanctuary is the cornerstone of the town square Parque Calderon, which sits around the corner from the flower market where you can pick up a bouquet of flowers for $3 a pop.
Cuenca's population runs close to 700,000 of which 7,000 are expats. Despite being at 8,800 feet in the southern highlands of the Andes the city's proximity to the equator means a comfortable spring-like climate that gets sweater-nippy at night but is t-shirt weather at high noon during summer.
My husband and I like living in Ecuador so much, that we sold our bungalow near Clearwater Beach and bought a twice as big hacienda which sits on a hill overlooking the city and Yanuncay River for $148,000, a house that would easily cost $225,000 in Florida. We live with four dogs, one cat, and a multitude of visitors who want to enjoy the spoils of a simpler life.
Moving to Ecuador kept me from the express lane to death. Shredding the stress of a fast-paced, wine-laced demanding existence and finally quitting a job that kept me desk bound for close to 10 hours every day—I am free.
I consider myself lucky, I am a thinner, healthier woman who drinks coffee until 10 a.m. while perusing the internet then contemplates all the things she could do, but just says, "Nah, I don't have to."
The perfect weather, the friendly people, low costs, bargain real estate…the history, the expat community…there are so many benefits, and so much to love about Ecuador.
But let me share some of the lesser-known benefits to retirement here…
I know saying "there's no roaches here!" is not as eloquent as "Ecuador has spectacular mountain views" but this is one of my unexpected pleasures. After living in the bug-filled tropics where roaches are as big as Volkswagens and snakes now come in Anaconda size, it's one of my greatest pleasures to flick on lights at night and not see roaches running scared.
My dogs don't have fleas because fleas don't have sweaters and it's too cold for them here. And although there are some spiders, they don't compare to the large brown spiders that would build gargantuan webs across my front door which I'd unintentionally run into like I was Jeff Goldblum in The Fly. I don't mind the spiders because I think they must eat the mosquitos—and that's just one more plus living here. Dusk and dawn are no longer off limits because you risk getting eaten alive.
Another perk that may sound a little vain—but if you're a woman you'll get it—my hair looks good all the time. For 45 years, I fought Florida's humidity with sweaty fine hair sticking to the back of my neck, and now my hair, in the highlands, has volume. Although this may sound like a L'Oréal commercial, my hair is soft, full, and holds a curl. And my husband no longer has to shout the rote compliment, "Your hair looks great." Because it does.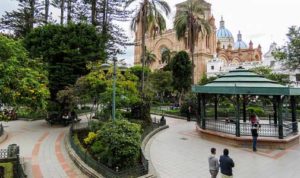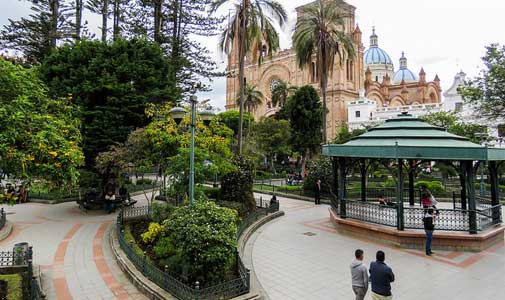 I also love the fact I can leave milk out on the kitchen counter all night without it spoiling. And, pies don't attract a parade of ants carrying pieces of filling on their backs to unknown locations.
These days instead of working through lunch, I can go get a massage for $25, pedicure for $8, or buy a bouquet of roses for $3—all from vendors just blocks from my house.
I can walk on the river trails all day long because the weather permits it year-round whereas in Florida your tennis shoes will melt to the ground if you walk during summer anytime after 10 a.m. Here's I can walk 10,000 steps (my Fitbit goal) without breaking a sweat at high noon—making it easier to exercise and keep my weight at bay. I also love hiking, and the Cajas mountains are just 20 minutes up the road with guided tours available to explain the history and flora of each trail.
For my monthly girls lunch, four of my friends gather to laugh over a glass of wine and good food. Our outings take us to fine restaurants—Chinese food, Cajas-caught trout, Mexican burritos, Argentine steaks—and gives us time to vent, tell jokes, and swap stories. It's nice to finally have time for friends.
I like volunteering and it's fun to give back to my adopted community whose people embrace me literally with warm kisses on my cheeks and deep hugs. I love seeing children with their families playing in the park on weekends. And I never mind when I go to a store and it's closed with a posting saying the parents are at their son's soccer game or daughter's recital at school. They have their priorities right.
I like that I don't have a car, no worries about break downs on the highway or running out of gas. Grabbing buses for 30 cents or a taxi to anywhere for around $3.50 allows me to be chauffeured everywhere and I find I like being Miss Daisy. For scenic rides in the mountains, I take monthly bus tours to nearby cities, giving me my "open road."
I love that I don't have to count every penny, and still have enough to go to the States at least once a year to visit with my sisters and friends. I also like taking low-cost trips around Ecuador to visit all its amazing sites: floating on dugout canoes in the Amazon, gliding down white-water rapids in Banos, shopping for leather goods in Cotacachi, or whale watching in Puerto Lopez to name a few.
Finally, I can grow plants that don't collapse in the heat. I can take Spanish classes. Enjoy painting classes. Play trivia. Go trout fishing. Dance at countless fiestas. Or be lazy all day streaming Netflix in bed without caring if I get anything done.
As you can see, I've taken a "can't do" life and traded it for a "I can do just about anything" lifestyle. I love living in Ecuador because it means freedom. Where else could I live in the world on my Social Security like this? In this tranquil country filled with kind spirits—that's where and that's why.
Get Your Free Your Overseas Dream Home Report Now

Sign up for the FREE Your Overseas Dream Home e-letter and get a valuable report (free for a limited time) on the The Global Real Estate Boom of 2021: 15 Places Where You Can Profit.
Related Articles
Traditions and Culture in Ecuador
Salinas, Ecuador: Retirement, Cost of Living & Lifestyle Information