"In March 2003 I came on a relocation-type tour of Panama," says Penny Barrett of her decision to move to the Panama highland town of Boquete. "It was our last stop and I fell in love with it…compared to Michigan winters, it's like heaven."
Renowned for its year-round, cool, spring-like weather, Boquete sits in a mountain valley surrounded by verdant jungle. It's an outdoor-lovers paradise, home to hiking, rafting, and exotic birds and butterflies.
"On the spur of the moment I made a low offer on a house and, much to my surprise, the owner accepted it," says Penny. "When I returned to Panama six months later I couldn't even find the house. So I did everything wrong…but it turned out okay."
Boquete's many charms have made it a popular expat haven over the years, and this has seen the growth of a large, active, and welcoming expat community. Thanks to this, Penny is never short of things to do here.
"I'm a volunteer for the Boquete Community Players which is our theater and events center," she says, "and I'm a volunteer for the Handicap Foundation, and have made friends with many Panamanians through that group. I have three small rental properties and am part-owner of a monthly flea market. I also do a lot of Airbnb hosting and have met some great folks that way. Many of my guests have ended up moving to Boquete and I try to help them make the transition."
It's not just the expats that make Boquete great. The local Panamanian population is also very friendly and welcoming. And although it certainly helps, you don't need to be fluent in Spanish to enjoy a comfortable life here.
"Panamanians are very family oriented. If you speak Spanish and are on good terms with your neighbors, you'll be invited to birthday and holiday parties," says Penny. "Most of us learn basic Spanish…enough to be able to communicate with household help or buy the things we need."
And although prices in Boquete have gone up in recent years, it's still possible for expats to live affordably here. Couples in the town say you can live well on $2,500 a month. A single person like Penny can do it for a lot less.
"Maybe something like $1,200 to $1,500 month and that includes eating a lot of meals out," she says of her monthly budget. "My utility and insurance bills are drastically lower here than in Michigan. Groceries and car expenses are about the same. Of course, I now pay for a weekly gardener which I didn't do in Michigan."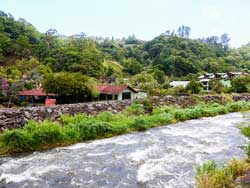 Boquete also benefits from its location close to Panama's second city, David, which is just 40 minutes away by bus. And it's home to excellent medical facilities.
"Boquete has a number of private practitioners and small clinics but no hospital facilities," says Penny. "To see a specialist, most folks in Boquete go to David. An office visit to a specialist is about $40. The rates at the private hospitals in David are still less than in the U.S."
But for Penny, the biggest benefit of Boquete is the people. And it is the strong ties she has built up over the years that will see her living happily in Boquete for many years to come.
"Mostly I enjoy the strong sense of community that the expats have developed over the 13 years that I've been here. We have so many volunteer organizations and fund-raising events. We have community theater, a library, an active hospice organization, two wonderful animal rescue and neutering organizations. This really is a great place to live."
Get Your Free Panama Report Here:
Learn more about Panama and other countries in our daily postcard e-letter. Simply enter your email address below and we'll send you a FREE REPORT — Panama: First World Convenience at Third World Prices.
This special guide covers insider advice on real estate, retirement and more in Panama. It's yours free when you sign up for our IL postcards below.
Get Your Free Report Here