Rich in history, culture, and romance, Europe has long had a strong appeal for North American retirees. But many people who would love to retire to the Old World fret that it's beyond their budget. And while Europe on the whole is more expensive than Latin America or Asia, that's not to say that there aren't countries here where a more affordable retirement can be found—without sacrificing the Old-World romance you crave.
Lying at the heart of the Mediterranean, the island nation of Malta has much to offer expats. The English-speaking population—a legacy of British colonization—makes it easy for North Americans to adjust to life here. The islands benefit from warm weather year round. Healthcare here is among the best in the world. Though tiny, the Maltese islands still offer a fair amount of diversity; you can enjoy a switched-on, urban lifestyle in the capital, Valletta, or a rustic, country living close to the sea on Gozo. And it's affordable too, with many expats living here from $1,800 to $2,400, all in.
"You don't have to be a millionaire to enjoy everything Malta can provide," says Gigi Griffis. "Rents in the capital start from as low as $450 a month. Milk, bread, and other groceries can be bought for $1 apiece, while a bottle of quality wine can be had for $6. Private insurance is a fraction of what you would expect to pay back in the States, with annual premiums for a couple starting as low as $800 for expats I spoke to."
The Most Affordable Capital in Europe
Like Malta, Portugal is also a highly affordable retirement destination.
IL Editor, Glynna Prentice, has even described the capital, Lisbon, as the most affordable capital in Western Europe.
"In many Lisbon neighborhoods, you can still rent a smart, comfortable, one- or two-bedroom apartment for $580 to $800 a month," she says. "You can buy it for under $200,000 and even find some under $150,000. Daily living expenses are generally low, too: an espresso for under $1, filling sandwiches from about $6, and produce often less than $1 a pound.
"In Portugal, you can enjoy a low cost of living similar to that in Latin America's more developed countries…with all the benefits of European life thrown in. For instance, you can get a sit-down lunch for about $15. As in many Latin countries, lunch is generally a proper meal in Portugal, and you can get two courses, sometimes with beverage, starting from about $10. You can get a glass of wine in many restaurants for $4 or so."
Rent From $350 a Month in Spain
Being neighbors, Portugal and Spain share a friendly rivalry and like to emphasize the differences between them. But one thing they have in common is affordability. Just ask expat Dawn Starr, who found her ideal retirement in the Mediterranean town of Altea.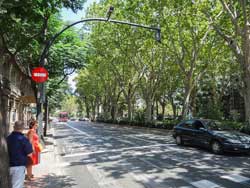 "The low cost of living and the high-quality Spanish lifestyle means I can fill my days doing what I want," she says. "Rents in Altea range from around $350 to $380 a month for a nice one-bedroom apartment or studio, and around $435-plus for a large three-bedroom apartment. A single person can comfortably live on $1,100 a month or a couple on around $1,650, which includes rent, food, utilities, public transport, and entertainment." This low-cost life isn't exclusive to small-town Spain. In the city of Valencia, for instance, you can rent for under $600 a month.
"If I were to choose one location for full- or part-time living in Spain, I think my heart would be set on Valencia," says Glynna Prentice. "For around $2,000 a month, including rent of a chic, centrally located apartment, I could embrace the arts, stroll the beaches, eat out often (and well), and I would be perfectly placed to explore the rest of Europe, too."
Languedoc-Roussillon: The "Real" South of France
"For retirees on a budget who dream of losing themselves in the warm, sunlit days and sleepy medieval villages of the south of France, the Languedoc-Roussillon region may be just the spot," says International Living France correspondent Barbara Diggs. "Although less in the public eye than its swanky neighbor, Provence, the Languedoc has just as much to crow about."
Nestled between the Pyrenees and Cévennes mountain ranges and the sparkling waters of the Mediterranean, the Languedoc is a wonder to behold. The region offers some of the most diverse and intense landscapes you'll see in France, ranging from violet-blue lavender fields to dramatic rocky gorges and waterfalls, to flat marshlands dotted with pink flamingoes.
With around 300 days of sunshine a year and short, mild winters, the Languedoc attracts thousands of expats. The biggest hub for expats is Montpellier, the Languedoc's historic capital. This fast-growing university town is ideal for anyone seeking a bubbling cultural scene and easy access to a variety of great restaurants, boutiques, and bars. The white-sand beaches of the Mediterranean are only a 45-minute tram/bus ride from the town center.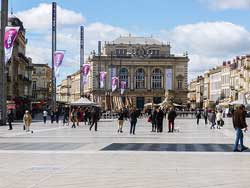 "But many retirees prefer sunbaked old Languedoc villages to the charms of Montpellier. Historic towns such as Sommières, Pézenas, Villevieille, Banyuls-sur-Mer, and dozens of others embody the essence of the south of France," Barbara says.
Ohio native Linda Amstutz, 69, realized this when she retired in Homps, a small Languedoc town along the famous Canal du Midi in the Aude département.
"I love it here!" she says. "To be honest, I moved to the Languedoc for economic reasons…it was more affordable than Provence. But once I got here, I found the quality of life far better. I feel like I landed in the right place."
Linda enjoys a peaceful life with her dog, spending plenty of time walking along the canal, visiting friends around the region, and exploring vide-greniers, the French equivalent of a village-wide yard sale. Not only can you score interesting finds at vide-greniers, you can also eat well for little.
"There are always sausages cooking, or maybe duck, and a chunk of baguette," says Linda. "You get all that and a glass of wine for €4 or €5 ($4.30 to $5.40 at time of writing). And the wine is always good. It's a lovely way to live."
Linda finds the Languedoc "a great deal" more affordable than the U.S., with the exception of healthcare. "But that's looking like that's going to change," she adds, referring to a new law that may allow foreigners who are living in France on a "regular and stable basis" to apply for French healthcare after three months.
The Languedoc housing prices are a bit higher than other areas in France. But there are still bargains to be found.
In a pretty village 15 minutes from the town of Pézenas—and an hour's drive from the sea—is a gorgeous, three-bedroom, 1,100-square-foot townhouse for sale for $205,000. The fishing town of Banyuls-sur-Mer has a fully renovated two-bedroom village house of 721 square feet on the market for $172,900.
Get Your Free Report on the World's Best Places to Retire:
Learn more about the best places in the world to retire in our daily postcard e-letter.
Simply enter your email address below to sign up for our free daily postcards and we'll also send you a FREE report on The World's Top 10 Retirement Havens.
Get Your Free Report Here