I've discovered the Fountain of Youth. Funny thing is, turns out it's not a fountain at all. Nor is it located in just one place. In fact, it can be found in many places if you know where to look.
Confused? Let me explain.
I celebrated a birthday recently and it was a weird feeling. No, not that I'm getting older: actually, just the opposite. Since we moved to Ecuador almost six years ago, I know I feel younger than when we arrived, and I believe I have aged less than the number of years marked by the calendar (the same is true for my wife, Cynthia).
In preparing for our move abroad, we did as much research as possible. We even went on an investigative trip to what is now our hometown of Cuenca, searching for potential red flags. We arrived in 2010 thinking we had a pretty good handle on what to expect, but nothing prepared us for the possibility of defying the aging process.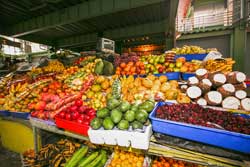 This has been a most pleasant surprise, to say the least. I've been thinking about what's going on with this, and I want to share with you several contributing factors that come to mind.
Due to its temperate, equatorial climate, Ecuador is blessed with an abundance of fresh fruits and vegetables year-round. Processed foods are almost nonexistent here. We prepare all our meals at home from scratch, and restaurants make everything fresh each day, as well. So our overall diet is vastly superior to what we used to consume.
Regular exercise has always been important to us. But with work, chores, and errands dominating our previous life, it was really hard to carve out enough time to maintain a high fitness level. Sound familiar?
All that has changed since we retired to Ecuador, and our fitness has improved dramatically. Not owning a car and walking almost everywhere makes exercise a necessary part of daily life. We also make weight training, yoga, and cardio important parts of our morning schedule. Truth be told, these activities are the only things that we set aside time for every week in our otherwise spontaneous expat world!
Last, and perhaps most importantly, stress has vanished from our consciousness. Looking back, I recognize that the pressures of everyday life in the States created a stressful environment so constant that we no longer noticed it. Sure, we didn't get enough sleep and never felt like we had enough time. But who did?
What a contrast to the relaxed and carefree life we now enjoy. We get up and go to bed when we want, and we do whatever we choose in between. I almost shudder remembering that cursed alarm clock going off when it was still dark outside, fighting mind-numbing traffic to and from a high-stress job, maybe spending a little time in front of the TV or computer after a quick dinner, before falling into bed and doing it all again the next day.
A bonus to discovering our Fountain of Youth is the extraordinary patience we've developed from immersing ourselves in a culture that's not in much of a hurry to do anything. It's been a revelation to de-program ourselves from the U.S.'s relentless focus on efficiency and timeliness and learn that quite often it (whatever it happens to be) really doesn't have to happen right now. Or even today!
You may be thinking, "Yeah, all that's easy for you to say, Mr. Relaxed and Carefree Expat. You're not part of the rat race anymore." That's a valid point. And it took separating myself from the all-encompassing pressures of Western culture to learn what I am sharing with you here.
Perhaps the constant push and pull of your present life will also encourage you to explore options for living abroad. Choose the country that's right for you, and maybe, like us, you will discover your own Fountain of Youth there, as well. Trust me—growing older and younger at the same is a delightful experience!
Get Your Free Ecuador Report Here:
Learn more about Ecuador and other countries in our daily postcard e-letter.
Simply enter your email address below and we'll send you a FREE REPORT – Ecuador: Live Like Royalty on Your Social Security.
This special guide covers real estate, retirement and more in Ecuador and is yours free when you sign up for our postcards below.

Get Your Free Report Here