As I slowly swam forward I could just make out a dark shape on the seabed about 40 feet ahead. Getting closer, a green sea turtle came into focus. It's shell alone was five feet long. It paid me no attention, intent on munching sea grass until it got its fill, taking periodic breaks to gracefully rise to the surface and take a breath.
I'm in Akumal, a small seaside community on Mexico's Riviera Maya between the cosmopolitan resort town of Playa del Carmen and the up-and-coming bohemian hangout of Tulúm. Akumal is a small collection of condos, hotels, shops, and restaurants. It's low-key and much quieter than the hotspots of Cancún or Playa to the north, although it can get popular with tourists on weekends.
The beach has fine white sand and clear blue water—perfect for diving and snorkeling, a popular activity here. The reef just off shore keeps the water flat and calm. Akumal Bay is a protected area to maintain habitat for the feeding and nesting sea turtles.
A guided tour is not necessary, despite what the touts tell you. You can bring your own equipment or rent fins and a snorkel ($10 for the set) from the many dive shops on the beach. Another $5 gets you a lifejacket—a good idea as you'll be doing a lot of paddling and it's nice to float when you need a break. Plus, you get full use of the shop's shower and bathroom facilities. To snorkel you just enter the water and swim out about 50 feet.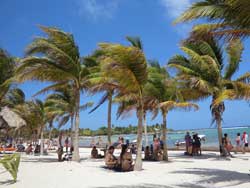 On my recent trip I spotted five turtles, as well as stingrays and eagle rays gliding through the water. There was also a barracuda. They're a bit spooky if you've never seen one. They kind of float there, almost still. But then you turn your head to tell your companion what you've spotted and turn back…and they're nowhere in sight. If you haven't had your fill of snorkeling yet, you can head to Half Moon Bay just to the north, which is known for having more tropical fish on the reefs closer to shore.
When you're done with snorkeling there are plenty of places to relax in the shade of the palms lining the beach. Just make sure you're not directly below any coconuts, which occasionally fall. For a bite to eat, there's a restaurant offering up fish tacos, ceviche, and other seafood, as well as burgers and such. You get a view of the ocean, and you feel a cool breeze as you sip your margarita. For $12 for an entrée and two drinks, it's a good deal.
One last quick tip. Be sure to park at the lot outside the main entrance to the beach area (you'll know what I mean when you see it). Inside the entrance they charge $1.20 per hour and in the outside lot it's $3 for the whole day. And trust me, you will want to stay long enough to make it worth it. It's about five minutes extra walk—no problem.
Living right on the beach in Akumal is not cheap. A one-bedroom condo on the sand at Half Moon Bay is listed at $250,000. Most units are even more expensive. But head inland a bit, and you can get new, two-bedroom condos in luxury developments for just over $200,000. You're still a quick drive to the bays, other nearby beaches, and Tulúm and the expat hotspot of Playa del Carmen is only about a 30-minute drive.
Get Your Free Mexico Report Here:
Learn more about Mexico and other countries in our daily postcard e-letter. Simply enter your email address below and we'll send you a free special report – Why Millions of Americans Are Moving to Mexico.
This special guide covers real estate, retirement and more in Mexico and is yours free when you sign up for our postcards below.
Get Your Free Report Here