One of the things I love the most about my new home in Panama is the ability to travel easily to several visually stunning and diverse locations and climates for getaways. My wife, Abbe, and I live in the peaceful village of Pedasí because we love being near the water and beautiful empty beaches. We also love that we can quickly and easily be in the city, any of the surrounding beaches, or several different mountain locations within a few hours travel.
A few days ago, we revisited one of our favorite getaway places, Santa Fe. We left mid-morning from Pedasí with another couple for the easy three-hour ride and were there for lunch. Santa Fe rests in a high valley, 2,000 feet above sea level. It's surrounded mostly by the Parque Nacional (National Park) Santa Fe, in the province of Veraguas, and the Continental Divide is only a few kilometers away. The Santa Maria River with its clear flowing water is close to town and provides several opportunities for swimming, fishing, and even tubing.
It is a small village with a few homes, stores, restaurants, a school and a church, with only a small population in the entire surrounding area. The perfect place for a getaway! You can be active and hike one of the many excellent trails to beautiful waterfalls close to, or within a short drive from, town. Or you can be relaxed and just take it easy and enjoy the diverse flora and fauna.
For this trip, we just wanted to unwind, so we choose the Villas at Casa Mariposa. We stayed there last year and enjoyed its ambience and the friendliness and helpfulness of the owner, Erica. She is Canadian and came to Santa Fe eight years ago; she turned five acres on the side of the mountain into a beautifully landscaped oasis with three unique, self-sufficient villas. The accommodations are spacious and Erica delivers your breakfast needs the afternoon before, for you to prepare at your leisure. Two Panamanian rescue dogs, Bella and Taco, are her companions and act as ambassadors for guests.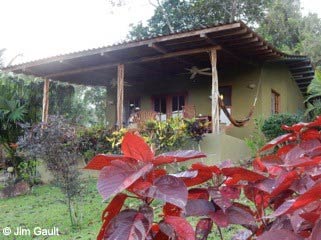 A large lanai (veranda) area with several chairs, a table, ceiling fans, and a small bench, is available with each villa to enjoy the absolutely stunning views of the valley below and distant mountains. There are also hammocks to lie back in and read a book or enjoy some of your favorite music. Dozens of colorful birds, including Toucans that Erica raised and released, travel from tree to tree and sing beautiful melodies. Hummingbirds and butterflies flutter from flower to flower and provide a continuous movement of color.
Erica knows everyone, everything to do, and can arrange for all your needs. Dinner delivery to your lanai for consumption with wine and friends under the stars, horseback riding, river tubing, nature walks and birding from the property, waterfall tours, pristine swimming holes, jungle treks, an organic farm and lunch tour, and dining recommendations.
There are about 20 full-time expats in the area and about another 20 part-timers arrive in the winter months. Many of the expats who relocated here stayed with Erica and learned about the area before finally finding their ideal property.
Last year we visited Santa Fe and Villas at Casa Mariposa in April. The weather was sunny every day. This visit, in February, we experienced what the locals call bajareque (drizzle) rain. The Northeast Trade Winds push moisture across the Caribbean and up over the mountains and down into Santa Fe. This causes intermittent mist and sunshine and creates beautiful rainbows. The only activity the bajareque limited were the vistas when driving over the Continental Divide.
Santa Fe is a great choice for a new home or a weekend getaway in Panama. You can experience picking mandarin oranges and grapefruit, sleeping with the windows and doors open, purchasing local coffee from the Nobe Indian co-op and admiring their handmade traditional dress… There is no need for air conditioning here, the restaurants are family run, and everyone is friendly.
Related Articles
Boquete is one of Panama's Top Expat Havens
Most Popular Facts About Panama
---
The Countdown Is On! Discount Ends June 15
Right Now Is the Best Time in History to Start Earning as a Freelancer
If you crave the freedom and flexibility of a side income that allows you to earn when you want and play when you feel like it...we have a solution for you.
"Remote work" is here to stay, and we can show you how to capitalize on this trend and turn what you already know how to do into a side income online that can help fund a retirement that looks the way you want it to. Can you really afford to miss this?
Online Portable Income Masterclass
June 26-27, 2021
---