A popular question we receive from readers is, "What are the pros and cons of living on an island?" Since 2008 I have lived full-time on the island of Ambergris Caye, so I'm in a strong position to address this question. Here are a few pros and cons of living on one of Belize's most popular—and populated—cayes.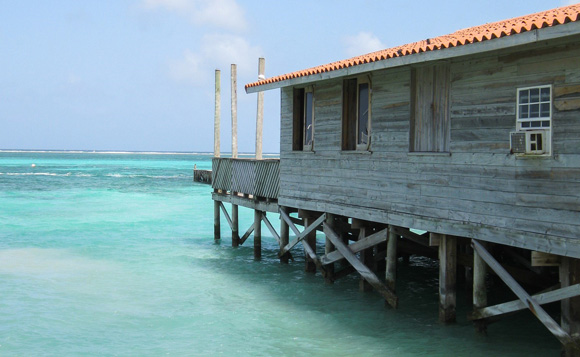 Crystal-clear waters are easily accessible on Ambergris Caye. ©Jason Holland

Pros of Living on a Caribbean Island
From Ambergris Caye and Caye Caulker the view of the reef is breathtaking. Watching the waves crash on the offshore reef each day brings me joy and a strong feeling of being at one with the abundant nature that surrounds us.
Living on the sea, near the reef, it only takes 15 minutes to reach a good spot to dive, snorkel, sail, or fish. You can easily indulge in these activities as often as you like.
The water around the cayes is the clearest you'll find in Belize. The visibility is just spectacular.
You won't need a car. You can get around on foot, by bike, in a taxi, or in a golf cart. Our cost of transportation is nominal since we moved to Ambergris Caye.
There's lots of action. Both cayes are desirable, popular places to live. You'll find lively, inclusive communities. People come and go, from around the world. There are many social activities and volunteer organizations.
There's a great community spirit. Belizeans, in general, practice the Golden Rule—treating others as they would like to be treated. But this is especially important on an island where hurricanes can cut you off from the world. Neighbors are used to supporting one another when the need arises on both Ambergris Caye and Caye Caulker.
Cons of Living on a Caribbean Island
The impact of tourism is a double-edged sword. If you dislike crowds and traffic, you are unlikely to enjoy Ambergris Caye. Caye Caulker is smaller and more peaceful. There are plenty of tourists there as well, but hardly any vehicles or traffic.
The cayes have the highest cost of living in Belize. Most expats spend $3,000 per month or more (including rent). On mainland Belize, you could do well on about two-thirds of that amount…or less.
There are no 24/7 hospitals on Belize's cayes. In a health emergency, you have to fly or take a boat to the mainland or another country. At night that can be a challenge.
Everything must be shipped out to the cayes, resulting in higher prices. You'll find that fresh produce is often in short supply during the high season and many products cost 30% more on the island than on the mainland.
Some people get island fever, given that both Ambergris Caye and Caye Caulker are quite small. For expats who have always lived in big cities it can take some time to adjust to life on a small island.
Southwest Airlines—New Flight to Fort Lauderdale/East Coast
Southwest Airlines (SW) changed the airline game in Belize when it began offering reasonably priced round-trip tickets for flights between Belize and Texas in late 2015. Now SW is adding more flights and expanding their reach. This is a good thing for all of us, as they continue to put downward price pressure on the other airlines that fly to Belize.
As of tomorrow (March 11), Southwest will offer direct flights between Denver and Belize. And this June, SW will initiate flights between Belize and Fort Lauderdale. Their clients will be able to fly from Fort Lauderdale to East Coast cities such as Baltimore, New York, Atlanta, Orlando, Tampa, and Washington DC.
Initially the flight from Fort Lauderdale to Belize is being offered for $79 each way on their website. See here for more details. That's an unbelievably low cost to fly between Belize and Florida.
Important Changes for Expats in Belize
2017 has already started with some new developments in Belize. Changes to banking and the property buying process have been causing confusion. I'll make sure to keep you updated as we get more detailed information, but here's what we know so far.
Will Belize's currency be devalued?
There have been predictions during the last year, in local business articles in Belize, that the Belize dollar will soon be devalued against the U.S. dollar. Belize faces a daunting increase in payments coming, due to their debt bondholders starting during February 2017. These increased payments are projected to bring the U.S. dollar reserves at the Central Bank below a critical threshold level.
The long established 2/1 $BZ/U.S. dollar ratio might change to 3/1, or 4/1. Or the Belize dollar may be allowed to float. It's not clear how this type of devaluation will impact real estate in Belize. Since most real estate is sold in U.S. dollars, between expats, the impact may be nominal. But it is expected that the cost of products in Belize could increase if the Belize currency is devalued.
Central Bank approval required for property sold to foreigners.
Every property sold in Belize to a foreigner must now be reviewed and approved by the Central Bank. Lawyers have told me that this requirement has been in place for years, but has only recently been enforced by the Lands Department. Expats can still legally own property in Belize, but must go through a review process before going through with a purchase.
However, Central Bank did not staff up to meet the demand of this more rigorous process and this has caused delays in property sales and titles. So, if you do plan to buy property in Belize this year, assume that the entire process will take four months longer than usual due to the backlog for approvals at the Central Bank.
Expats encounter banking challenges.
In recent months, there have been changes to the process of opening a domestic bank account in Belize. Now, you must obtain QRP residence status or become a permanent resident to open an account. This may not affect day-to-day banking so much, as you can still withdraw funds from your North American account at local ATMs. But if you need to pay utility bills you'll need to do so either at their offices or at a bank.
The above three relevant issues may improve, or be resolved, during this year. But there are no guarantees. My advice is that if you're planning on moving to Belize, you rent initially and wait to see how these issues shake out.
Related Articles
Ambergris Caye, Belize: Retirement, Cost of Living and Lifestyle Information
Xunantunich: Belize's Maya Archaeological Gem