For three days now, I've been telling you that in Ecuador, you can have it all…but at what price? What must you give up to make a good life here?
International Living is, at times, accused of seeing the world through rose-colored glasses…of overlooking the bad and omitting the blemishes. If you've been here in Quito the past few days, I doubt you'd agree with that.
Because the expats who live here have pulled back the curtains and are telling it like it is. No holds barred. The full truth, nothing but the truth and then some…
I'm Suzan Haskins and I've been reporting to you these past three days from Quito.
To say this has been over-the-top revelatory is an understatement. I live in Ecuador and have been doing so on-and-off for the past 12 years. But I learned a bucketful from the speakers at this event about Ecuador that I didn't know before.
This is one of the most hospitable countries on the planet where, we learned, everyone from the president and the government on down are welcoming foreigners with open arms. The government recently decreed, in fact, that every resident—citizen or not—can now avail of the country's IESS, or social security medical system. That means for an average $70 a month, foreigners living in Ecuador can join the low-cost health care system. But there are some surprises under the red carpet…
The final presentations and the panel discussion of this conference were particularly telling. The challenges to living in Ecuador…the nuts and bolts… Where are the up-and-coming destinations no one talks about? What about personal safety issues, importation rules, and more, such as: can you drink the tap water, can you bring or own firearms, what effect is global climate change having in Ecuador? What about the future of public works programs and infrastructure projects?
In another session, we learned about how to easily import your household goods…when to start the process and how long it takes. (And importantly, how much it costs.) What can you bring? What should (or must) you leave at home?
You can learn what we've learned. By the way…should you want to listen in to any and all of the presentations, introductions, or panel discussions from this conference, you can. I've sent you details about how to do just that and I'll do that again here, at the end of this report.
How So Many Others Have Found Their Paradise…
But first…I want to tell you more about some of the most inspiring speakers on the roster these past days…
Sarah Dettman just celebrated 30 years living in Ecuador. "This is home," she said, "and I can't imagine living anywhere else. Ecuador is just plain fun."
Another expat talked about the new life she's made in Loja, one of Ecuador's up-and-coming destinations. And Wendy DeChambeau shared her experiences moving to Ecuador with two school-aged children.
We heard from expats living in pretty, popular Cuenca, and on the beach in Salinas and little San Vicente, adjacent to Bahia de Caraquez.
Patrick Robinson appeared via video from his home in southern Ecuador. Living on the island of Maui in Hawaii a few years back, he made a snapshot list of what the perfect society might look like: Plenty of water, good weather, mostly agrarian, enough exports to support the population, but not dependent on those exports, a stable non-dictatorial political environment, and sweet-natured people that were welcoming of foreign immigrants.
The more research he did the more convinced he became that this place was Ecuador. One place in particular jumped out at him. But still, he wasn't sure he should go off on this adventure. After all, he was more than 80 years old at the time. And that was seven years ago!
It's never too late to start over again…and it's never too late to find your own personal paradise.
Nothing to Fear (and Much to Gain), But Proceed With Eyes Open…
Some of the presentations over the last three days have been about real estate. And nope, no one is trying to sell anything. But it is a critical component. You have to have a place to live…
Local experts (attorneys, real estate analysts and more) have explained how to go about properly and safely buying or renting property in Ecuador.
(By the way, everyone noted that real estate prices in Ecuador have been rising in the past year or two—but they're still among the lowest in the world—especially for beachfront property.)
As I said, International Living correspondents and expats from all around the country have profiled their favorite places in Ecuador (Cuenca, Cotatcachi, Vilcabamba, Loja, Quito and Baños…and Salinas and many other coastal locations, in case you're wondering) where living is fairly carefree and costs are low.
They've shared some extraordinary property picks, too—like a popular beach town where you can buy a condo for $70,000. Or a 1.25-acre property just one block from the beach with…count 'em…five houses…for just $198,000. Bed-and-breakfast, anyone?
You can easily build a home in Ecuador for $40 to $50 per square foot. And of course, you can spend more—it totally depends on your tastes, needs, and the level of style you're after.
Prefer to Rent Instead of Buy? You're in Luck.
Most of those attending the conference say they prefer to rent instead of buy. And that's a very good idea, of course—and the best way to find out if a community or neighborhood is right for you.
Today, expert Amy Pinoargote offered an in-depth tutorial on renting in Ecuador. How to find them, how to determine the amenities included, what renters typically pay for and what they don't (utilities, homeowners fees, etc.).
Step-by-step, she and others explained your obligations, responsibilities, carrying costs, fiscal benefits, and more…as either a purchaser or renter of real estate in Ecuador. Thinking of buying a property you can rent when you're not there? We learned all the pros, cons, and details of that, too.
Word to the wise: Do not buy or rent in Ecuador without these tips and strategies.
Here's just a sample of real estate analyst Margaret Summerfield's "must-do" checklist for buying property in Ecuador (or anywhere else in the world, for that matter):
If you do nothing else, get the right attorney working on your behalf. Margaret explained how to choose one, the four traits they absolutely must have—and where to find one that meets all these criteria. (Local attorney Roberto Moreno made several presentations over the last three days—you must hear what he has to say about issues with changing residence, buying real estate, doing business, banking in Ecuador, and more…)
What you don't know about title insurance can come back to bite you. What issues are not covered by title insurance? Margaret outlined six exclusions—knowing what these are can save you from a world of hurt.
There are three issues that absolutely must be addressed in your sales contract. And five steps that must not be neglected during your title search.
Did you know that the number of legal permits required for real estate projects in practically every country has recently increased? What are the five permits, approvals and processes you must verify? Margaret covered it all… She explained how to perform your own due diligence on any real estate agent or developer you meet, how to ensure you won't get the shaft from your neighbors, how to protect your escrow money, and more, more, more.
And if you're wondering where Ecuador's up-and-coming places are…we discovered that, too. We learned how to follow the path of progress to buy undervalued properties and how to invest in properties that will return a nice rental income…
What locale is Ecuador's up-and-coming beach destination where the government is investing $60 million and plans to shine a big spotlight?
Have pets to move with you? Don't miss this… Those in the audience these past few days learned all this and more… For instance, we heard from a well-known local veterinarian. Moving to a new country takes some adjustment, and not just for us two-legged animals. Want to help your furry friends adjust to their new environment as easily as possible and keep them healthy? You will when you hear what we heard today.
(My husband and I moved to Ecuador with a 90-lb. chocolate lab in 2001. I wish we'd had this information before we did that. We would have been so much better prepared to care for our "man in a dog suit." It's a different country with different diseases and health considerations, after all.)
As you can see, there's far too much information being shared here at the conference for me to share in this e-mail. (After all, there are 34 separate presentations here—it's hard to keep up.)
If you've an interest in Ecuador (or, as emcee Dan Prescher says, you just want to be able to cross it off your list with impunity) you need access to the information being shared over these two-and-a-half jam-packed days in Ecuador.
So you couldn't be here? That doesn't mean you have to be left out.
There's a way for you to quickly get up to speed with every one of the solutions, secrets, good-value ideas, money-making techniques, wealth-protection details, retirement recommendations, real estate advice and contacts, and everything else our attendees are gathering here live at the International Living 2014 Fast-Track Ecuador Conference…
The Next-Best Thing to Being Here: Your No-Risk Way
to Learn What We've Learned This Week
You can have every bit of important information being shared here at this seminar and for a fraction of what the folks spent to be here in person with us in Ecuador…
You can get all the most important insights and benefits from this event…
All of the things we're learning here…the best path to legal residence in Ecuador and even how to quickly and easily get an Ecuadorian passport if you so desire (and why you'd want to do that)…how to drastically cut your expenses while improving your lifestyle…where to find the best doctors and hospitals, the lowest-priced private health insurance and how much you can expect to pay…what your tax obligations will be—both in Ecuador and at home…
…and I'm just getting started here…
This conference really is a lifeline for anyone who is concerned about stretching their retirement dollars or living far better on a reduced income.
And if you need to earn an income when you move to Ecuador, you'll be happy to know that was covered, too.
Winton Churchill is the creator of a system that guides you to creating an income-earning online consultancy—using the career experience you already possess. Today he shared all the details of how to do exactly that. (By the way, Winton guarantees results.)
And if you love to shop, you'll love Ecuador. Today we learned how to parlay a love of shopping and Ecuador's terrific artisan goods (textiles, hand bags, Panama hats, jewelry, leather goods, rugs, and more) into a thriving business. Buy for $2 and sell for $20…can't beat that!
Need a Way to Fund a New, Better Life?

Join our Savvy Retiree Daily e-letter today and you'll hear from us daily, telling you about ways you can gain the freedom to live where you want, travel when you like and create a life you love. We'll also send you a FREE Report Fund A New, Better Life With These 6 Portable Careers...
Related Articles
Living Internationally: How to Enjoy a Roving Retirement
Benefits of being a Travel Writer
50 Ways to Make Money in Retirement
---
You know more Spanish words than you think you do! And we guarantee you can be carrying on conversations...in Spanish...in just 20 Minutes. Reserve your spot now for our FREE webinar.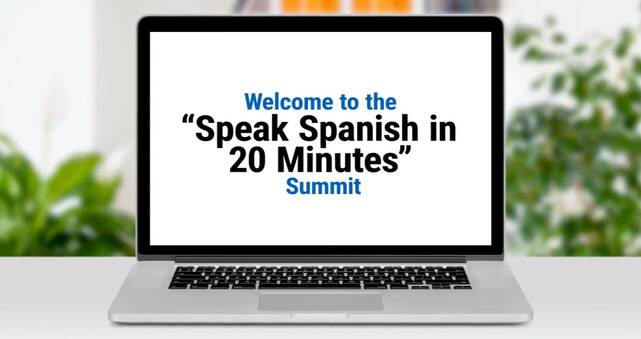 ---