Right now I live in Tamarindo. It's a lively but manageable resort town on the northern Pacific coast of Costa Rica. Here I enjoy long days at the beach, fresh—and cheap—seafood dinners, sunset happy hours, and mingling with the vibrant expat community made up of Americans and Canadians in big numbers but also Argentinians, Italians, Israelis, French, and a dozen other nationalities.
Everywhere I've gone in Costa Rica I've met a lot of expats who own and run businesses—surf schools, tour operators, B&Bs, beach bars, art galleries, petsitting, microbreweries, catering, food trucks…and more.
But despite their varied niches, all these business owners have something in common.
They ditched the daily grind; 40, 50, 60+ hour workweeks; and job insecurity that characterize the job market in North America to follow their passions in a beautiful tropical country. They are living a dream lifestyle in this little Central American gem…and are more relaxed with less stress.
Here, you can enjoy early morning walks on the beach. If you live in one of the small fishing villages up and down the coasts, the beach will be empty save for the fisherman heading out for the day's catch (which you can buy when they get back for bargain prices—$5 for a pound of snapper or tuna) and it stays that way all day. It's a serene atmosphere. Your own private beach.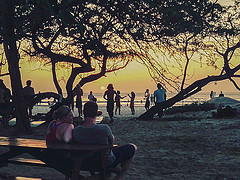 In more developed, tourist-oriented resort towns, the hustle and bustle of visitors starts about mid-morning—rows of beach umbrellas go up and beachfront restaurants (maybe yours) set out the chairs on the sand. It's a different vibe, but many enjoy the energy and excitement of live music and international dining options…and that "always on vacation" way of life.
There's also a different feel to Costa Rica, best expressed in the unofficial national motto: Pura Vida. It literally translates to "pure life." But it would be more accurate to say it means "life is good." People take joy in the day-to-day. They focus on time with family and friends—not climbing the corporate ladder.
And that way of thinking and living quickly rubs off on expats who are willing to let it. The political strife and squabbles in your home country cease to matter. The pressure to buy the latest model smartphone, car, or fashion flies out the window.
Wherever you go in Costa Rica, you enjoy certain advantages.
The locals are friendly and welcoming…good value real estate means leases for your home and business (or costs, if you choose to buy property) will be cheaper than the U.S…and a low cost of living, overall, offers the benefit of having to make less money to live a great lifestyle.
And an established expat population, going on more than 30 years, means that nobody who arrives now has to be a "pioneer." The trail has been blazed, even for business owners, and you just have to follow the well-trodden path. (That doesn't mean there aren't opportunities…you'll find plenty.)
Probably one of the biggest challenges you face in Costa Rica is deciding what town or region suits you best. This is a diverse country. The highland region in the interior—known as the Central Valley—has one of the best climates in the world. In the lake region at Arenal expats treasure their peace and quiet. You'll find lush wildlife-filled rainforests, colorful beach towns…
The best—if not the only way—to truly decide is to come and see for yourself. August 2015, I'll be on-hand at the Fast-Track Costa Rica Conference along with a host of other expats and experts. We'll be there to help you decide if Costa Rica makes sense for you, and to tell you more about the regions, and the opportunities for a healthier, happier lifestyle on offer around the country.
I ditched the daily grind along with thousands of other contented expats in Costa Rica. You can too.

Need a Way to Fund a New, Better Life?

Join our Fund Your Life Daily e-letter today, and you'll hear from us five times a week, telling you about ways to earn income that lets you live anywhere, travel anytime… and give you the funds to make your dreams of a better life real. We'll also send you your FREE report Fund A New, Better Life With These 6 Portable Careers.
5 Tips For Safe and Fun Solo Travel
The Quickest Way to Make Money Online