---
As one of the oldest cities in Poland—and one of the few to escape World War II intact—Kraków is a highlight of any trip to Europe. Bonus points for the low costs and the ease of exploration. Stroll through the crumbling grandeur of Kazimierz, the old Jewish quarter, or shop for amber in the Cloth Hall on the main market square, where stallholders ply their wares much as their predecessors did during the 15th century. You can snack on oscypek (smoked sheep's-milk cheese) with cranberry preserves for about a dollar while strolling the winter markets.
You won't have a problem finding the 13th-century Wawel castle, as it dominates the city from its hilltop perch. (Legend has it that a dragon dwells in the cave beneath.)
Across the Vistula River, Poland's more recent history is on show in the form of the austere, Soviet brutalist lines of the semi-abandoned Forum Hotel. Here visiting Party dignitaries once stayed. Its reception area is now a bar and a good place to try local craft beers.
Today, Kraków is an up-and-coming, international city, where English is as likely to be heard on the streets as Polish. Students from the Academy of Fine Arts rub shoulders with established artists in the many galleries and exhibition halls, and musicians from around the world are drawn to the city's dozens of venues and underground bars.
There are plenty of cities in the world with an underground bar scene…but few where it is as literal as here. Everything from jazz bars to dance clubs can be found in the warren of vaulted brick tunnels that lies beneath the buildings of old Kraków. These are the piwnice (basement) bars, where people chat, drink, and listen to live music in cellars that could easily pass for medieval dungeons.
If live jazz is your thing, Piec Art Acoustic Jazz club, just off the main market square, is worth your time. During the summer months, the International Summer Jazz Academy regularly puts on shows here. You can catch young musicians from around the world jamming together as part of their intensive training, and all it'll cost you is 8zl ($2) for a drink.
To sample Polish beers in one of the most impressive Kraków cellars, head to the Tap House. Counterintuitively, you'll have to climb some stairs. But once you're in the bright and airy upper bar, you can descend into the depths to find a cellar reminiscent of a pirates'lair—complete with a skull mounted on the wall. Since Tap House is a craft beer bar, the range on offer varies, as do the prices…some can go all the way up to the princely sum of 16zl ($5.60) for a large glass of excellent, high-strength beer.
For many visitors, Krakow is a base from which to explore the Auschwitz-Birkenau Memorial, one of the region's most famous historical sites. Avoid the expensive package tours of this former concentration camp. Instead, get a bus from the upper floor of Kraków's main bus station on Bosacka Street, just behind the railway station.
The private carrier Lajkonik will drop you at the Muzeum Auschwitz stop, which is the closest to the camp, while the Marek Lewanski and G.T. Trans carriers stop at W ˛iezniów ˛Oswiecimia, a few minutes' walk from the camp. Regardless of which bus company you choose, the journey takes about 90 minutes and will cost around 10zl ($4). Visiting the camp complex and grounds is free (though you still need to book a ticket online at Auschwitz.org).
Plenty of written information is displayed throughout the camps, so a guided tour isn't strictly necessary. Give yourself about four hours if you want to visit both Auschwitz and Birkenau. There is a free shuttle bus that transfers you between the camps. If you would prefer a guide, the cost for a single visitor is 45zl ($15.50), and you need to book via Visitsauschwitz.org at least five days before your visit.
The impressive salt mine at Wieliczka is just southeast of the city—a 20-minute train ride that will set you back 4zl ($1.40). The trains run about every half hour from the Kraków main station (Kraków Główny), and tickets can be bought either from the machines or the ticket counter. Get off at Wieliczka Rynek-Kopalnia (meaning Market-Mine) and it's a 10-minute walk to Wieliczka Salt Mine.
When you get to the mines, you'll descend over 100 feet down the shafts the miners used and discover an underground saltwater lake and even a subterranean chapel that feels like a set from The Lord of the Rings; tickets are 89zl ($25).
Ticket prices include the guide fee.
In the city itself, you can visit Oskar Schindler's factory, which is now a museum and art gallery. The museum focuses on the history of Kraków during World War II, not just the story of Schindler. It's well worth a look for history buffs. Entrance is 21zl ($7) and it can get busy, so book in advance via Mhk.pl/tickets-booking. Schindler was the Nazi factory owner famed for saving many of his Jewish workers from death during the war. His story was made famous by Stephen Spielberg's movie Schindler's List, which was shot almost entirely in Kraków. You can take a walking tour of the locations used in the movie for $30, finishing at the entrance to the factory. (See: Discovercracow.com.)
You'll find plenty of walking tours of the old town and the Jewish quarter. But for an unforgettably quirky experience and a true taste of Kraków's communist past, hop into a classic Trabant car (an East German automobile that became a symbol of communism) and tour the Nowa Huta district. (See: Crazyguides.com.) This area of the city was developed by the Soviets as a socialist urban utopia—one of only two such planned settlements ever built. Today, Nowa Huta is a modern residential district filled with rebellion against its Soviet roots. This includes the main square, which once held a giant statue of Lenin and is now renamed in honor of Ronald Reagan.
When it comes to dining, you're spoiled for choice. As an international city of 1.3 million people in its metropolitan area, Kraków offers plenty of hip burrito bars, sushi joints, and gastropubs throughout the city. But when you're in Poland, you must try traditional, hearty Polish fare.
The 120-year-old Jama Michalika (Michalik's Den) is cherished by Kracovians for its art nouveau interiors and history of satirical puppet shows (some of the puppets are still on display). Despite its historical importance and elegant interior, prices are reasonable—main courses start at 22zl ($7.60). For traditional pierogi with a modern twist, Pierogi Mr. Vincent (which, for some reason, is Van Gogh-themed) says goodbye to the three or four classic Polish fillings and offers almost 40…from chicken and chili peppers to plum and cinnamon, starting at 10zl ($3.50).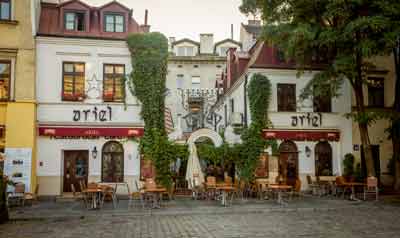 One of the most iconic Polish foods is, of course, kiełbasa—the humble sausage made not so humble with tasty Polish pork. But if you want to try the best kiełbasa in Kraków, you won't be sitting in a traditional restaurant. You'll be standing on the street beside an ancient blue Nyska van from communist times, while a man in a white overcoat roasts your sausages over an open fire.
Officially called KieÅ'baski z Pod Hali Targowej (Sausages from Under the Market Hall), this street food institution is affectionately known to expats as the Sausage Man, or simply the Blue Van (Niebieska Nyska). Rumor has it that his secret lies in the fruit tree logs that fuel the fire. If you walk down Grzegórzecka Street most evenings, the Sausage Man is easy to spot from the crowd of locals, expats, and in-the-know tourists lining up to spend 8zl ($2.20) on a perfectly charred kiełbasa, a dollop of mustard, and whatever type of bread he happened to source that day. In recent years, business has been brisk and the Sausage Man has expanded—adding an assistant in a similar white overcoat and a picnic table where you can enjoy your kiełbasa. There's still no branding of any kind, nor will there ever be: This is street food, old-school Polish style.
Every Sunday morning, in the square beside the Sausage Man's spot, another Kraków institution can be found: the Plac Targowy Flea Market. The sprawling, ramshackle market plays host to Kracovians of all stripes, buying and selling a mind-boggling array of goods. Looking for local handicrafts, antique furniture, or genuine World War II memorabilia? You can find it here. Second-hand toasters, bags of semi-depleted batteries, or DVDs of questionable origin? Look no further. The flea market sets up at dawn and runs until 3 p.m. It's free to enter and prices are negotiable to a good haggler. Wandering the Plac Targowy Flea Market is something of a Kraków tradition. Even if you're not looking to buy anything, it's a great place to meet friends, browse the curiosities, then go for a coffee. You'll find families just come from church, young couples looking for cheap appliances, retirees indulging a collection hobby, and even agents from local antique stores hunting for the unrecognized treasure that occasionally surfaces.
During the summer months, temperatures in Kraków rise (hitting about 77 F), and visitors to the city hunt for ice cream to cool off. There are some excellent modern parlors in the Old Town (the red velvet ice cream for 7zl—$2—from Cupcake Corner, at Grodzka Street 60, is a personal favorite). But when locals want to cool off, they head to an unassuming little place on the edge of the Jewish Quarter. You could almost walk past Pracownia Cukiernicza Stanisław'aw Sarga, at Starowislna 83, without noticing it, aside from the ever-present line of people that stretches out its door and down the street. Inside, two ladies dressed like 1950s Dairy Queen employees serve up a range of flavors, determined by the fruits that are in season at the time. At 2.80zl (80 cents) a scoop for delicious, homemade ice cream with real fruit, it's worth the time spent in line.
Finally, to escape the city center crowds and get a panoramic view of Kraków and the Vistula river, head west of the Old Town to climb Kosciuszko Mound. The mound was erected in 1823 to commemorate Polish national hero Tadeusz Kosciuszko. Among his other accomplishments, he fought on the American side in the U.S.'s Revolutionary War, designed the fortifications at West Point, then returned to Poland to organize an uprising against the Russians, who had taken it over. The mound stands 1,070 feet high, so the winding climb to its top can be taxing, but the view is unparalleled. To get there, take any of several buses going to the Salwator stop, then walk uphill along Bronisławy and Waszyngtona Streets. Entrance is 14zl ($3.80), and that includes the chapel and museum on the grounds.
Editor's Note: This article was taken from a past issue of International Living's monthly magazine. Delivered straight to your door each month, we delve into the details you need to take action. We share our contacts. We lay out the pluses and minuses. And we keep you up-to-date on the latest developments with the best havens abroad, including…7 Great Retirement Towns You've Never Heard of…
In 7 Great Retirement Towns You've Never Heard of Where You Can Live Better for Less we'll pull back the curtain and introduce you to communities where you can embrace the retirement of your dreams…and do it for less than it would cost you to stay home.
Subscribe to International Living today and you'll save 35% and receive this report for FREE.