The best ways of life have been preserved in the heartland of Panama. You'll still see ladies sitting on patios grinding fresh corn for fritters or embroidering traditional dresses known as polleras. And, instead of spending their days in front of the family TV, kids play outdoors in the fresh air.
This rural region is like something out of a picture book. The small towns in the area usually boast a neatly whitewashed church, small bakeries selling pastries for 30 cents, and colorful little boats lining uncrowded beaches.
One of the best of those towns, Pedasí, is also one of the world's greatest fishing destinations.
In that town, a small expat community is thriving alongside locals who value the simple pleasures of life: Sundays spent wading out into the clear waters of the Pacific…so warm here in the tropics. A red snapper caught that morning and fried for dinner…served whole with a wedge of lime and steaming, fluffy rice. The sweet, tart juice of uvita, a palm tree "grape" said to be rich in antioxidants.
Sure, some things have moved into modern times. These days the local eateries and little inns boast wireless Internet. And occasionally, the town gets busy. Holidays and the odd tournament—fishing, surfing, even a recent triathlon—can bring in "crowds." If that's what you call the smattering of extra people who come to stay in the inns. But Pedasí hasn't changed in feel. Its small-town friendliness and culture permeates everything here. And the great fish teeming off these blessed coasts are still something of a well-kept secret.
As I walk along the street, old-timer Panamanians look me in the eye and say "Buenas," reminding this city gal, in the most polite way, of her manners. I stop and ask questions I know the answers to, because I know it will lead to a good chat. It's how I heard about the French woman who sells brightly painted local jewelry. And the Israeli masseuse who cooks so well she finally opened her own café.
The favorite topic is Panama's first female president, Mireya Moscoso, who hails from Pedasí. It was during her 1999-2004 term that the infrastructure was overhauled. And today it remains excellent…down to the pretty little cottage-museum dedicated to her life.
If you speak a bit of Spanish, there's much indeed that you'll learn from locals. But arriving here with zero Español has its benefits, as it turns out. If you're new in town and not particularly Spanish savvy, there are three places you will want to go, where you can begin networking in English (and maybe even pick up some of the local lingo).
First is Casita Margarita, an attractive B&B run by energetic couple Ted and Lisa Fuller. Stay here and you're likely to meet other prospective expats. You'll also meet plenty of foreigners who have already made the move…but who can't resist stopping by the Casita for a pancake breakfast now and then. If there's a shindig in town that night, this is where you'll hear about it.
Next, head to open-air restaurant Smiley's. Run by expat John Brock and his bubbly Panamanian wife, Ermelinda, Smiley's is plain welcoming. In the evenings John and his stepson team up with expats from the U.S. and Australia to play classic rock, blues—you name it. Visiting musicians in the audience are always asked to jam with the band.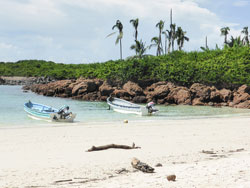 It's a good time, and on a Saturday night you'll meet plenty of people from Latin America, North America, and beyond. While at Smiley's I met a Canadian couple with a humorous blog, a real estate agent who moved to Pedasí to spearfish, a grad student who'd just left Hawaii, an Italian who worked at a local B&B, and more besides.
If you're a fishing or water enthusiast and you like meeting other adventurous types, you may end up falling hard for Pedasí. In which case the next thing you'll want to do is enroll in Spanish classes at Buena Vida language school. Nearly every expat I met in Pedasí had found it to be a fun opportunity to network and learn about the language and culture.
It makes sense…the more you learn, the better your long-term experience will be. Not to mention, owner Ingrid Senne is a wealth of information about life in Pedasí.
So if you're new to Pedasí and want to dive right in, hit the trifecta. You'll find plenty of open, amiable folks that are happy to chat. You'll glean money- and time-saving tips and information. And—beware—you'll find yourself feeling right at home. Too at home to ever want to leave…
Get Your Free Panama Report Here:
Learn more about Panama and other countries in our daily postcard e-letter. Simply enter your email address below and we'll send you a FREE REPORT — Panama: First World Convenience at Third World Prices. 
This special guide covers insider advice on real estate, retirement and more in Panama. It's yours free when you sign up for our IL postcards below.
Get Your Free Report Here