Do you want to retire in one of those places that looks like a postcard? I know you've seen those picture perfect cards with the turquoise waters, white sands, and a single palm tree stretching towards the bluest sky. Those places do exist, even without the aid of Photoshop. Not only are they real, but there are many countries in Asia where you can find those beaches. I spent three weeks exploring some of the best beaches in Thailand and found three beach areas where you could send home those kinds of postcards, but with pictures you've taken yourself.
Bangtao, Phuket
Thailand's largest island, Phuket, is located in the south of the country on the Andaman Sea. Most people think of it as a party island, and for good reason. The Patong Beach area is debaucherous and as downright explicit as it gets. But the rest of Phuket, outside of Patong, is a whole different story. Most expats live far away from Patong, where their neighbors are from all over the world. Bangtao is one of my favorite areas on the island. It is known for its four-mile stretch of uninterrupted beach.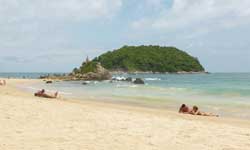 It's a little village in its own right so you won't have to go far for amenities. It has a couple of international grocery stores, as well as the local markets, yoga studios, beach bars, boutiques, and a plethora of restaurants. There is plenty of nightlife and a Friday night market where you can eat cheap local food from any number of vendors and listen to live music while sipping a cold one. The shopping and nightlife aren't as extensive as they are in Patong or Phuket Town, but on a daily basis Bangtao has all the essentials. If you are a golfer, the award-winning Laguna golf course is at your doorstep. For any health issues, you won't have to leave the island; Bangkok Hospital is a network of internationally recognized, JCI accredited hospitals, and there is a branch in Phuket Town.
Ao Nang, Krabi
Ao Nang is located in the southern province of Thailand and abuts the gorgeous waters of the Andaman Sea. No matter which way you arrive in Krabi—by car, boat, or plane—you will simply be in awe of the natural beauty surrounding you. It's unlike any place I've seen in the Western hemisphere, with its limestone karsts (some of the locals say coral) jutting straight out of the turquoise blue ocean. In some ways, it feels otherworldly, as if these karsts came out of nowhere. They are everywhere, in the middle of the ocean and the center of town; they are massive and often have trees growing right out of the tops of them. Ao Nang is an adventure lover's dream. You can rock climb on any number of the karsts, scuba, snorkel, island hop, go spelunking, or visit temples and hot springs. The nightlife is spread out from the main beach road, where there are restaurants of every price and cuisine. Or go to the night market, right along the main road, where you can get fresh whole fish, shrimp, or Thai BBQ chicken, grilled for a few bucks. Some of the best and most authentic (not to mention the cheapest) Thai food you can get is usually in the markets.
Hua Hin
If you are looking for more of a city with a broad stretch of beach, Hua Hin is worth checking out. Its population is only about 85,000, so it's laidback enough to feel like a beach town, but still has all the modern conveniences of any Western city. It is home to the summer palace of the King, and it's only a three- to four-hour drive (the same by train) from Bangkok, which makes it a favorite weekend getaway for Thais looking to escape the heat of the summer.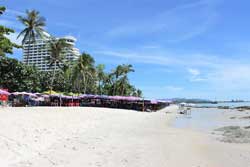 Because the Royal family lives in Hua Hin at times, there is another JCI-accredited Bangkok Hospital right in the center of town. The shallow green waters of the Gulf of Thailand, coupled with just the right amount of wind, make for a textbook spot to learn kite surfing. Cicada Market is a fun, nightly event for locally made and sourced crafts or a place to get a drink and cheap eats. Hua Hin is a golfer's paradise with seven excellent courses within a 30 minute drive. Along the waterfront is a warren of restaurants and bars serving up everything from fresh, right-off-the-boat seafood, to Indian and Greek food. After dinner, get lost in its labyrinth and hop into a few of the live music bars for an entertaining night out.