Pedasí is a sleepy kind of town. It consists of a main road, a central park, and several blocks of residences and businesses…I toured the town on foot in a couple of hours. It's primarily a fishing village but has seen an upsurge in outside interest in recent years, resulting in a small but growing expat community.
With a population of around 2,600, Pedasí is on the Pacific coast of Panama's Azuero Peninsula. The town sits at the tip of the eastern-most point of the peninsula, which my husband calls the "hangey-down part" of the country for the way it juts southward into the ocean.
Most days Pedasí has a quiet laidback air about it and little traffic. Families may gather on their veranda in the afternoon and evening, to greet friends and passers-by. A few eateries serve locals and visitors, offering tipico meals, fish and shrimp, crepes, pizza, and fresh baked goods. The go-to spot for entertainment is a bar and restaurant called Smiley's which features live music on Tuesdays and Fridays. It's the de facto expat hangout, offering burgers, baby-back ribs and pulled pork sandwiches. We went on Tuesday evening to rub elbows with the locals and hear some tunes. I had a burger and my husband tried the pulled pork, along with a few rum cocktails. The portions were generous, our sandwiches were tasty, and it all set us back less than $30.
What draws many to this area are the splendid beaches, with at least 10 that are well-known and easy to visit. The most popular is Playa Arenal, which is the launching point for boat trips to Isla Iguana, a nature reserve of coral white-sand beaches and amazing snorkeling.
Playa Arenal is a long, wide stretch of open beachfront in a gentle, curving arch, free of rocks. A couple of open-air pavilions serve food and drinks and the panga owners wait in the shade for clients wanting to visit Isla Iguana, which is visible in the distance. I enjoyed a relaxing, morning swim in the mild surf at Arenal and it was blissful. Others beaches such as Playa El Toro and Los Destiladeros are more rocky, but equally appealing.
If life by the beach in Pedasí appeals to you, rentals here start at about $500 a month. A couple could live here on $1,200 a month plus rent with no trouble at all. And it's not just the low costs and great beaches that are attracting expats to this often over-looked part of Panama. The weather is also a big draw. Most days of the year are sunny. Average daytime temperatures are around 88 F, but evenings and mornings can be 10 to 15 degrees cooler, thanks to the ocean breezes.
While Pedasí and the Azuero region are quaint, tranquil destinations most of the time, they're not always so laidback. This area is famous for its Carnival celebrations and numerous other traditional festivals throughout the year.
When we were there, Pedasí was gearing up for their Folkloric Festival. This two-day event highlights some of Panama's finest and most cherished arts and traditional culture. It starts in the evening with the crowning of Miss Pedasí, chosen from a field of beautiful candidates wearing their hand-made pollera dresses, elaborate beaded head pieces, and stunning array of gold jewelry. This is followed by a dance in the center of town with a local band (and a disco ball) 'til the wee hours of the morning.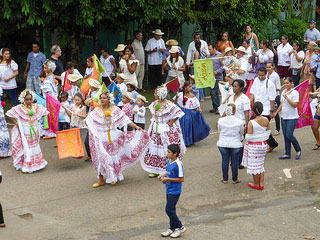 We saw residents preparing their large-wheeled, wooden carts for the big parade on day two of the festival. Historically drawn by oxen, today they use vehicles to haul the carts along the route past the cheering crowd and on to the central park. The carts are decorated like parade floats and judged by a jury, with prizes going to the three best-decorated carts.
But the highlight of the event is the running of the bulls. That's right…it's not Pamplona, but Pedasí is the only location in Panama (and perhaps in the Americas) with its very own running of the bulls. Three bulls are let loose in the park, and as the townsmen try to subdue the beasts. Once the bulls are under control the crowd celebrates with plenty of singing and more dancing.
Clearly Pedasí and the surrounding Azuero towns have two sides: the everyday, relaxed routine of rural farming and fishing communities…and the occasional party-animal persona that takes over during times of celebration.
So if you're looking for laidback living, pristine beaches, and a local community that loves to throw a good party, Pedasí could be the place for you.
Get Your Free Panama Report Here:
Learn more about Panama and other countries in our daily postcard e-letter. Simply enter your email address below and we'll send you a FREE REPORT — Panama: First World Convenience at Third World Prices. 
This special guide covers insider advice on real estate, retirement and more in Panama. It's yours free when you sign up for our IL postcards below.
Get Your Free Report Here