The other day my wife and I went out for lunch. We live in a small craft village in the northern Andes of Ecuador, and one of our options is a place called El Convento. It's in the tidy little tiled and terraced courtyard of a former convent in back of the large church at the center of town.
The menu is fixed and changes daily. When we stopped in, our menu started with locro de haba, a lightly creamed soup of fava beans, potatoes, cabbage, and chicken stock with a short pork rib thrown in for good measure. Like most locros served in Ecuador, it came with a side of popcorn and aji, the local hot sauce. Popcorn is a snack and also a garnish here, and the hot sauces are homemade… No two are alike, they vary in spiciness, and none are tomato based, but all are delicious.
Then came the main plate of grilled pork cutlet, carrot salad, mashed potatoes flavored with achiote, and rice. We often get potatoes and rice together up here in the mountains; our village is 8,000 feet above sea level, and a double side of starches just seems right for the altitude somehow. In any case, we never seem to gain weight up here no matter what we eat.
Dessert was a couple of slices of fresh watermelon, and it all came with a large glass of fresh fruit juice.
Total cost, $2.50 each. Five bucks for lunch for two.
That's a pretty common story here. Many restaurants serve lunches that you couldn't make yourself at home for the price.
I tell this story with trepidation, because some people will read it and figure that Ecuador is just a place to get a cheap lunch, and they'll extrapolate that into thinking Ecuador is also a place to get cheap rent, cheap groceries, cheap furniture, cheap airfares, cheap condos, cheap houses, etc. etc.
In fact, they'll get the idea that Ecuador is simply a cheap place, and that is categorically wrong.
Like every other place on the planet, you can spend as little or as much money as you like in Ecuador. There are ridiculously inexpensive lunch places everywhere you go…as well as expensive, upscale restaurants that serve the most exotic dishes imaginable featuring cuisines from around the world.
There are tiny little tiendas and sprawling mercados where you can get rice, beans, corn, fresh fruits and vegetables, fresh chicken, pork, beef, and fish for low prices. And there are supermarkets and big box stores where you can get all the pricey imported (and therefore highly tariffed) foods and liquors you care to stock up on.
There are terrific real estate bargains to be had in gorgeous locations both in the mountains and on Ecuador's miles of Pacific Coast beaches, but there are also fabulous (and fabulously expensive) condos and houses in very trendy and upscale neighborhoods throughout the country.
So when I tell you about the fabulous $2.50 lunch we had in our little village, you won't be surprised when I tell you that in the same village you can also dine on gourmet cuisine at a five-star restaurant with French wine and immaculately choreographed service and spend a hundred dollars or more for two people.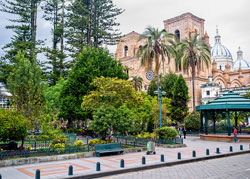 Go to Quito or Cuenca or Guayaquil, and you can spend just as much on any kind of cuisine you can imagine.
I tell you all this because I want to make it clear: We don't live in Ecuador because it's the cheapest place on the planet. We live here because we love this country, its culture, its people, its weather, and its scenery.
Ecuador also happens to offer incredible affordability…but the affordability is partly something we bring here ourselves. It's the result of the choices we make.
We could just as easily choose to live richly expensive lives here. And sometimes we do. We like to splurge every now and then, and Ecuador offers just as many luxurious and expensive options in every category of life as any other country.
So, in my opinion, choosing Ecuador as a place to live and retire simply because it can be done inexpensively is missing the point. You can live any way you choose here, but it's Ecuador itself that makes this an incredible place to be.
The $2.50 lunches—and all the other choices we have here that allow us to live well on $1,500 per month—are icing on the cake for us. Don't get me wrong, it's wonderful icing. Terrific icing. Often unbelievable icing. But icing nonetheless. Ecuador is the cake beneath that icing, and that's what makes it so special to us. Believe me, there are places I would not live even if we could get by on less.
We don't live here just because it can be inexpensive. We live here because it's Ecuador.
Get Your Free Ecuador Report Here:
Learn more about Ecuador and other countries in our daily postcard e-letter.
Simply enter your email address below and we'll send you a FREE REPORT – Ecuador: Live Like Royalty on Your Social Security.
This special guide covers real estate, retirement and more in Ecuador and is yours free when you sign up for our postcards below.
Get Your Free Report Here