What makes a particular spot a "perfect" retirement haven?
Usually the answer depends on who you ask. Admittedly, one person's heaven on earth could be the last place in the world another would choose to live.
But there are a few special places on the planet—undeniable favorites with travelers, expats and retirees—that are so extraordinary, they are often described as being "heavenly" or "like paradise."
These places can be radically different from one another, but they all offer a special je ne sais quoi that elevates them to a status that's something more than the sum of their parts.
The culture… the weather… the quality of the light… the landscape… the beach… the pace and feel of life… it's just a little bit otherworldly…
In these four extraordinary, heaven-on-earth retirement havens expats gush about the high quality of life they enjoy. They're destinations custom-made to tickly your fancy…
And the best part is… you don't need deep pockets to call any of these blissful locales home. Expats on the ground report that a couple can live well in any of them on a budget of $2,000… or even less.
Considering the average retiree in the States spends $3,600 a month to fund an everyday retirement…
Here's a way you could save… and live on permanent vacation in a heavenly retreat you might well consider your own slice of paradise.
Roatán: An Island Paradise in the Caribbean
A clear, aquamarine sea…pristine beaches on protected bays, with soft, golden sand…lush, rugged hills, covered by jungle canopy and vibrant tropical flowers… After your first visit you'll find it difficult to leave this romantic Caribbean island. The beauty of the natural environment and the laidback attitude are the stuff that dreams are made of…
At only 49-miles long and five-miles wide, Roatán has a rich and varied landscape. Its rugged topography is lush with deciduous trees and intoxicating tropical flowers. While the hills and valleys are adorned with leafy gumbo limbo, Honduran oak, acacias and sea-grape trees—as well as fruitful mango and apple-banana trees. The world's second largest barrier reef—teeming with vibrant coral, neon-patterned fish, and sponges—hugs Roatán's dramatic coastline. A diver's paradise, you can frolic to your heart's content in the offshore living aquarium, in harmony with the curious sea creatures.
Most expats settle in one of four popular communities. West Bay is the most chic, with its idyllic soft-sand beach and enticing beach bars and cafés. West End is the trendy diving village where young expats vacation and active retirees settle. It's a hub for water sports and nighttime entertainment. Expats who prefer a more solitary life pick the remote East End. They can live off grid and boat to town for supplies. Others prefer French Harbour, a popular town near the larger stores, businesses, and the island's only golf course.
"The arrival of increasing numbers of expats to Roatán has led to more development in recent years. You'll find single- and multi-family homes in neighborhoods built up into the hills. Studio condos for sale right on the beach go from $209,000," says Amanda Walkins.
"Finding affordable rental options is easy. Couples renting long-term can expect to live on $2,000 a month, while those who own a home could do it for less. A mid-range dinner for two typically costs about $50 with drinks, while lunch could easily stay below $30 for two. Local beer at most bars will cost you $3, while cocktails are typically around $6."
Outdoor sports enthusiasts will find plenty of opportunities to swim, snorkel, fish, sail or kayak. Head for the hills to zip line, bike or golf. Or simply take it easy and sunbathe at one of the island's spectacular beaches, a cold drink in hand, or indulge in a relaxing massage at one of the spas.
Whatever your personal island retirement dream looks like, you'll find an irresistible version of it on the breathtaking Caribbean island of Roatán.—Katrina Dmitri
Tamarindo: Pura Vida in a Costa Rican Beach Town
Sipping my morning coffee on my balcony, I listen to the quiet sounds of surrounding jungle—happy birds sing, enjoying the cool morning air, and howler monkeys rustle leaves as they move through the trees just across the road. This is a typical morning for me in heavenly Tamarindo. Sometimes I'll walk just a few minutes down to the beach to gather my thoughts amid the subtle crashing waves and salty ocean breeze. A pipa fria (coconut) on the beach is just $1, it's crisp, refreshing water is the perfect way to start the day.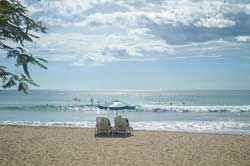 Located on Costa Rica's lush Nicoya peninsula, Tamarindo's spectacular, long, sandy beaches bring people from far and wide. But the thing I love the most? The freedom of not adhering to anyone's schedule but my own. The pura vida (pure life) lifestyle and culture I've come to know and love supports taking your time and committing to as much or as little as you want.
The real estate options you'll find in Tamarindo cover a wide realm of possibility for comfortable beach living. It is still possible to buy a one- or two-bedroom condo within walking distance to the beach for less than $150,000. And the cost of living is reasonable—most expats find it possible to live comfortably on $2,000 or less per month.
And while Tamarindo has all the trappings of an exotic paradise, I still have access to the things I need; whether it be the grocery store or doctor's office. There are plentiful modern conveniences, and a small downtown where my husband and I can go to dinner or grab a drink.
Of course, there's still plenty of good, old-fashioned basics and untouched nature here to give me a sense of having stepped back in time. Simply put, there's no better place to unwind and take in the surrounding natural beauty than Tamarindo.—Jackie Minchillo
Valencia: Culture and Sophistication on the Mediterranean
The cosmopolitan city of Valencia, perched on Spain's Orange Blossom Coast, offers all the goodies of a major, sophisticated metropolis in a small, easily manageable package.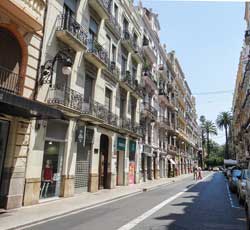 Valencia's historic center is one of the largest and best-preserved in Europe. Its maze-like narrow streets are home to ancient buildings and churches in creamy stone, as well as Valencia's magnificent central market. This airy, nearly 90-year-old building houses colorful stalls selling freshly baked bread, fruits and vegetables, smoked meats and cheeses, and just about any type of food you might need (or simply want).
Don't feel like cooking (even after stocking up at the market)? Catch a coffee or aperitif at one of Valencia's many outdoor cafés. And for mealtime bargains, catch the set-price lunch special, Spain's famed menú del día. It usually consists of a first and second course, coffee and/or dessert, bread, and a beverage (which can often be beer or wine, if you choose). It's a full, fill-your-belly kind of meal, and in Valencia it can cost you as little as €9 (about $10.25).
As a thriving port city, Valencia offers some spectacular urban beaches. Beach connoisseurs may prefer the long, sandy expanses south of the city; but for me, taking the metro or bus to the seaside—where I can sun myself or lounge in a café while looking out at the Med—is paradise.
You might expect a heavenly metropolis like Valencia to be expensive but you can rent an apartment in some of the best, centrally located neighborhoods for about $600 (and buy it for around $150,000). You'll be within walking distance of concert halls, art and science museums, and more cozy restaurants and bars than you can shake a stick at.—Glynna Prentice
Koh Samui: A Heavenly Retirement in the Kingdom
For those thinking of retiring in Southeast Asia, it's difficult to beat the wide variety of spectacular locations in Thailand. With its excellent healthcare, modern infrastructure, and low cost of living, the Kingdom continues to be a draw for adventurous tourists and retirees. But Koh Samui, the second-largest island in Thailand, is highest on my list of heavenly retirement destinations.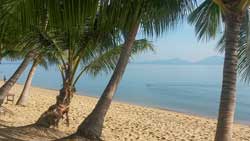 Although over one million tourists visit the island every year, the vast majority tends to frequent the more popular and over-developed resort city of Chaweng on the southeast coast. Head north along the coastline to the west side of Samui and you will find tranquil villages and empty white-sand beaches.
The northeastern town of Bophut is one of the more popular expat areas on the island. It's close enough to Chaweng that you can get your fix of nightlife within a 20-minute drive, but offers a laidback fishing-village atmosphere that retains its original Thai-Chinese heritage. Nearby Makro and Tesco Lotus provide a good selection of imported foods along with local brands.
A short distance further along the northern coast, you can find rental houses for less than $600 per month in the small seaside village of Maenam. Whether you are looking for a modern villa in the hills overlooking the sparkling sea below, or a more rustic country home a little further from the beach, you are sure to find something that suits your dream retirement.
Expats report low living expenses. Ron Bond moved from San Diego a few years ago and says his cost of living is a quarter of what it used to be.
Koh Tao, Koh Phangan and the 60 other islands that together comprise Ang Thong Marine National Park are all nearby and waiting for you to explore. Be assured that boredom will not be an issue.
With its beautiful climate, laidback lifestyle and all the modern amenities you need, it's not surprising that Koh Samui has become such a popular expat destination for year-round living. Retiring in paradise is easier than you may believe!—Steve Le Poidevin
Get Your Free Report on the World's Best Places to Retire:
Learn more about the best places in the world to retire in our daily postcard e-letter.
Simply enter your email address below to sign up for our free daily postcards and we'll also send you a FREE report on The World's Top 10 Retirement Havens.
Get Your Free Report Here