Like many other folks thinking about moving abroad, my wife, Suzan Haskins, and I thought we knew what we wanted.
A tropical beach, of course.
During our lives we'd spent incredible days of vacation swinging in hammocks on palm-studded beaches, basking in the sun, and listening to the waves breaking out on some reef.
Doing that for the rest of our lives sounded pretty darn good—especially in the middle of a Nebraska winter when just going out your front door meant suiting up like an Arctic explorer and digging your way to the sidewalk with a snow shovel.
That's one reason Ecuador attracted us early on. The country's long and varied Pacific coast reminded us so much of southern California: dramatic headlands, hidden coves, sandy and secluded half-moon bays, long stretches of white sand and surf—the regular beach-lover's postcard material.
Only one problem with that plan…we went up into Ecuador's magnificent Andes Mountains.
Being from the U.S., my idea of mountains came from the Rockies and the Appalachians. And I knew for a fact that the higher you went, the colder they were, until you were up in some frozen wilderness straight out of some 1800s fur-trapper's diary.
But in Ecuador, mountains are different. Ecuador is directly on the equator, so you can be standing at 8,000 feet above sea level, looking right up at the snow-dusted peak of a nearby mountain, and be in short sleeves.
And not just in summer. We discovered cities, towns, and villages throughout the Ecuadorian highlands where the weather never varied much from 65 F or 75 F during the day to 45 F or 55 F at night…ever. Places where it had never snowed, even at altitudes 2,000 feet higher than Denver. Places where farms produce all year around.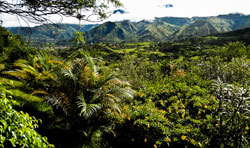 And my biggest surprise…places where there are no mosquitos. Usually when someone says they have no mosquitos where they live, you should check your pocket to make sure you still have your wallet. But up at 8,000 feet in the Andes this is literally true. They don't live up here.
That sealed it for me. Ecuador's unique blend of location on the equator and incredible mountain highlands made a mountain man out of me. It's a place I can happily be, any time of year, for any length of time, and be perfectly comfortable. Up here I never have to worry about the weather freezing me or roasting me to death…or about getting bit by mosquitos
For a Nebraska boy, that's a big deal.
Do I still love the beach? Sure, and I have miles of it to visit down on Ecuador's stunning coast any time I like. There are even places down there I wouldn't mind living—part time.
To each their own. But for a place to put down roots and thrive full time, give me the fertile valleys, wooded slopes, and year-round comfort of Ecuador's highlands. The mountains are the place for me.
Get Your Free Ecuador Report Here:
Learn more about Ecuador and other countries in our daily postcard e-letter.
Simply enter your email address below and we'll send you a FREE REPORT – Ecuador: Live Like Royalty on Your Social Security.
This special guide covers real estate, retirement and more in Ecuador and is yours free when you sign up for our postcards below.
Get Your Free Report Here